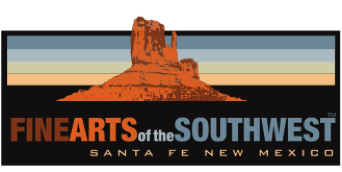 © 2010-2023 by Fine Arts of the Southwest, Inc. All rights reserved.
Unauthorized reproduction or use is strictly prohibited by law.
A very beautiful pair of vintage Navajo silver
and turquoise hoop-style earrings, c.1950's
These lovely earrings are a modern-day "Revival" of the historic Classic-Period (1880-1910) Navajo silver hoop earrings which actually passed directly through the earlobe, rather than having hooks or posts. These are infinitely more comfortable and wearable to say the least. The original old-style Navajo hoop earrings were the height of Southwestern fashion around the turn of the 20th Century, they were traded widely across the region and worn with equal enthusiasm by Navajo, Hopi, other Pueblo and Apache Women and Men alike as seen below.
The earrings are most beautifully made of hand-drawn silver wire in a nice large size and they go a step further than the traditional Navajo silver hoops with the addition of a graceful silver post extending 1" downwards from the top of the hoop into the center of the earrings at the end of which is mounted a beautiful, small, clear blue turquoise cabochon stone possibly from the old Sleeping Beauty Mine in Southern Arizona. It's a wonderful and creatively artistic update on the older traditional form.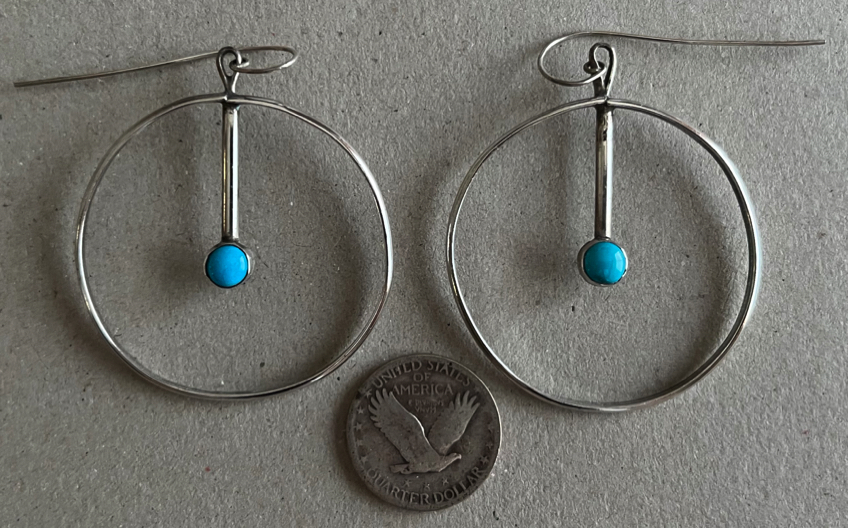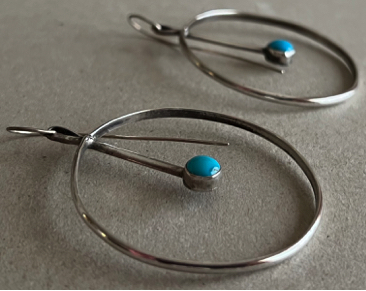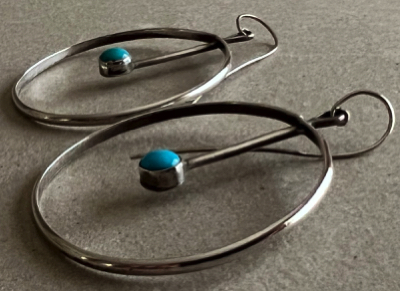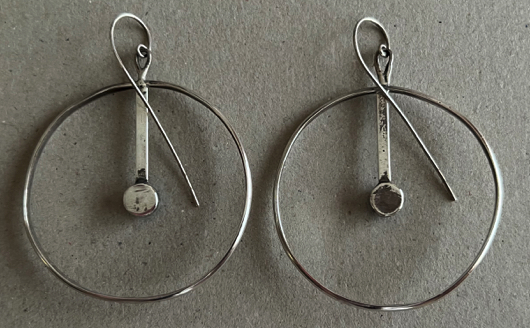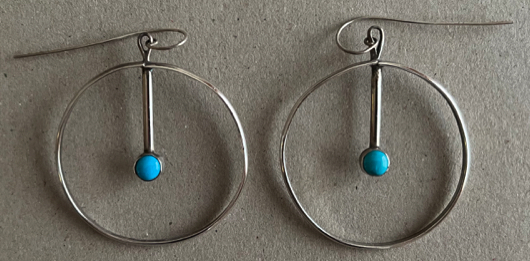 The earrings measure a very sizable 1 7/8" in diameter. They are mounted on very finely-made silver hooks
and their drop or hanging length is 2 1/2". They weigh an extremely comfortable and easily wearable 6 grams
or 1/4 ounce each and they are in completely excellent original condition. They are unmarked for their maker
but whoever the anonymous silversmith who made them was, he knew his business very well.
These earrings are a lovely update of a classic Southwestern jewelry form you can wear all day every day
and look great every single minute.
Price $675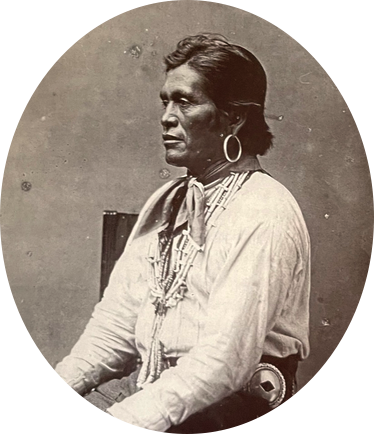 "Tom Polaccaca, Tewa Indian", 1890. Hopi Indian trader Thomas Polacca wearing the old-style Navajo through-the-earlobe hoop earrings. Thomas Polacca was the older brother of the renowned Hopi potter Nampeyo.
Photo source and © Smithsonian Institution, Photo # 1803-c