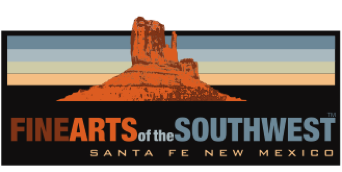 © 2010-2021 by Fine Arts of the Southwest, Inc. All rights reserved.
Unauthorized reproduction or use is strictly prohibited by law.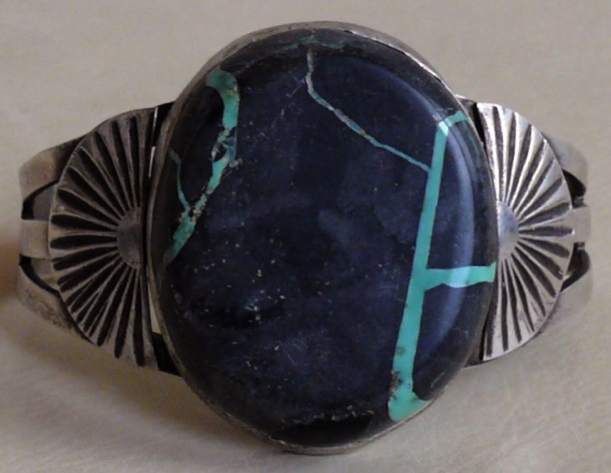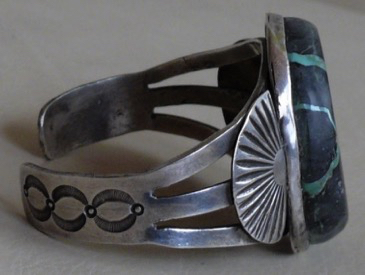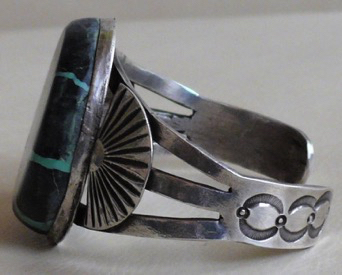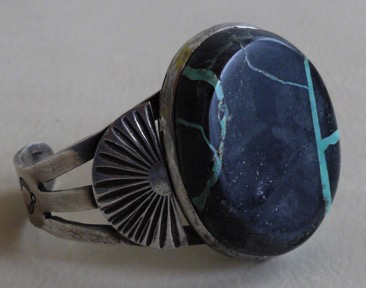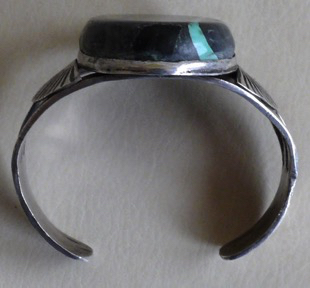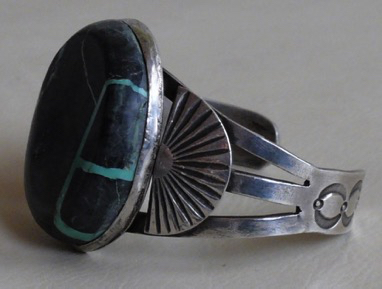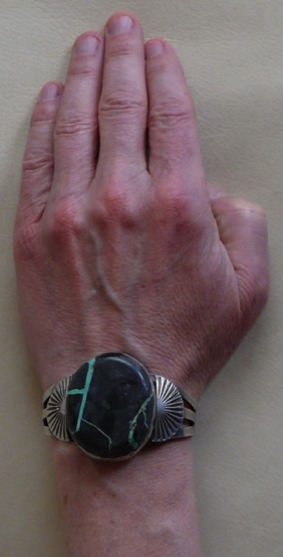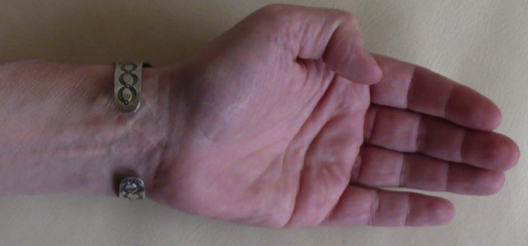 A striking, vintage Navajo split-chisel silver cuff
bracelet set with an unusually large and rare Blue Diamond
Nevada "Ribbon" turquoise stone, c.1950's
"BLUE DIAMOND" Nevada turquoise is one of america's most renowned turquoise varieties, so named for its brilliant blue color and its noteworthy hardness, and this very unusual and extremely large "ribbon" cut Blue Diamond stone with its thin strands of bright blue turquoise running through a host rock of smoky black chert is as distinctive and beautiful as it is rare. The sharp color contrast between the intense blue color of the turquoise ribbons and the deep greyish black of the host rock is extremely dramatic, with a dazzling, almost abstract painterly effect.
The very high-cut stone measures an impressive 1 3/4" in height by 1 3/8" in width and rises a full 5/16" in height above the top of the silver bezel. We would conservatively estimate its weight at being around 150 carats. "Ribbon" turquoise is also referred to as "Boulder""turquoise and that term is a most appropriate descriptor for this very impressively-sized stone. The stone is set in an old-style "foldover" type plain silver bezel which is mounted atop a finely hand-fashioned double split-chiseled silver shank. The silver shank has been accentuated by the application of two nicely-chiseled semi-circular silver plates one on either side of the central stone which serve to "frame" it dramatically. As a nice finishing touch, the silversmith applied some very fine stampwork designs to the bracelet's terminals.
The bracelet measures 1 3/4" in width at its widest center point tapering down to about 3/8" in width at the terminal ends. The inner circumference end-to-end is 5 5/8" and the gap between the terminals is 1 1/8" for a total interior circumference of 6 3/4" he bracelet has nice weight; a very comfortable 65 grams or 2 1/4 ounces, and it is in excellent original vintage condition.
This beautiful "Blue Diamond" bracelet is a true blue-ribbon piece in every way. You can be absolutely sure that you will be the only one on your block wearing something this remarkable on their wrist.
SOLD