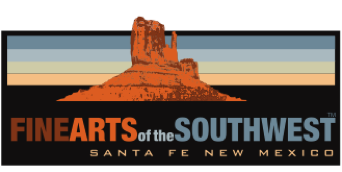 © 2010-2022 by Fine Arts of the Southwest, Inc. All rights reserved.
Unauthorized reproduction or use is strictly prohibited by law.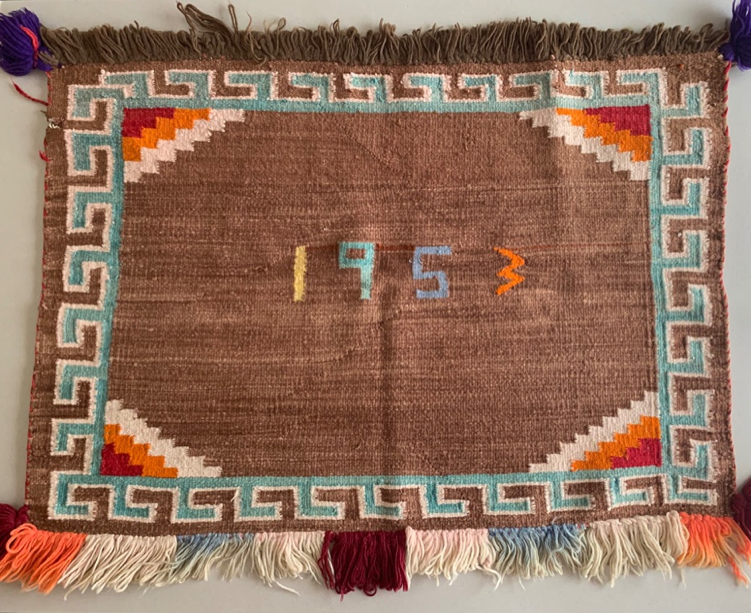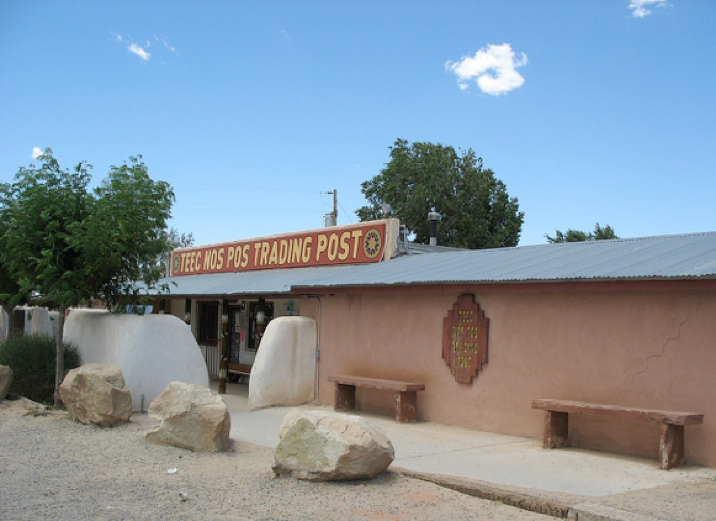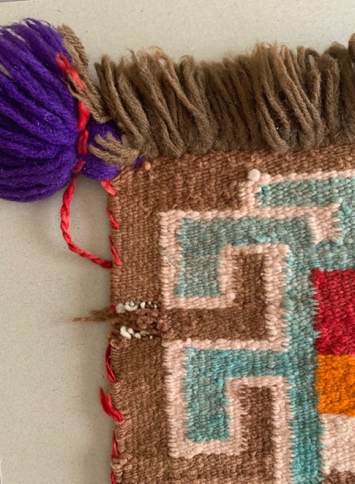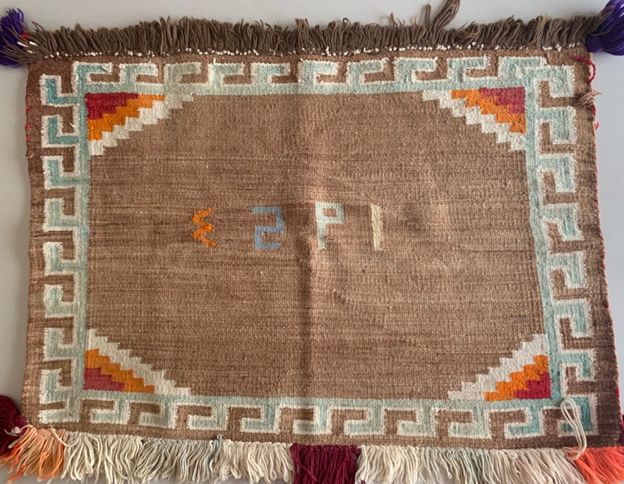 A vintage Navajo "Teec Nos Pos" regional-style Sunday single Saddle Blanket with a "1953" pictorial date
What a wonderful and whimsically folky and funky piece! And especially so, if you or someone you love happens to be one of those lucky people born into the distinguished group of 1953 Birthday year notables, including Tony Blair, Jeb Bush, Ken Burns, John Malkovich, Cyndi Lauper, Pat Benatar, Kim Basinger, Pierce Brosnan, Chaka Kahn, Hulk Hogan and Chinese leader Xi-Jin Ping as well as the late Benazir Bhutto and Paul Allen.
This blanket is what is euphemistically referred to here in the Southwest as a "Sunday" saddle blanket so named for its elaborate and colorful corner tassels and multi-colored fancy fringe along the top and bottom edges. This was the showy saddle blanket you put on your favorite horse on a Sunday afternoon ride around the neighborhood to visit friends and family or another such special occasion such as a shopping trip into a Navajo reservation area town such as Gallup or Window Rock or Kayenta. Of course, this piece could also easily have been specially woven for someone, a family member or a friend just to commemorate their birthday year and not necessarily for actual use or it could also have been commissioned by or brought into a reservation trading post for sale.
The blanket is woven of natural handspun wool yarns dyed with aniline dyes and it measures 28" in height and is
35 1/2" in width. It is in extremely good original condition overall with a couple small issues. There is some degree of fading to the back side or what is referred to in textile talk as the "B" side, there is also a slight spot of damage at the upper left selvedge edge and some minor dye bleed. None of this, in our opinions, interferes at all with the wonderful visual impact and enjoyment of the piece.
"Teec Nos Pos" in Navajo translates to "Trees in a Circle" in English and it refers to an old historic Navajo Reservation trading post in far Northwestern New Mexico just a few miles from the Arizona border and to a specific regional style of Navajo weaving which developed in the local area around this post. Teec weavings are often characterized by their complex elaborately fretted outer borders such as that seen on this blanket.
This blanket sits at the delightful intersection of historic Navajo weaving, Southwestern folk art and collectible American cultural kitsch and it is a wonderful, and extremely decorative colorful vintage Southwestern curio for anyone to enjoy and especially so if 1953 happens to be the year you or your loved one came into the world!
Price $1,650
At left, Teec Nos Pos Trading Post 1949, Photo source and © Palace of the Governors Photo Archives, Santa Fe, NM.
At right, modern-day view of the Teec Nos Pos Trading Post. Photo source and © Wikipedia.
"Trading with the Indians was a way of life that was as much a part of the fabric of The West as were gold prospectors, cowboys and ranchers. The trading post has been a backbone of Native American economies since the 1870's when white entrepreneurs began to arrive in the area. In the best of circumstances, both parties profited from the financial arrangement. Teec Nos Pos is living proof."
-Kathleen Foutz, 4th Generation family owner of The Teec Nos Pos Trading Post.
Quotation source and © "Trees In A Circle,  The Teec Nos Pos Story", by Kathleen Foutz 
Teec Nos Pos Trading Post, 1999