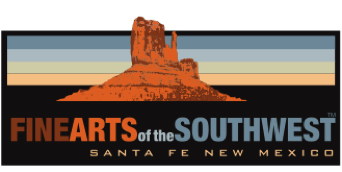 © 2010-2023 by Fine Arts of the Southwest, Inc. All rights reserved.
Unauthorized reproduction or use is strictly prohibited by law.
A beautiful vintage Navajo tufa-cast
silver cross pendant and Sterling silver
link chain necklace, c.1960's
This is a very handsome necklace. The cross is finely done in beautifully textured tufa-cast silver with a lovely
visual contrast between the brighter, polished outer edges of the cross and the darker more roughly surfaced inner sections. The texture of the thick heavily braided silver chain nicely matches the tufa-cast texture of the cross and the two go perfectly together. It seems appropriate to assume that they are original to each other.
The cross is very nicely set in the center with a lovely teardrop-shaped piece of rare Bisbee, Arizona
"Lavender Pit" turquoise, one of the finest, most desirable turquoise varieties in existence with its characteristic
dark, smoky purplish-brown matrix. The stone is set in an old-style high-walled "foldover" type silver bezel.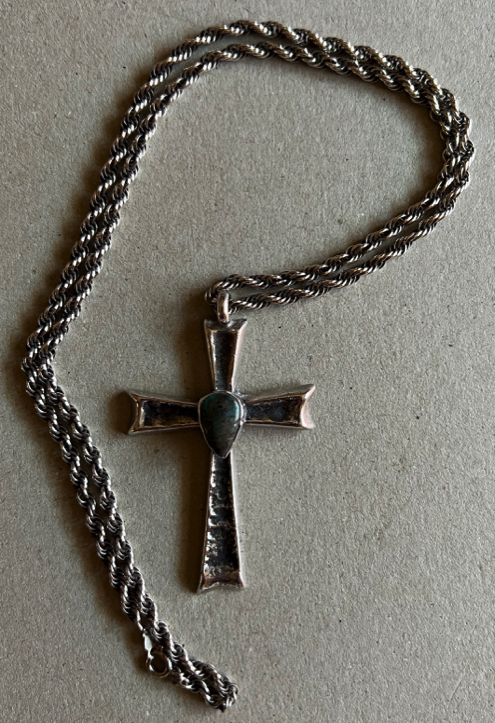 The cross pendant itself measures 2 1"2 in height including the bail and is 1 1/2" in width. The braided Sterling silver chain measures 1/8" in thickness. The necklace measures 14" from the top of the silver clasp to the bottom of the cross measured while lying flat and the ncklce's circumference is 23 1/2" measured end to end while completely opened up. The cross and chain together weigh a very comfortable 33 grams or 1 1/8 ounces. Both cross and chain are in excellent original condition. The cross is not signed for the maker, but the chain's clasp is marked "Ster" with an unknown horizontal arrowhead mark.
This elegant necklace is a beautiful and historic way to express your devotion in fine Southwestern style.
SOLD