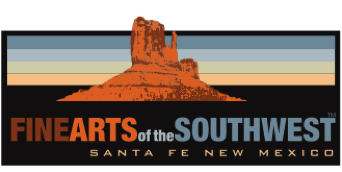 © 2010-2021 by Fine Arts of the Southwest, Inc. All rights reserved.
Unauthorized reproduction or use is strictly prohibited by law.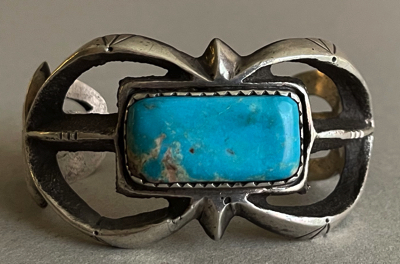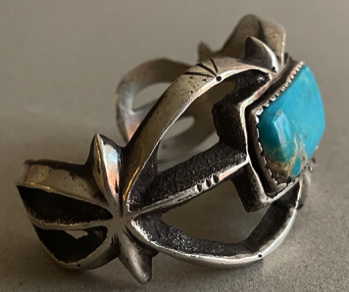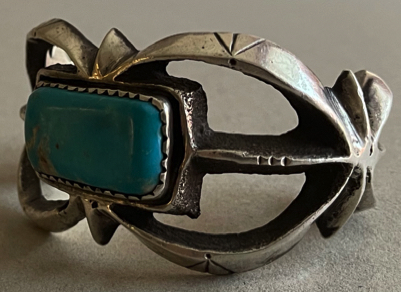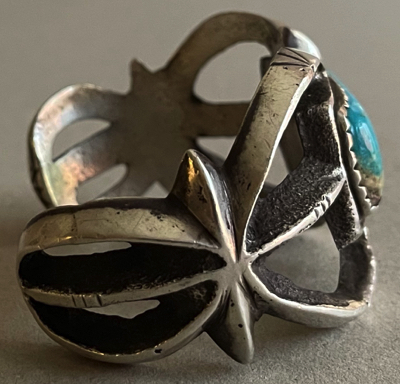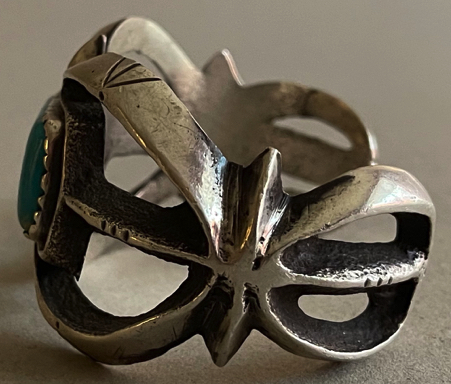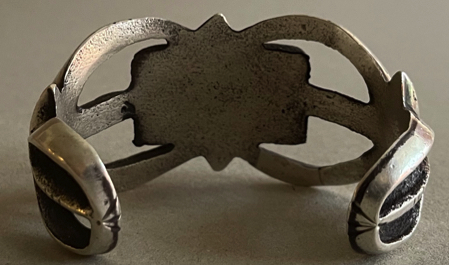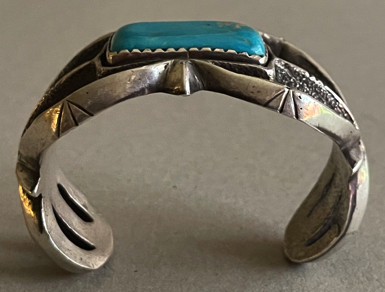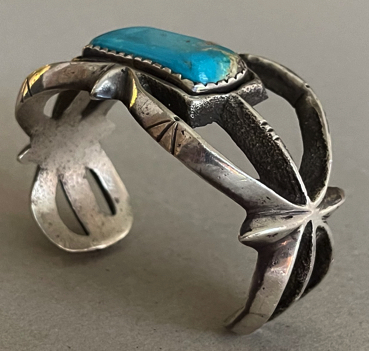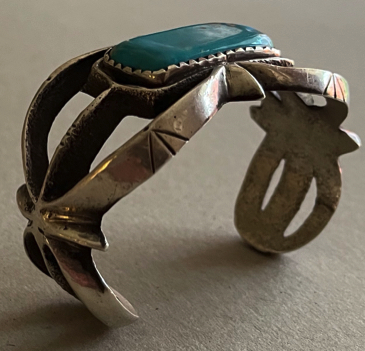 A terrific vintage Navajo tufa-cast silver and
turquoise cuff bracelet, c.1940's-50's
This bracelet is a wonderfully large-scale piece with just the right amount of authentic and historic "funk".
The complex tufa-casting of the thick silver shank is most beautifully and gracefully executed. The contrast between the brightly polished silver areas of the shank and the rougher textured unpolished areas around the central stone creates a wonderful visual appearance and highlights the stone particularly well. The silver shank is also nicely accented all around with some very elegant and restrained chiselwork. The bracelet features a particularly attractive large hand cut rectangular-shaped turquoise central stone which is possibly from either the Bisbee, Arizona or Royston, Nevada turquoise mine. The stone is set in a beautifully serrated sawtooth-style silver bezel.
The bracelet is constructed on a fairly large scale and measures 11/2" wide at the center and tapers down to 3/4" in width at the end terminals. The inner circumference end-to-end is 5 1/2" and the gap between the terminals is just under 1 1/2" for a total interior circumference of just slightly under 7". The turquoise stone itself measures 1 1/4" in length and 5/8" in width. The bracelet weighs a very substantial 126 grams or 4 ounces,
a full quarter-pound of historic Navajo silver goodness. It is in excellent original condition with some age-appropriate wear and some amount of tarnish which can be readily removed, if desired. The bracelet is unsigned as is completely appropriate to its age.
This is a wonderful historic piece with a great presence and feel, a bracelet that is sure to give you
many years of satisfaction and more than a few admiring glances along the way.
Price $2,400