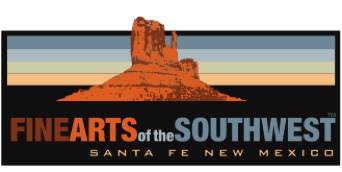 © 2010-2023 by Fine Arts of the Southwest, Inc. All rights reserved.
Unauthorized reproduction or use is strictly prohibited by law.
A unique vintage New Mexico Folk Art
wooden church sculpture or architectural model with a pressed tin roof, c. 1920's
ex: Carlos Vierra Estate, Santa Fe, New Mexico
Here is an absolutely fascinating and wonderful piece of historic New Mexican folk art. This high-steepled church
is made of hand carved, fashioned, painted and unpainted wood with a very steeply-pitched roof made of beautifully stamped or pressed tin, with colored-glass windows under Gothic-style arched eaves.
The church is mounted on its original rectangular-shaped pine wood base. This piece has a unique and fascinating provenance, it is just as noteworthy for its remarkable New Mexico history as the piece is itself. This church sculpture comes directly from the estate collection of the noted Santa Fe painter, photographer and architectural preservationist Carlos Vierra (1876-1936) and we purchased it around twenty years ago at his former historic home on the Old Pecos Trail in Santa Fe.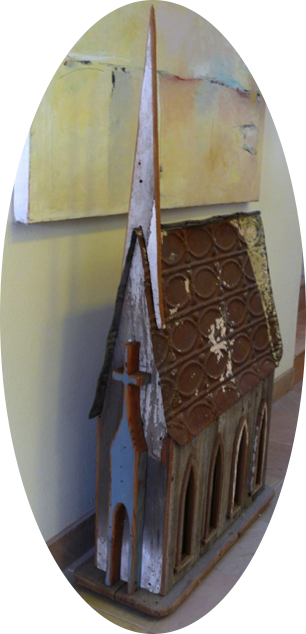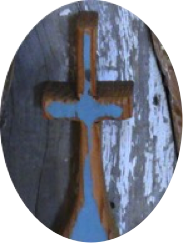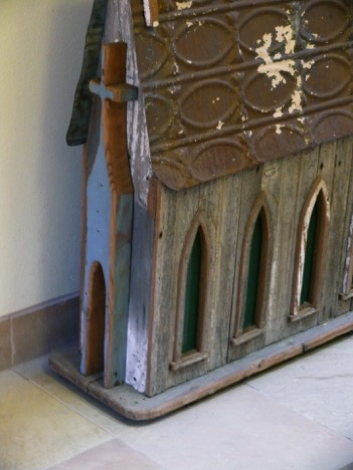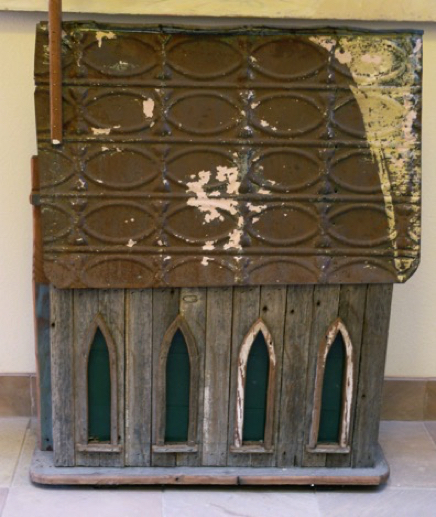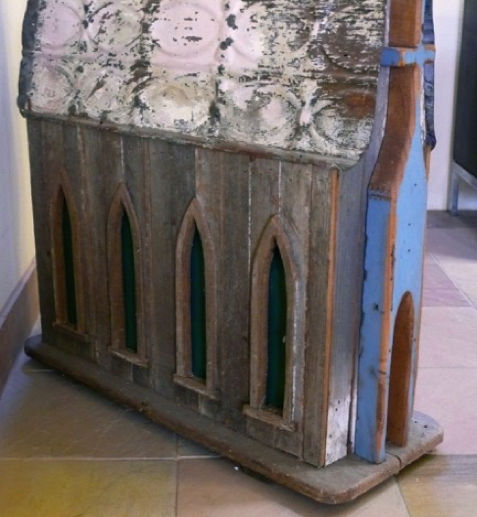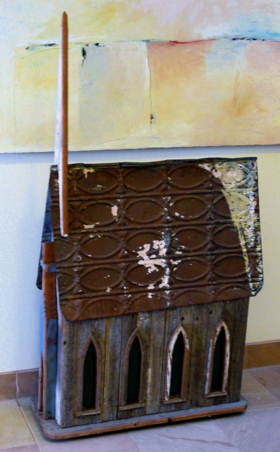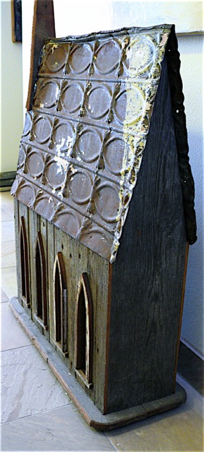 "Begun in 1918 and completed four years later, the Vierra home became a prototype for later Spanish Pueblo Revival residential architecture in the area. Together with John Gaw Meem, a prolific architect and popularizer of the regional style, Vierra developed the Santa Fe–based grassroots historic preservation group known as the Committee for the Preservation and Restoration of New Mexico Mission Churches."
-"Old Santa Fe Today", Fifth Edition, by Audra Bellmore, Museum of New Mexico Press, pp. 9
Carlos Vierra
In addition to being a talented painter and photographer Carlos Vierra was a knowledgable architectural preservationist and a dedicated, tireless city planner. Santa Fe owes much of its historic appearance and architectural authenticity today to Vierra's vigorous efforts.
Photo source and © UCLA Library digital collections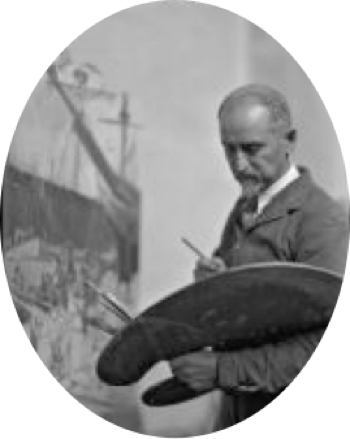 "It was Vierra's insistence upon purity of style that saved Santa Fe from many an architectural monstrosity... Up to the time of his death he guarded the integrity of the Pueblo and Spanish colonial architecture with a zeal often leading to heated controversy. That Santa Fe is not only a "City Different" but also a "City Beautiful" is more largely owing to him, perhaps, than to any other one individual."
-Quotation source and © Historic Santa Fe Foundation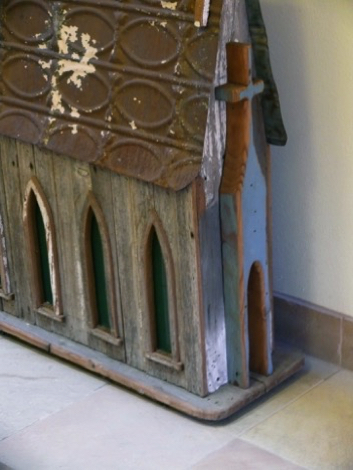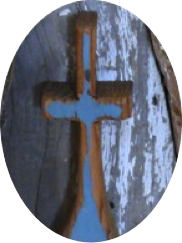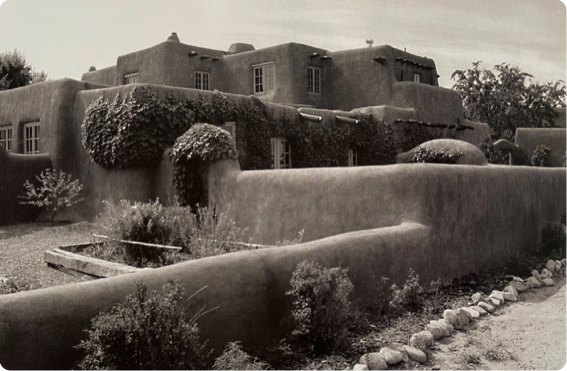 Among other things, Carlos Vierra was well known for his deep and abiding interest in the architectural preservation of New Mexico's historic buildings and public spaces notably including important churches such
as Acoma Pueblo's San Estevan del Rey Church and his highly-accomplished paintings of New Mexico's historic churches, many of which are now held in the permanent collection of the New Mexico Museum of Art, are timeless classics of the genre as seen above.
In addition to being a New Mexican sculptural folk art piece, there is a very good chance that this church might very well be an architectural model of sorts, possibly for a small church which Vierra designed and built himself or had locally built to show what a small village church or oratorio (private chapel) design might look like to a prospective client or possibly for himself. Further research would be needed or required to discover more
evidence of this.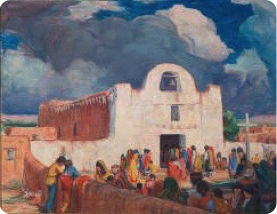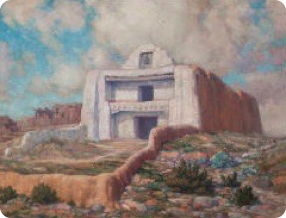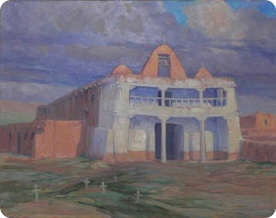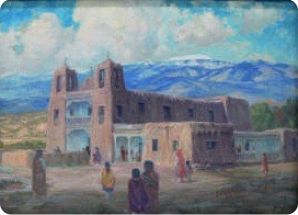 A selection of paintings of historic New Mexico churches by Carlos Vierra from the permanent collection of the New Mexico Museum of Art. From left to right above, "Old Tesuque", c. 1916, "San Juan Pueblo Mission", c. 1918, "Zia Pueblo Mission", before 1917 and "Cochiti Pueblo Mission", c. 1918.
Photo source and © New Mexico Museum of Art, Santa Fe
The church sculpture measures 53 1/2" in maximum height (the steeple), roof height is 36", width is 10 3/4" and it is 28 1/2" deep. The church is in very good condition overall with various areas of paint exfoliation and rust from being kept outdoors, likely under a portal, for years. We think all the weathering and age gives the piece a really nice patina and interesting surface.
This is an extremely historic New Mexico piece from an extremely historic New Mexico collection assembled by an extraordinary New Mexico artist, preservationist and prominent, public-spirited citizen from his extremely historic New Mexico home. It would be a beautiful and highly significant addition to the collection of any museum or private collector interested in historic New Mexico Arts and culture.
Price $2,250 plus shipping or delivery charges
The historic Carlos Vierra home on Old Pecos Trail in Santa Fe, c. 1920's.