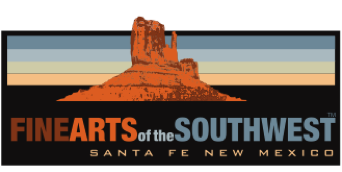 © 2010-2021 by Fine Arts of the Southwest, Inc. All rights reserved.
Unauthorized reproduction or use is strictly prohibited by law.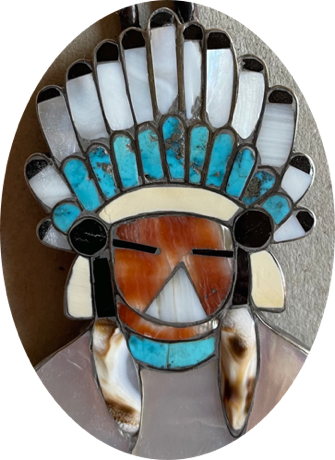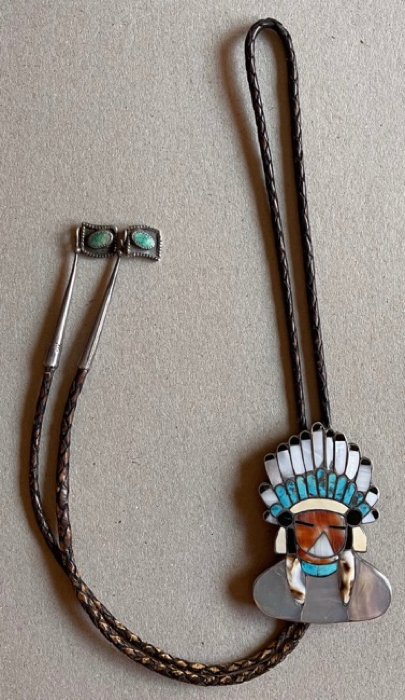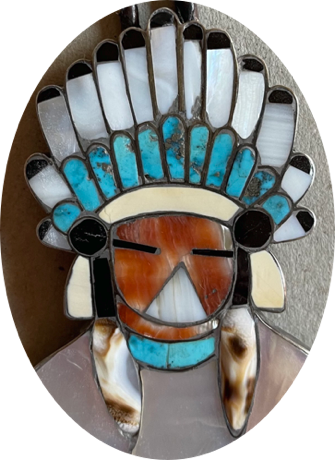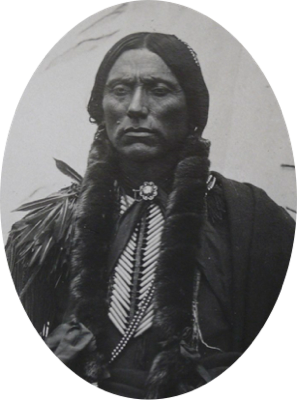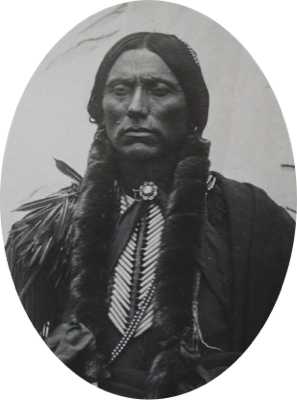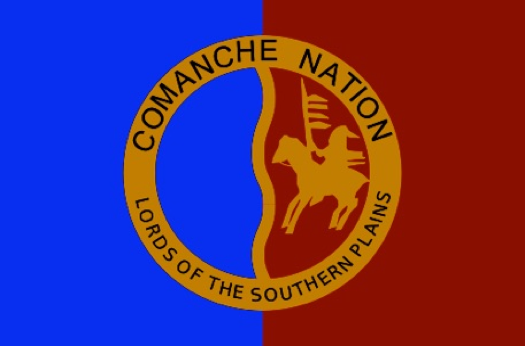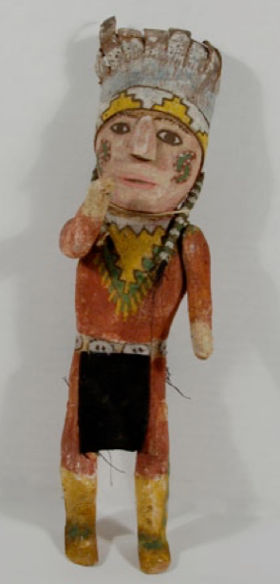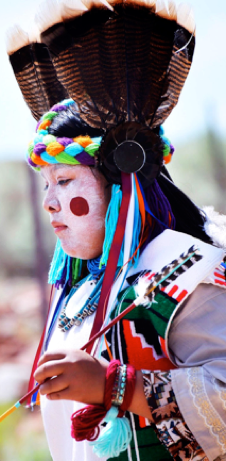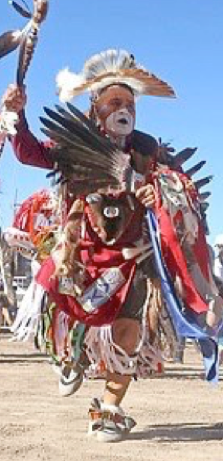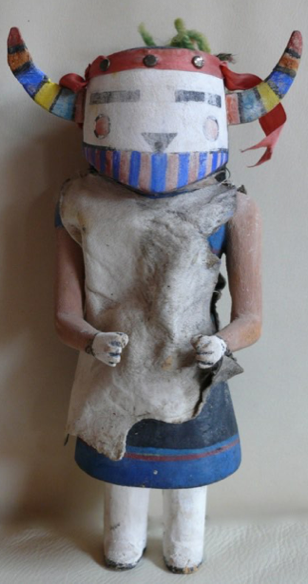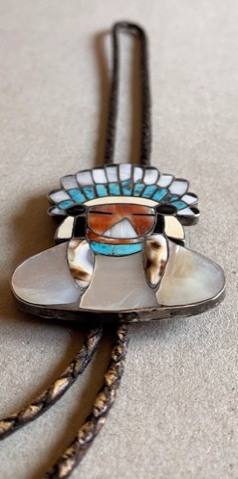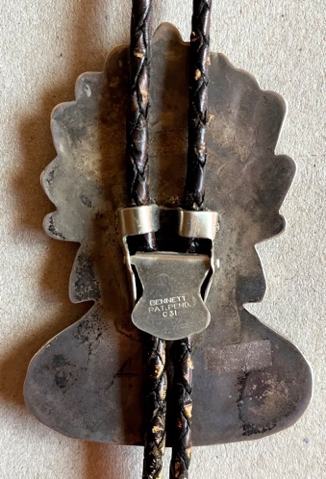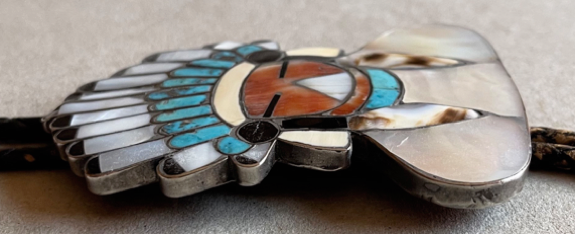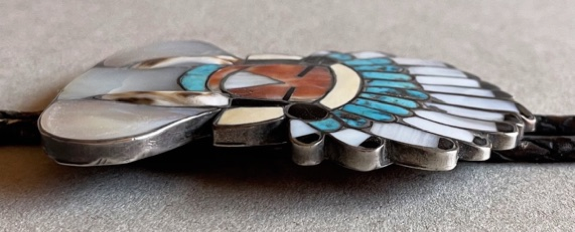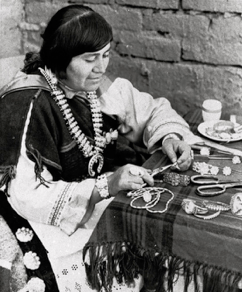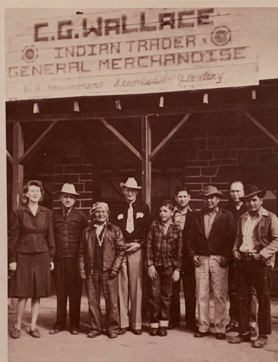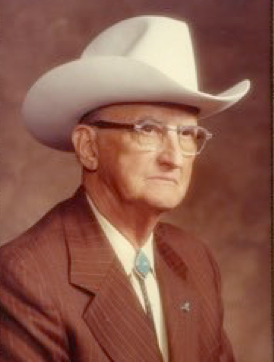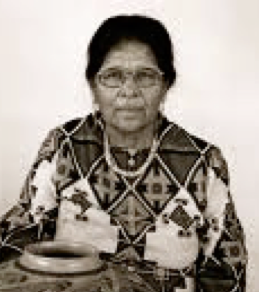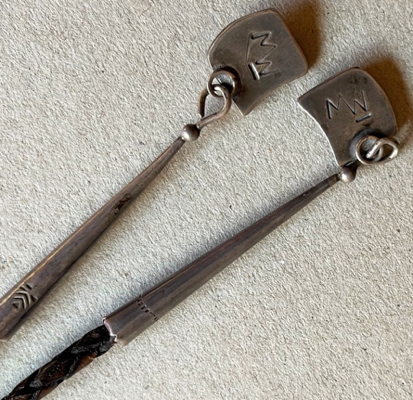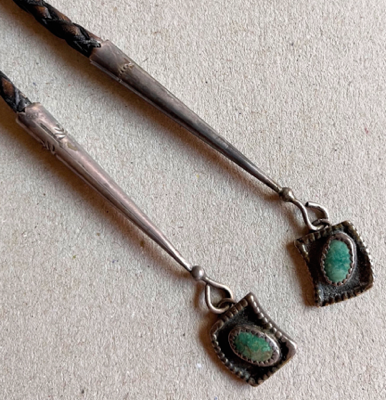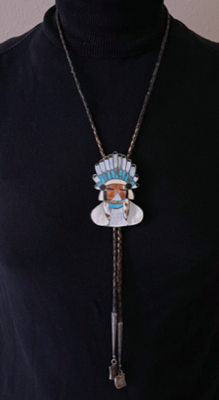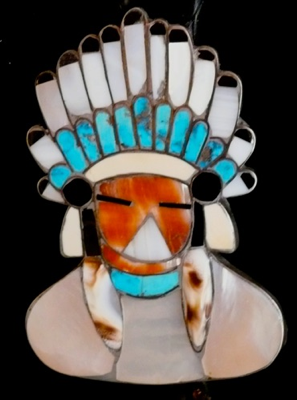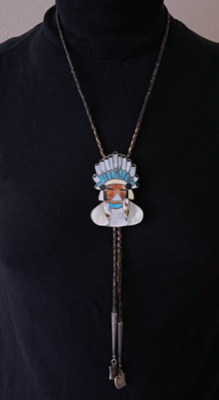 A beautiful vintage Zuni Pueblo, NM inlaid silver bolo with a stylized depiction of a Comanche Plains Indian "Chief", c.1950's
This bolo has terrific and very striking imagery based on a Comanche Plains Indian "Chief" figure wearing a full eagle feather headdress. Of course, this is not an official or accurate image of an actual Comanche Indian Chief such as Quanah Parker pictured just below, but more of a stylized 20th Century Indian Trading Post-era visual presentation of one based on a version of one of the various ways in which the Zuni and the Hopi pueblos represent the Comanche or "Kumanshi" as the Zuni refer to them, in their respective Pueblo's Comanche kachina dances which both these Pueblos perform regularly. The Comanche male and female kachina figures which appear in these dances are all dressed and made up in variations of the manner of the way the stylized figure in this bolo is presented.
Quanah Parker (1845-1911), Principal Chief of the Comanche Indians, c. 1885
Original photo source and © DeLancey W. Gill, Smithsonian Bureau of American Ethnology, Washington, DC.
Historically, as the dominant Indian tribe on the Southern Great Plains during the 18th and 19th centuries, the
Comanche indians, known colloquially and famously as "The Lords of the Southern Plains" were loosely based in the territory around the Texas Panhandle, Oklahoma, Kansas and Eastern and Central New Mexico. They projected a fearsome and very powerful presence and influence among the other various Southwestern tribes; the various Pueblos, Apache and Navajo and the extent of their great influence and power is seen and commemorated in the continued and regular performances of Comanche dances and the continued and frequent carving of Hopi and Zuni Comanche Kachina dolls.
This large and dramatic bolo is beautifully hand-wrought and finely inlaid in silver using both primary styles of Zuni Pueblo jewelry inlay; channel inlay in which the individual stones are separated by thin silver channels and stone-to-stone inlay in which the individual stones are placed directly adjacent to each other. This bolo contains a variety of handsome stones and shells, some 56 separate pieces in all; most notably 13 very fine pieces of high-grade Morenci, Arizona turquoise, one of the world's very finest and most esteemed turquoise varieties and additionally orange "Spondylus" or spiny oyster shell, black jet, white and yellow shell, tiger-eye shell and mother-of-pearl.
A historic Hopi Comanche Kachina doll, c. 1940's.
At top center, the Great Flag of The Comanche Nation, the "Lords of the Southern Plains".
At bottom center, Hopi male and female Comanche Kachina dancers.
Top center photo source and © Wikipedia. Lower center photos source and c Navajo-Hopi Observer.
A historic Zuni Kumanshi Kachina doll, c. 1920's.
Photo source and © Adobe Gallery, Santa Fe
 Unfortunately, we do not know who the maker of this bolo was, but whoever they were they did absolutely wonderful work. In an attempt to make a more comprehensive attribution, we showed this piece to three of our most experienced and knowledgable Native American jewelry colleagues for their expert opinions and they all were struck by the remarkable overall quality of its design and craftsmanship and the beauty and uniqueness of the bolo's Comanche image. And while all agreed that the quality and uniqueness of the piece indicated the hand of a especially skilled maker no one could come up with the name of a specific artist, but again all three agreed that the signs pointed to a specific possible time frame and possible place of origin which would be the mid-to-late1950's at the famous C.G. Wallace Trading Post at Zuni Pueblo, New Mexico. This dating is supported by The Bennett Company "Pat. Pend C-31" commercial steel fastening clasp on the back of the bolo which dates to the early 1950's and was the standard bolo slide being used at that time.
Charles Garrett (C.G.) Wallace (1898-1993) was a formidable and formative figure in the history of Southwestern Native American arts and he employed a virtual all-star team of talented Zuni and Navajo silversmiths to make high-end jewelry pieces with materials of the highest quality for his discriminating and high-end clientele. Such a unique piece could easily have been made as a commission for one of Wallace's favored clients or friends. Any one of several of Wallace's excellent Pueblo silversmiths such as Daisy Hooee, Della Casa Appa or John Gordon Leak come to mind as being possible makers here, but we will likely never know for certain. However, the overall quality of design, workmanship, materials and time frame points strongly in C.G. Wallace's direction, in our view.
At far left, Hopi potter and jeweler, Daisy Hooee. At near left, Charles Garrett (C.G.) Wallace, c. 1920's. At near right, The C.G. Wallace
Trading Post at Zuni Pueblo, c. 1920. At far right, Della Casa Appa making jewelry at C.G. Wallace's Trading Post, c. 1920's.
Daisy Hooee photo source and © Pinterest. C.G. Wallace photos source and © Antique American Indian Art, LLC. Della Casa Appa photo source and © Palace of the Governors Photo Archives, Santa Fe, NM
The bolo measures a very impressively-sized 3 1/8" in height and it is 2 1/4" in width and 3/16" in thickness. It weighs a comfortable and easy to wear 71 grams or 2 1/2 ounces. The bolo slide itself and all the stone and shell inlays are in excellent original condition with one or two almost impossible to see microscopic cracks. There is some excess original glue residue visible around the edges of some of the stone and shell inlays and the medium dark brown braided leather bolo tie shows a fair amount of age-appropriate abrasion wear, but it is still in very good and completely wearable condition and to our eye looks appropriately and very attractively worn in or finely "patinated" as they say in artspeak.
The two-piece silver tips on the bolo have small greenish turquoise stones set in serrated silver bezels on their hanging pendants and they measure 3" in length. The tips are very nicely done, but are somewhat different stylistically than the bolo slide and they may or may not be original to the bolo, but this is of no particular consequence in our estimation as they look appropriate to the period and the piece. there is an unknown mark "MW" engraved on the back of both the tips which might be an artist's signature or even possibly the initials or ranch brand of a previous owner.
This bolo is a unique and marvelous combination of historic Mid-Century Southwestern jewelry, excellent Native American craftsmanship, high camp and great old Western style. How could anyone not look completely and totally cool as all get-out while wearing this wonderful piece? Ralph Lauren, are you listening?
Price $2,400