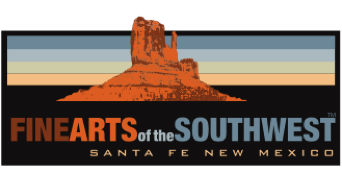 © 2010-2022 by Fine Arts of the Southwest, Inc. All rights reserved.
Unauthorized reproduction or use is strictly prohibited by law.
A wonderful early Warren E. Rollins Southwestern genre painting, "Pueblo Woman
at a Spring", oil on canvas, c. 1905-1907
Southwestern paintings don't get much more archetypal than this bucolic scene of a Pueblo or Navajo Indian woman peacefully seated with her large pottery jar at a desert spring. Everything about this painting is absolutely terrific beginning with the lovely, harmonious composition, the saturated Southwestern color palette, the sunlit desert sands, clear blue sky, rare refreshing water and cool restful shade. It's a timeless and totally romantic evocation of a classic Southwestern scene. You get the picture.
Warren Eliphalet (W.E.) Rollins (1861-1962) is euphemistically known today as "The Dean of the Santa Fe art colony" which means essentially that he was the first academically-trained artist in the door here and he mounted the first-ever formal art exhibition here with the permission of the Territorial Governor. Rollins also had the best primo studio location in town, in the old historic 17th Century Palace of the Governors smack dab in the center of the Santa Fe Plaza. Before he arrived in Santa Fe to live around 1909, Rollins was a highly-celebrated California painter who had spent years traveling extensively throughout the desert Southwest living for months at a time among the Navajo and Pueblo people painting them and their surrounding desert landscape. We think it's very likely that this painting was done during that very early period, around 1905 to 1907.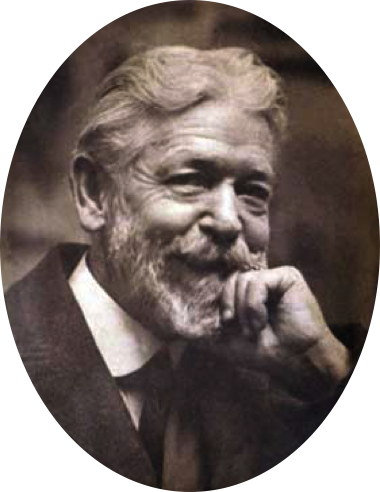 The "Dean" of the Santa Fe Art Colony,
Warren Eliphalet Rollins, c. 1910
Photo source and © warrenerollins.com
Warren E. Rollins teaching students in his art studio in Santa Fe's Palace of the Governors, c. 1910
Photo source and © Palace of the Governors (MNM/DCA) Negative no: 019314
The painting is done in oil on canvas and it measures 15" in height and 13" in width (sight size). The framed dimensions are 21" in height and 19" in width. We recently had the painting beautifully framed in a perfectly hand-carved 22K gold leaf gilded early 20th Century period-type Newcomb-Macklin Company-style frame by Goldleaf Framemakers of Santa Fe, Santa Fe's finest fine art framers. This lovely frame is essentially a work
of art in its own right and it forms the the perfect presentation stage for this stunning painting. The painting
is in remarkable, nearly pristine original condition particularly for its 115 or so years of age. There is no restoration or re-lining on the painting and only one tiny speck the size of a pinhead of inpainting at the upper left. The painting is properly and attractively signed "W.E. Rollins" at the lower right in the artist's characteristic signature and there is an old pencil inscription on the top stretcher bar which reads "Wheeler
Rug Co.", presumably the name of a previous owner, but we could find no further information on this.
This painting is good enough and beautiful enough to hang in any collection of fine Western paintings anywhere, from Santa Fe to New York to Paris to Tokyo to Dubai. Classic American Western Art featuring Native American subjects has become a nearly universal vernacular the world over and this painting is a perfect expression of it.
Provenance:
Fine Arts of the Southwest, Santa Fe, NM
The Owings Gallery, Santa Fe, NM
Private Collection
Coeur D'Alene Art Auction, Reno, NV
Bennett Family Collection, Agoura, CA
Price available upon request