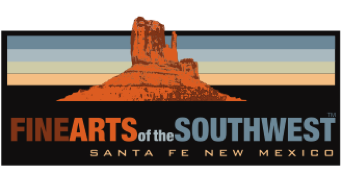 © 2010-2022 by Fine Arts of the Southwest, Inc. All rights reserved.
Unauthorized reproduction or use is strictly prohibited by law.

A remarkable vintage White Hogan Shop Modernist-style silver and ironwood cuff bracelet, c.1960's
Let's talk about "Style" with a capital "S", this bracelet has really got it going on. And little wonder, as it is a stylish product of the brilliant Navajo silversmiths at Scottsdale Arizona's famed White Hogan Shop. From the 1950's through the 1980's The White Hogan Shop set the quality and beauty standards for Navajo silverwork.
Led by the brilliant Navajo silversmith, Kenneth Begay (1910-1977) The White Hogan Shop was a veritable all-star team of talented artists some known by name others known only by their outstanding work.
This bracelet is the perfect expression of the White Hogan Shop's streamlined Modernist design philosophy of using traditional methods and craftsmanship combined with an elegant streamlined distinctly modern look and the unique use of materials such as these beautiful deep brown Desert Ironwood panels. Ironwood, as its name suggests, is an extremely hard and durable wood which grows in Arizona's Sonoran desert. It has a lovely tight grain and is a perfect material for use in Southwestern jewelry. Kenneth Begay and the White Hogan Shop pioneered this beautiful desert material's use and following their example it was also later adopted and used quite often by the great Hopi jewelry artist Charles Loloma (1921-1991).
The Desert Ironwood Tree (Olneya tesota)
Photo source and © Arizona Sonora Desert Museum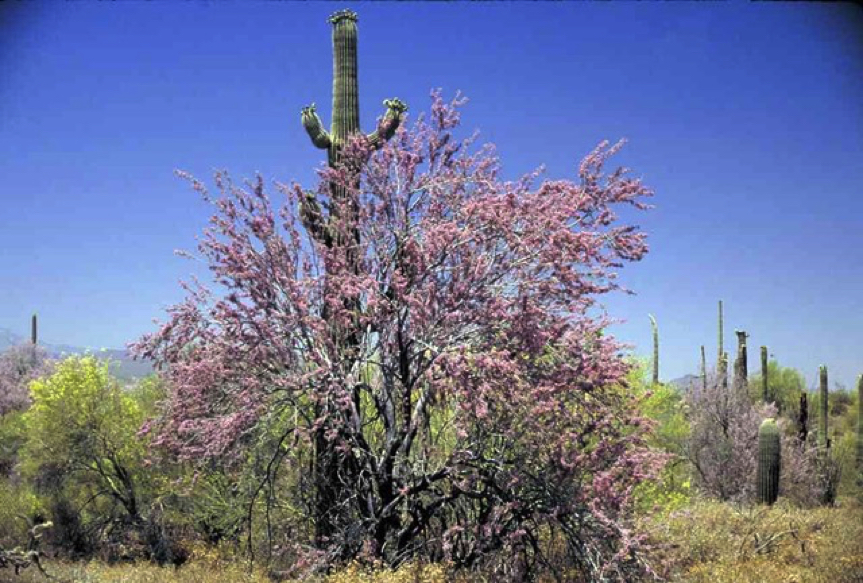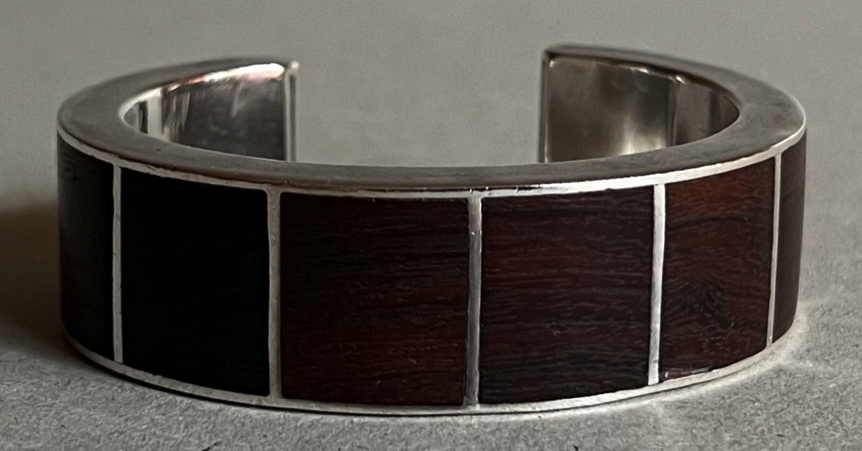 The ten Desert Ironwood panels in this bracelet are set in a continuous inlaid channel around the entire circumference of the bracelet and are interspersed by narrow bands of polished silver. The overall effect of this contrast in color, surface and texture is extremely elegant and very visually refined.
The bracelet measures 3/4" in continuous width all the way around. The inner circumference end-to-end is 5 3/8" and the gap between the terminals is 15/16" for a total interior circumference of 6 5/16". The bracelet is approximately 1/4" in thickness all the way around. The bracelet weighs a satisfying and easily wearable 69 grams or 2 3/8 ounces.
It is in extremely excellent original condition particularly for it's 60 or so years of age and it is properly hallmarked with the White Hogan Shop's domed Navajo hogan insignia and is also marked "Sterling" and "Handmade" with the initials "DHC" which are most likely the initials of the artist who made it, but we do not know who this person was. There is also what appears to be an old trader's numeric code handwritten in electric pen. What matters most here is that this is a wonderful White Hogan Shop piece all the way, a perfectly conceived and executed reflection of their exalted quality and aesthetic standards. For all intents and purposes, a modern jewelry sculpture.
Elegance, sophistication, beauty, history, craftsmanship, quality are all in abundance here.
We could go on of course, but we believe the point has been made.
SOLD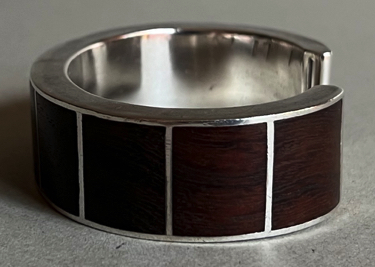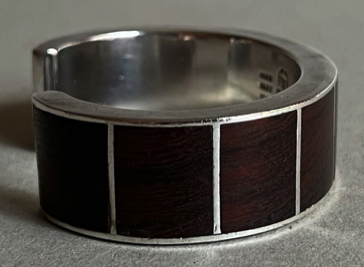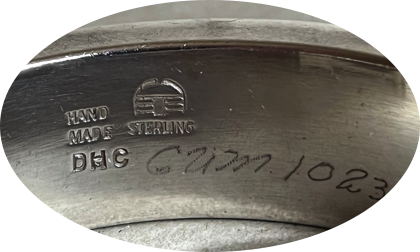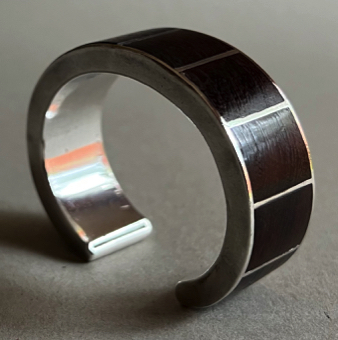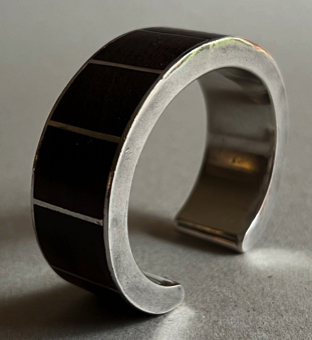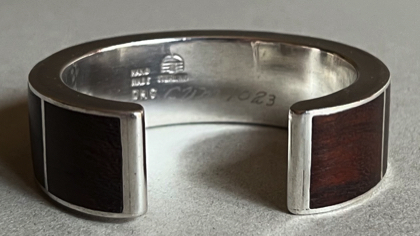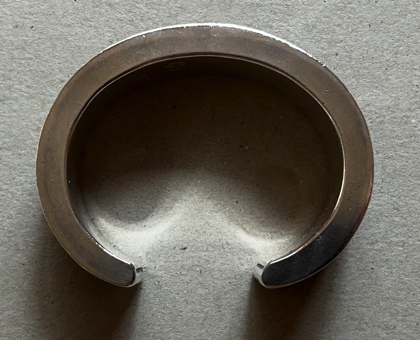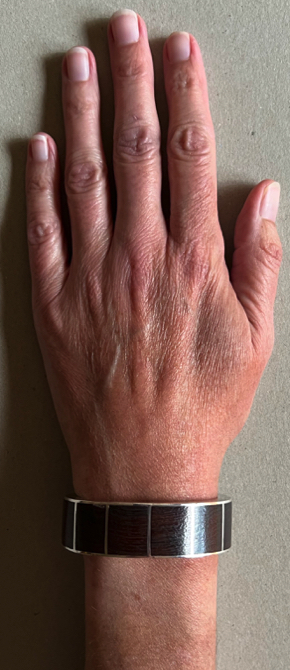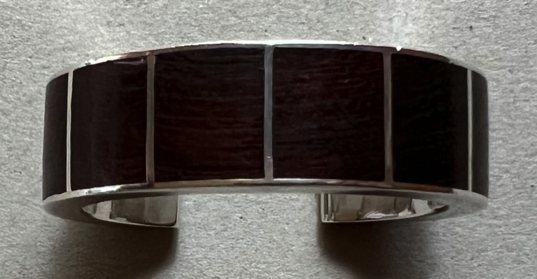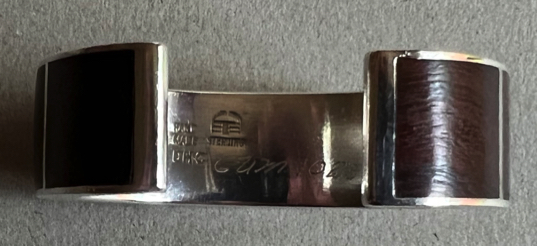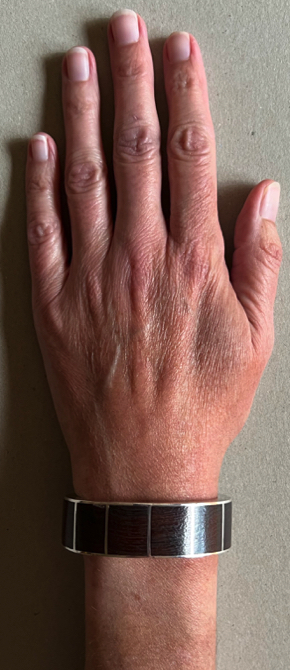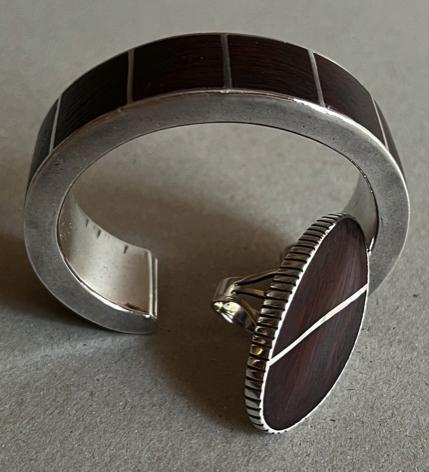 The bracelet shown with a White Hogan Shop silver and ironwood ring. To view our website listing of this ring, please click here.