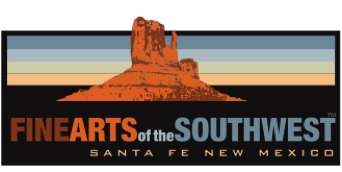 © 2010-2021 by Fine Arts of the Southwest, Inc. All rights reserved.
Unauthorized reproduction or use is strictly prohibited by law.

Willard Clark woodcut of a crocus flower, circa 1940's-50's
A beautiful original woodcut of a crocus flower by the talented Santa fe artist Willard Clark (1910-1992). The woodcut measures 4 1/4' height by 3 1/2" width (sight) and 12 1/8" height by 11 1/8" width (framed). It is signed "W Clark" in pencil at the lower right and is in excellent original condition. It is framed under UV-protective "Museum" glass in a hand-carved, custom-made 22K gold gilded frame by Goldleaf Framemakers of Santa Fe.
Price $1,100