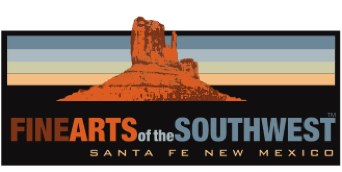 © 2010-2021 by Fine Arts of the Southwest, Inc. All rights reserved.
Unauthorized reproduction or use is strictly prohibited by law.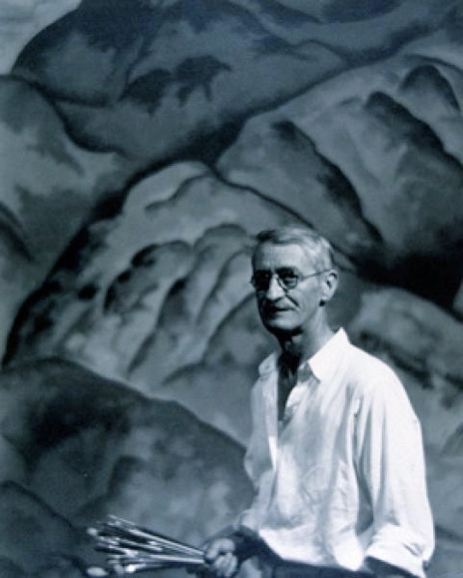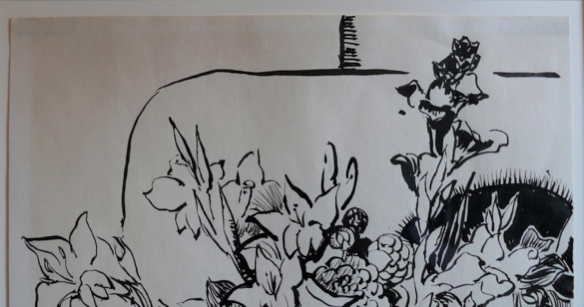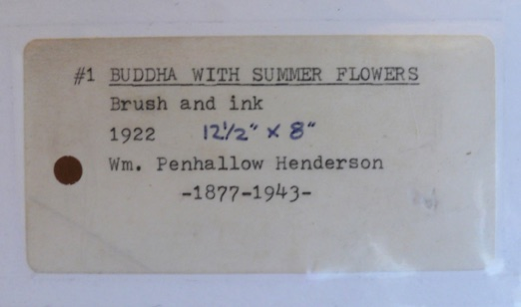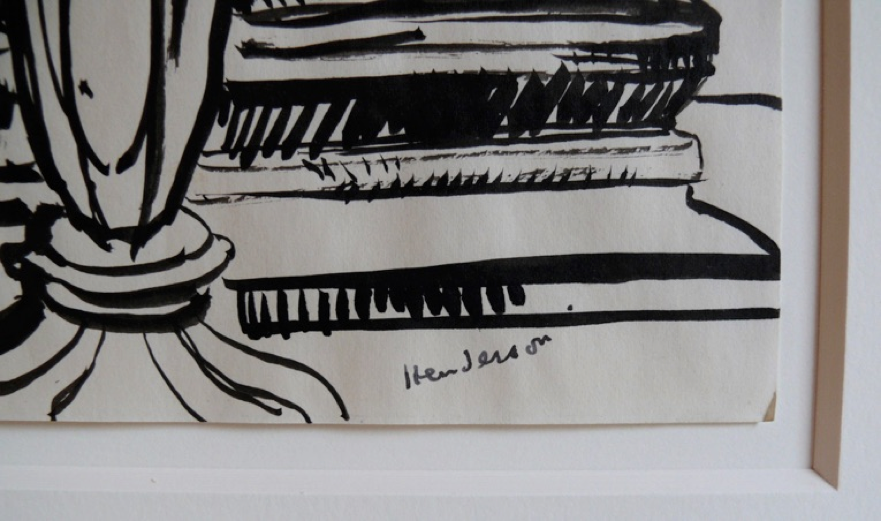 A beautiful and historic Santa Fe still life
by William Penhallow Henderson, 1922
This is a lovely, early floral still-life from the renowned Santa Fe artist, architect and furniture maker, William Penhallow Henderson (1877-1943). Henderson painted this piece in 1922, six years after he moved to Santa Fe in 1916 and it was most probably painted in Henderson's old Santa Fe studio or home on the Camino del Monte Sol. The painting is entitled "Buddha With Summer Flowers" and features a large floral bouquet, with an assortment of irises, dahlias and lilies arranged in a vase on a table in front of a Santa Fe-style adobe fireplace. Close nearby on the table is a statue of a reclining Buddha on top of what appears to be a stack of books. The scene is peaceful, contemplative and timeless.
And "timeless" is a most appropriate word indeed here, because although this piece is 96 years old, it literally looks as fresh as a daisy, as if it had been painted only yesterday. The piece is most elegantly and expressively rendered in Japanese brush and black ink on paper which makes it an interesting combination of a painting and a drawing. Henderson's brushwork here is flowing, expressive and assured. The depiction is clean and modernistic and classic.
William Penhallow Henderson in Santa Fe, circa 1920's
Photo source and © William Penhallow Henderson Papers,
Archives of American Art, Smithsonian Institution.
The still-life is signed "Henderson" in a full last name signature at the lower right which is fairly noteworthy as many of Henderson's paintings and works on paper were unsigned and numerous others were signed only with his initials and insignia. The piece is dated 1922 on the original official William Penhallow Henderson estate label attached on the back. The "sight" size of the still-life is 12 3/4" by 8 1/4" and its framed dimensions are 22 3/4" by 18 1/2".
The piece is in excellent original condition, particularly for its nearly a full century of age, with a very slight amount of matte "burn" and hinge tape residue along the top edge from a previous framing. The still-life was recently re-framed by us to the highest archival standards in a beautiful, hand-carved, white gold-gilded wood frame under UV-protective TruVue conservation "Museum" glass by Santa Fe's premier fine art framers, Goldleaf Framemakers.
This is a very good opportunity to acquire a beautiful early artwork with excellent artist's estate provenance by a truly distinguished American artist who was one of the most interesting, most accomplished and most highly-regarded members of Santa Fe's original historic art colony.
Provenance: The Artist, 1922
William Penhallow Henderson Estate, 1943
Price $5,200