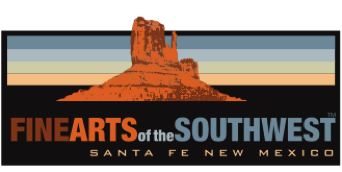 © 2010-2021 by Fine Arts of the Southwest, Inc. All rights reserved.
Unauthorized reproduction or use is strictly prohibited by law.

"Nino on the Acequia, Santa Fe"
An original colored pastel and pencil on paper by
William Penhallow Henderson, Santa Fe, NM, c.1916-1943
THIS WONDERFUL PASTEL was created by one of the most significant and accomplished of all the early 20th Century Santa Fe Art Colony painters, William Penhallow Henderson (1877-1943), who, in addition to being a brilliant painter, was also an outstanding architect, draftsman and furniture maker. As a young man, Henderson traveled widely in Europe on a Paige Art Scholarship in the very first years of the 20th Century where he was deeply influenced in Paris by the then ground-breaking, radical work of the French Impressionists, most importantly Pierre-Auguste Renoir (1841-1919) and Claude Monet (1840-1926).
Later, Henderson, along with his wife, Alice Corbin, an accomplished and highly-esteemed poet in her own right, moved from Chicago to Santa Fe in 1916 to seek a cure for Alice's tuberculosis. They quickly became a significant part of Santa Fe's burgeoning expatriate art colony and remained so for the rest of their lives. William Penhallow Henderson left a most important artistic legacy, his distinguished work is now held in the collections of many major museums, including the Smithsonian Institution in Washington, DC, The Art Institute of Chicago, The Denver Art Museum, The Eiteljorg Museum
and The New Mexico Museum of Fine Arts in Santa Fe.
"Henderson, more than any artist in Santa Fe, was
a polymath and if not a Renaissance man, then, he
certainly produced a body of work that resembles
a Renaissance artist."
-Karl L. Horn
Excerpted from pp.13 of an essay entitled "An American journey, The Art
of William Penhallow Henderson" © 2010 The Owings Gallery, Santa Fe
This lovely, large pastel is done on dark grey artist's paper and features a young New Mexican boy sitting on an adobe bench alongside the old Acequia Madre (The so-called "Mother Ditch" irrigation canal.) in old Santa Fe just a few blocks from Henderson's home and studio on Camino del Monte Sol. It measures 12 1/2" by 10" (sight) and its framed dimensions are 20" by 17". The brushwork and color palette on this piece are particularly beautiful and vivid and are strongly reminiscent of the work of the great French Impressionist, Pierre-Auguste Renoir, whose ground-breaking work along with that of Claude Monet, Edouard Manet and other Impressionists exerted a profound influence on the young Henderson in Paris in the early 1900's. The composition is lovely; making marvelous use of the dark artist's paper and delineating the figure in loose but expressive strokes of color. The palette and the use of light and shadow in the work are masterful.
The pastel is in excellent original condition and is initialed "WPH" in Henderson's beautiful ligature at the lower left. The pastel has been very recently and most beautifully framed in a 12K white-gold gilded hand-carved maple wood frame by Goldleaf Framemakers, Santa Fe's premier fine art framers. It is island matted to show the full entirety of the deckled-edge dark grey artist's paper sheet. The framing was accomplished to the highest possible archival conservation standards using "TRUVUE" conservation Museum glass.
Upon Henderson's death, this pastel was inherited by Alice Henderson Rossin, Henderson's only daughter and her daughter, Letitia Evans Frank and was subsequently sold through their family's appointed gallery representative for their Father's estate, the old Jamison Galleries of Santa Fe, whose original estate inventory number and attribution label is affixed to the reverse of the pastel along with a subsequent, later label from the renowned Owings Gallery, one of Santa Fe's premier fine art galleries and the designated official gallery of the William Penhallow Henderson estate today.
This is a very lovely and significant work of historic 20th Century Southwestern American art created in Santa Fe sometime between 1916 and 1943 by a world-level artist who was steeped in the traditions and techniques of French Impressionism and who brought his vast talents and various influences with him to settle in Northern New Mexico. A Southwestern "Renoir", if you will, and then some, happily available for a few thousands instead of tens of millions.
Provenance:
The Artist
By descent to Alice Henderson Rossin
and Letitia Evans Frank, Santa Fe, NM
Jamison Galleries, Santa Fe, NM
The Owings Gallery, Santa Fe, NM
Fine Arts of the Southwest, Inc., Santa Fe
Price $9,600
Pierre-Auguste Renoir, "Portrait of Jean Renoir", pastel on paper, 1895.
William Penhallow Henderson, c. 1920's
Photo Source and © William Penhallow Henderson Papers,
Archives of American Art, Smithsonian Institution, Washington, D.C.