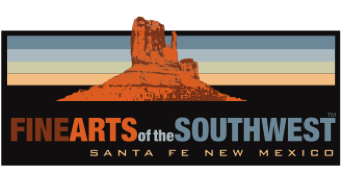 © 2010-2021 by Fine Arts of the Southwest, Inc. All rights reserved.
Unauthorized reproduction or use is strictly prohibited by law.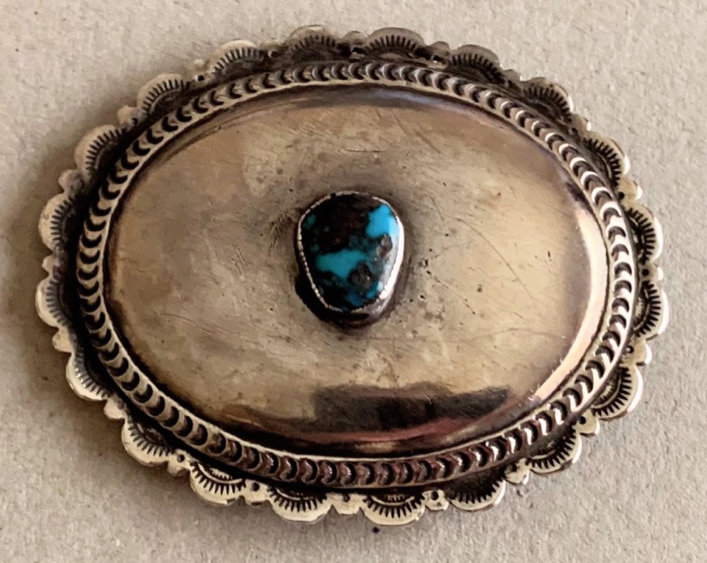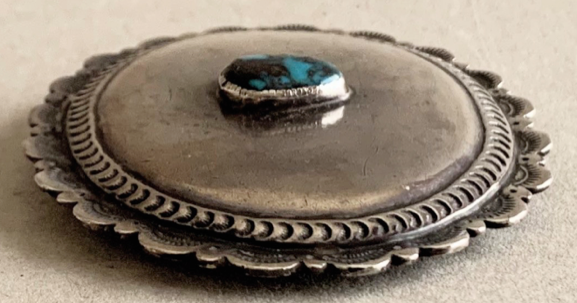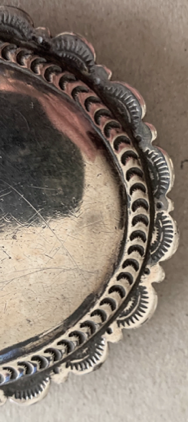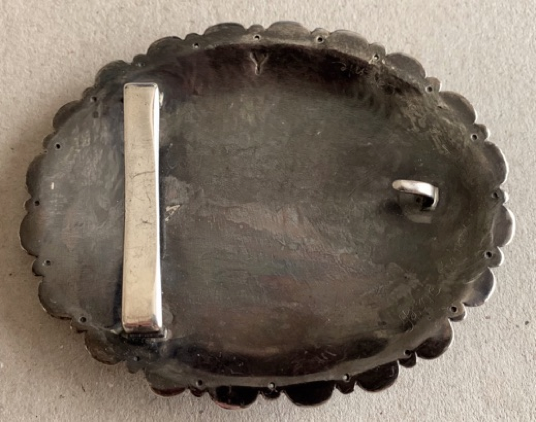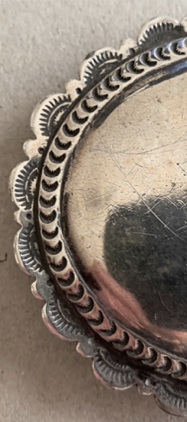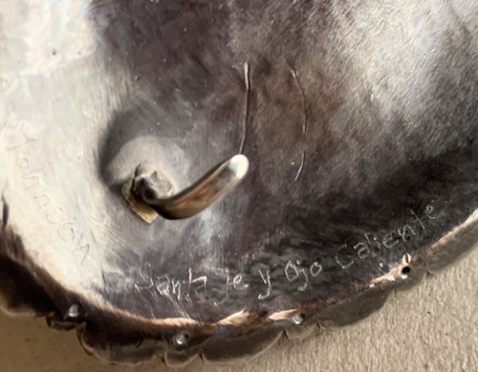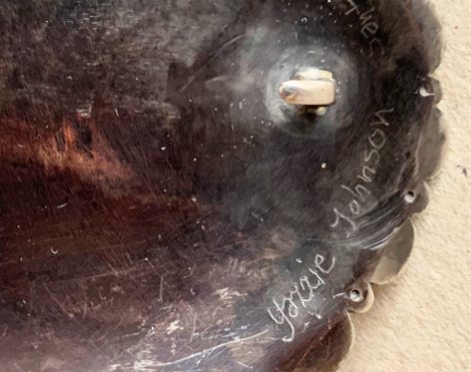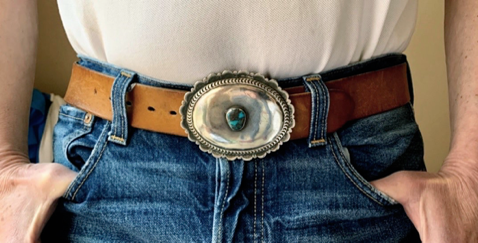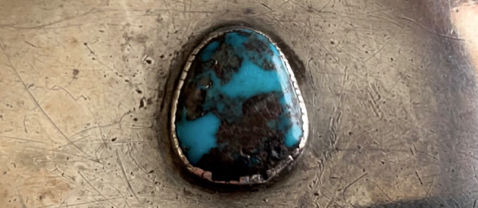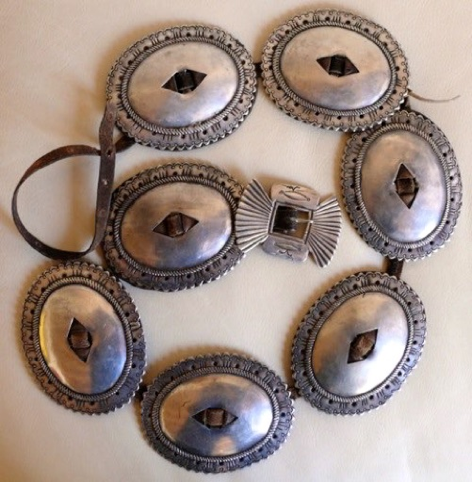 An early and outstanding Navajo silver
and Bisbee turquoise concho-style buckle
by Yazzie Johnson, c.1970-72
Yazzie Johnson (b.1946) is undoubtedly one of the most accomplished and celebrated Navajo jewelers
of the last half of the 20th Century.
He initially began learning his craft as a very young teenager while attending The Inter-Mountain Indian School in Utah where both his parents worked. His teacher was one of the finest and most influential Navajo silversmiths of the time, Dooley D. Shorty (1912-2000) who had formerly worked very closely with the renowned silversmith and educator Ambrose Roanhorse (1904-1981) at The Fort Wingate, NM Vocational School and who also along with Roanhorse in the late 1930's was instrumental in formulating and administering the U.S. Government's Indian Arts and Crafts Board's "U.S. Navajo" and "U.S. Zuni" jewelry inspection and quality assurance programs. A few years later, Shorty again assisted Roanhorse in the formation and development of the influential Navajo Arts and Crafts Guild at Fort Wingate in 1941.
After his distinguished service as a Navajo Code Talker in World War Two, Dooley Shorty taught silversmithing at The Inter-mountain school for some thirty years, teaching a classic style of Navajo silverwork along the lines of what he and Roanhorse had envisioned for The Navajo Guild, emphasizing the predominant use of silver with minimal employment of set stones, classic, traditional techniques with an emphasis on casting and minimal applied decoration or adornment. Shorty's style was readily adopted by his young pupil and Shorty's influence can be clearly seen in the design and fabrication of this beautiful early Yazzie Johnson buckle which looks and feels very much like a stylized version of a Classic-Period Navajo 1st Phase concho from the 1880's.
A few years later, Johnson began to move away stylistically from this earlier, simpler, more classic Navajo design aesthetic when he began collaborating on making jewelry with his childhood friend, Pueblo jeweler,
Gail Bird (b.1949) and together the pair went on to great critical and commercial acclaim for their increasingly complex and elaborate collaborative original jewelry creations, many of which feature exotic stones and multiple settings and which expanded the look and feel of Native American jewelry into entirely new areas.
Thus, very early Yazzie Johnson pieces like this buckle are quite rare and highly-desirable since there are
just not that many of them around and since they are so obviously good. This oval-shaped buckle is beautifully designed with a wide expanse of smooth polished silver framing a small gorgeous High-grade Bisbee "Lavender Pit" Arizona turquoise stone in the center. Bisbee "lavender Pit" turquoise is widely considered to be one of the world's most desirable turquoise varieties in the world. The silver body of the buckle is beautifully domed or repousseed and decorated elegantly just inside the nicely scalloped outside edge with a finely chiseled and stamped ropelike border. The Bisbee turquoise stone is set in an old style "foldover" type very finely serrated silver bezel. Even though it is only around 50 years old the buckle's disciplined design and old school traditional craftsmanship convey the impression and feeling of classicism and great age. There is an incredible polish and a marvelous tactile sense and surface smoothness to the buckle.
The buckle measures a very nicely-sized 3 1/2" in length and it is 2 7/8" in height. It weighs a substantial
78 grams or 2 3/4 ounces and it will accommodate a leather belt strap of up to 1 12" in width. The buckle is in excellent original condition with some very nice age-appropriate dedicated wear and a fine soft patina from use. There is a small amount of wear loss to the serrated silver bezel, but the stone is completely secure in it's setting. Clearly, one or more previous owners loved this buckle a lot! The buckle is properly signed on the back with Yazzie Johnson's early simple hallmark of a stamped capital letter "Y" and it is also interestingly inscribed along the inner edge with his full name, "Yazzie Johnson" and "Santa Fe y Ojo Caliente." Yazzie Johnson has lived and worked in Santa Fe and in the tiny northern New Mexico hamlet of Ojo Caliente around 50 miles north of Santa Fe for many years.
This wonderful buckle offers a whole lot for not a whole lot; fine classic design coupled with
outstanding traditional craftsmanship by a distinguished and highly desirable artist.
Note: the leather belt pictured here is shown for demonstration purposes only and is not included in the sale of the buckle. We can advise you where to have high-quality custom leather belts made, if desired.
Price $1,150
Navajo Classic-Period First Phase concho belt, c. 1870-80.
There are distinct similarities in style and fabrication between these
140-150 year old conchos and Yazzie Johnson's concho-style buckle.