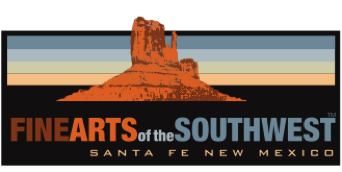 © 2010-2023 by Fine Arts of the Southwest, Inc. All rights reserved.
Unauthorized reproduction or use is strictly prohibited by law.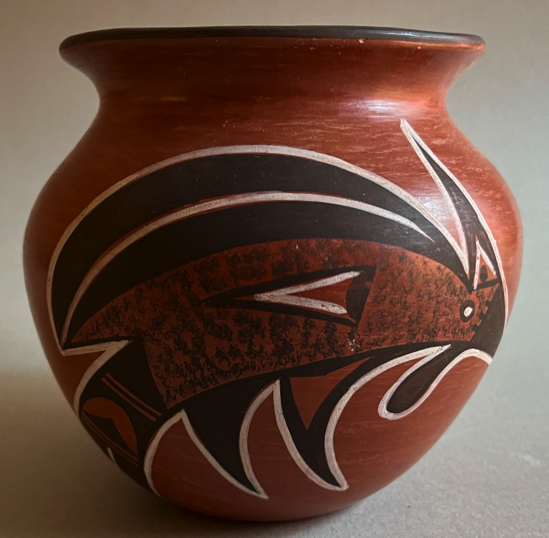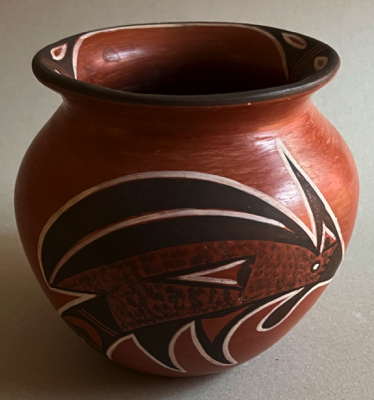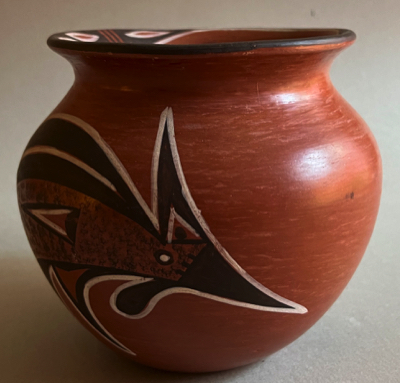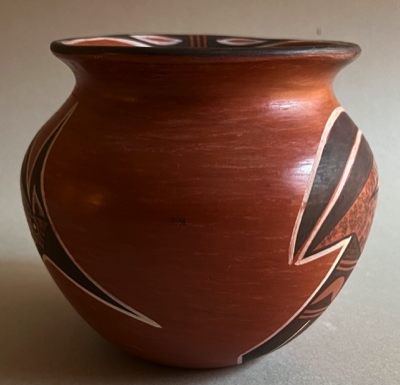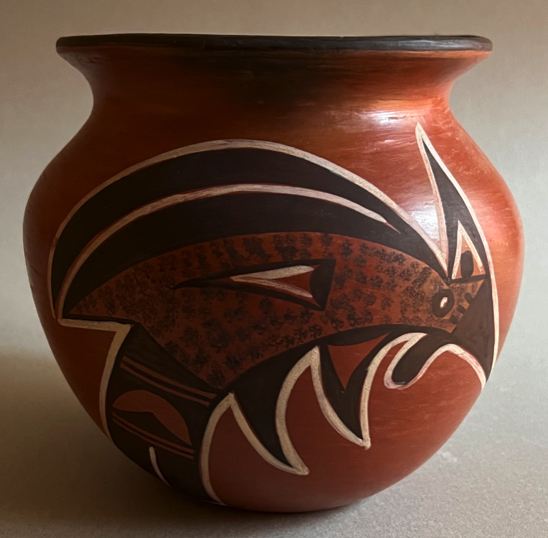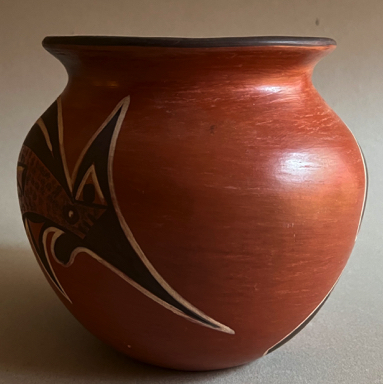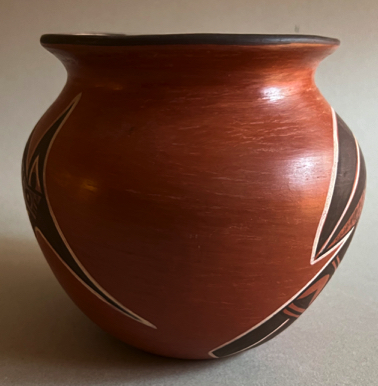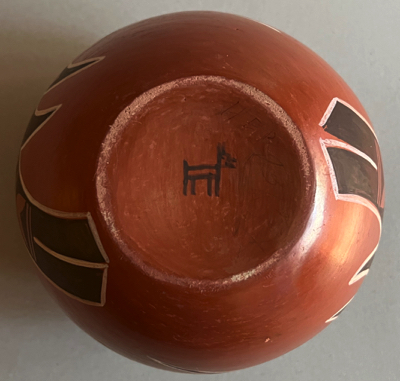 A very striking historic Hopi Red Polychrome pottery globular jar by Zella Cheeda, c. 1950's
Ex: J.L. Hubbell Trading Post, Winslow, Arizona
This is a beautiful and very well made pictorial pottery jar by one of the finest Hopi potters of the 20th Century. Zella Cheeda or "Antelope Woman" (1901-1997) was from the Sichomovi Village on the Hopi First Mesa. She is not
as well known as some of her colleagues, but her work is nonetheless stunning and not that easy to come by.
Zella mastered the art of Red Polychrome pottery; a historic Hopi form consisting of black paint and Kaolin white paint against a darker red background which was originally created or revived by Nampeyo and Annie Nampeyo as
their personal re-interpretation of a number of the ancient 15th and 16th Century prehistoric Hopi and related pottery types whose fragments are found in various ruined villages on and around the Hopi mesas, some of these being Four-Mile, Show Low, Bidahochi and Homolovi Polychrome which were all characterized by the use of Kaolin white paint outlining of design motifs against a darker background color.
The design of this jar is a stylized adaptation of an ancient Hopi Sikyatki Period (1375-1625 A.D.) bird form
rendered in bold black and stippled black paint dramatically outlined by a thick border of pure ground kaolin white paint. The design is powerful and beautifully accentuates the globular shape of the jar. There are two identical bi-laterally opposed large bird forms, one on either side of the jar and interestingly the interior of the jar's neck
is further decorated with matching bi-laterally opposed symmetrical oval shaped design panels strongly resembling
a pair of eyes. All in all, it's a lovely and quite memorable graphic presentation on a jar which has been very finely formed, beautifully stone polished and well fired.
The old J.L. Hubbell Trading Post in Winslow, Arizona.
Photo source and © Wikipedia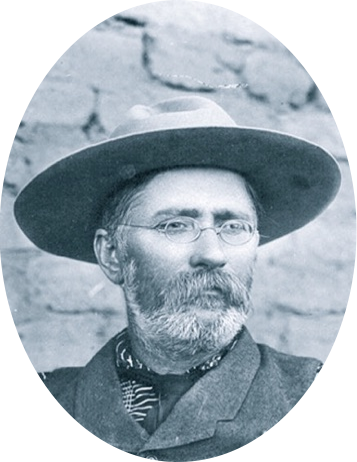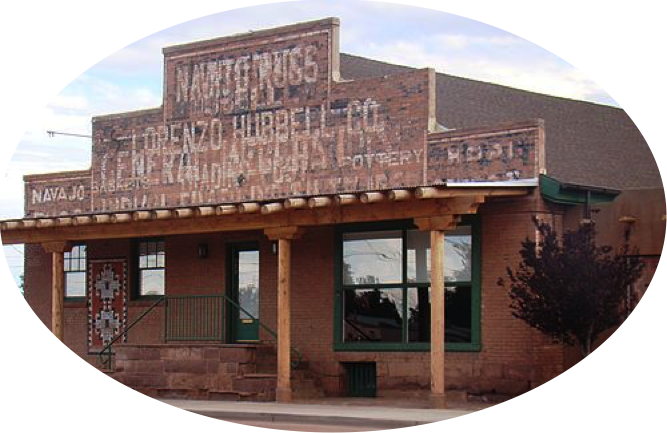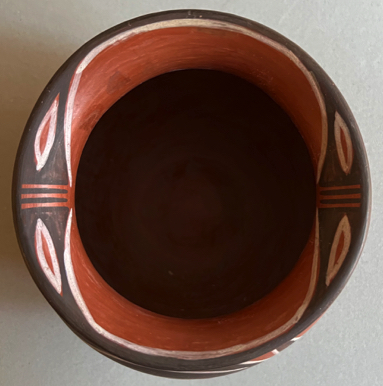 Juan Lorenzo (J.L.) Hubbell, c. 1900-1905
Photo source and © National Park Service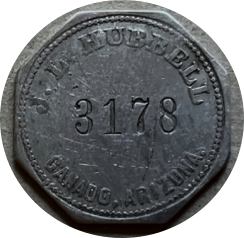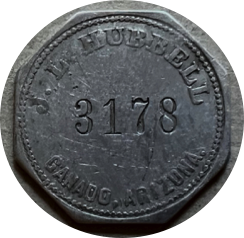 The jar measures a very nicely-sized 6 1/2" in height and is 7 1/4" in diameter. It is in remarkable original condition especially so given its around 70 years of age. There are no cracks, no chips, no serious abrasions and the usually fugitive Kaolin white paint is almost completely intact. A thorough examination of the vessel under Ultraviolet light reveals no evidence of restoration or overpainting. The jar is properly signed on the bottom with Zella Cheeda's characteristic signature of a standing antelope figure.
The jar's provenance is also quire remarkable. It comes from the collection of the old Juan Lorenzo (J.L.) Hubbell Trading Post in Winslow, Arizona which was one of the Southwest's great old historic trading posts. Over the years the Hubbell Trading Post has specialized in the work of many distinguished Hopi potters from the nearby Hopi mesas and has carried the world of such Luminaries as Nampeyo of Hano, Fannie Nampeyo, Annie Nampeyo, Nellie Nampeyo, Paqua Naha, Garnet Pavatea, Joy Navasie, Lena Charlie, Dextra Quotskuyva Nampeyo, Priscilla Namingha and, of course, Zella Cheeda. An old period Hubbell Trading Post trade token, similar to the one pictured below,
is included in the sale of the bowl as a small memento of this excellent provenance.
This jar is a wonderful, historic piece which would be a beautiful and distinctive complement to any collection.
SOLD