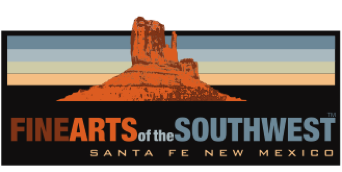 © 2010-2022 by Fine Arts of the Southwest, Inc. All rights reserved.
Unauthorized reproduction or use is strictly prohibited by law.

A very striking Zuni Pueblo channel-inlaid
silver bracelet by Willis Leekity and Susie Losayatee Leekity, c. 1960's
We don't know a great deal about this very talented husband and wife team of Zuni silversmiths other than the fact that they worked primarily in the 1960's-70's and that they made some truly beautiful and highly collectible jewelry such as this incredibly elegant and unique bracelet.
The bracelet's shank is composed of four sensuously teardrop-shaped silver sections lying next to each other end-to-end around the bracelet. These sections have silver overlay outlined borders and are each channel-inlaid on the interior with three nicely-matched pieces each of medium-to-dark-green colored turquoise, possibly Cerrillos, New Mexico or Royston, Nevada. "Channel inlaid" refers to stone inlays where each piece of stone is set into and surrounded by a silver channel as opposed to stone-to-stone inlay where the stones are set directly next to each other.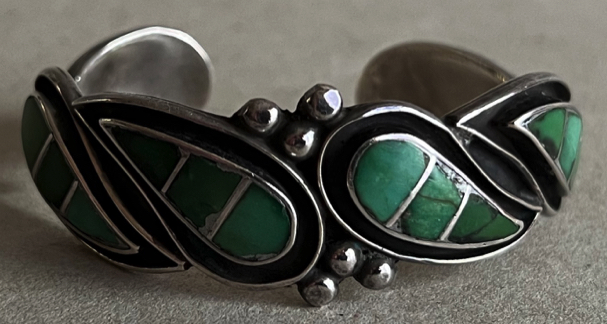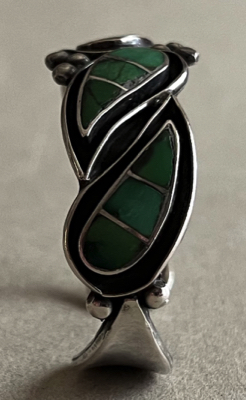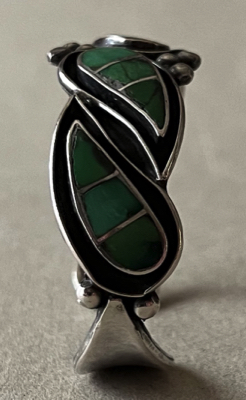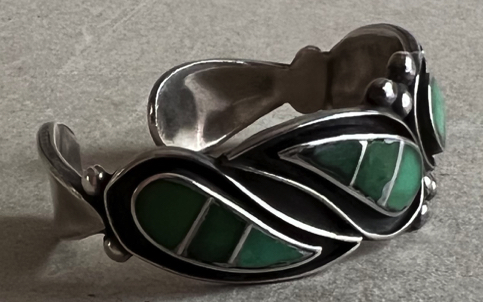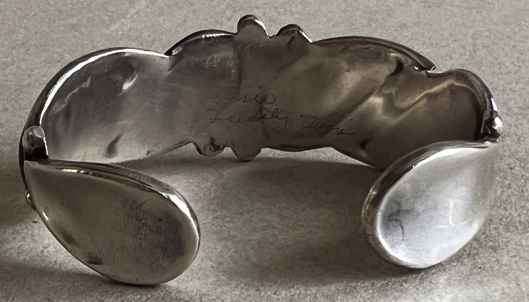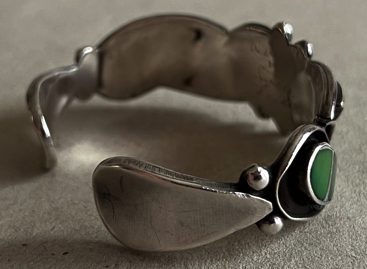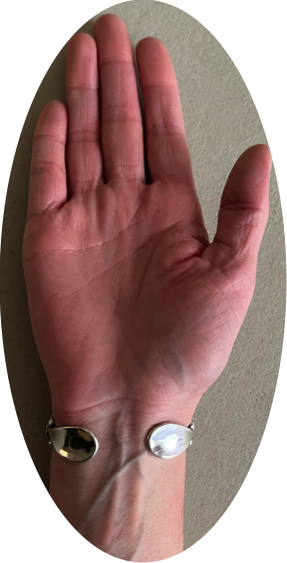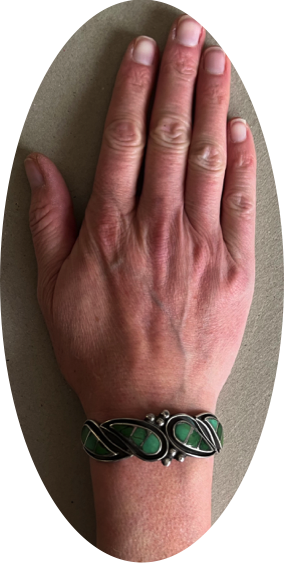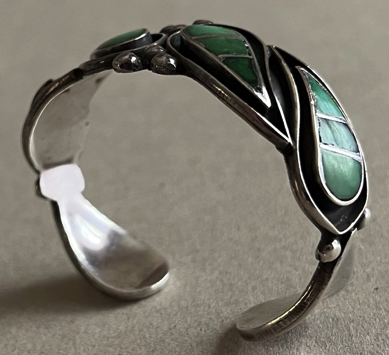 The bracelet measures 1" in width at the widest center point and tapers down to 5/8" width at the end terminals. The bracelet's inner circumference end-to-end is 5 5/8" and the gap between the terminals is
3/4" for a total interior circumference of 6 3/8". The bracelet weighs a comfortable 29 grams or 1 ounce.
The bracelet's interesting end terminals treatment deserve a special mention, beautifully shaped and slightly domed or repousseed, their curving teardrop shapes reflect the inlaid teardrop shapes in the bracelet's center but their brightly polished silver surfaces provide a lovely accentuation and contrast to the darker turquoise panels. Another interesting accent feature are the two sets of three silver "raindrops" set at the top and bottom of the silver shank in the bracelet's center and the pair of matching silver "raindrops" set on each side at the outside edge of the inlaid silver panels.
The bracelet is in excellent original condition overall, two of the turquoise inlays are very slightly cracked but this is of no consequence. The bracelet is properly signed "Willis and Susie Leekity, Zuni"
in electric pen on the interior. This is an elegant, sophisticated, thoroughly attractive piece which will doubtless give you a great amount of satisfaction to wear and contemplate; a handsome and historic example of superior Zuni artistry and craftsmanship.
Price $1,150