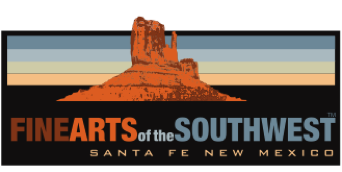 © 2010-2021 by Fine Arts of the Southwest, Inc. All rights reserved.
Unauthorized reproduction or use is strictly prohibited by law.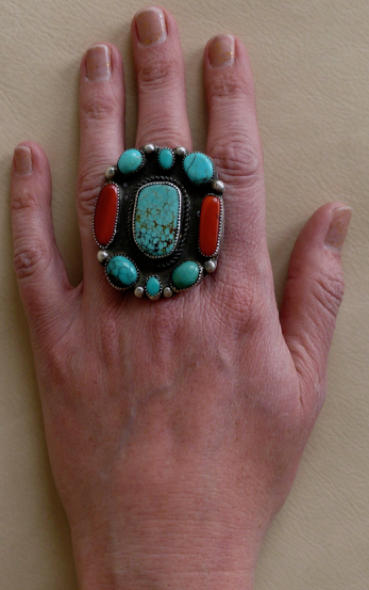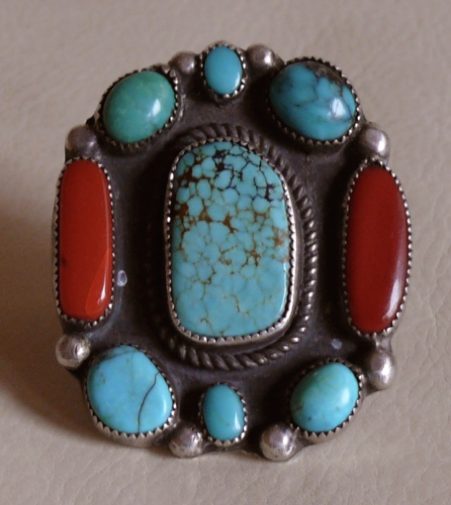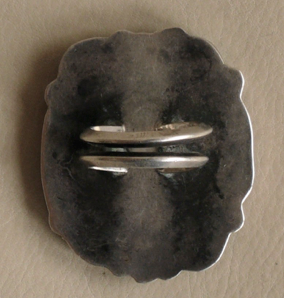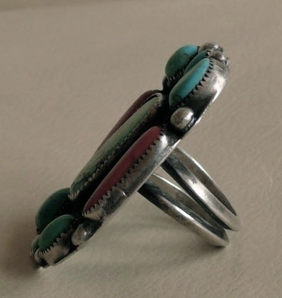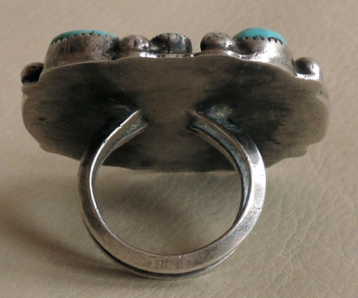 The Zuni Pueblo people love to wear large jewelry, they originally invented "Bling", even thought they certainly would never call it that, long before anyone ever heard of rap music. When you go to a Zuni feast day or see the Zuni olla maidens on parade at the annual Gallup Ceremonial in August, the massive blasts of silver, turquoise and coral stacked on their necks, wrists and fingers can literally blind you.
So it is with this exceptional ring, it's a real eyeful, quite large but relatively mild for Zuni. It is most beautifully-crafted, set with 7 pieces of high-quality turquoise including a nice big piece of rare #8 Nevada spiderweb in the center and two big, beautiful, matching, deep-red coral stones all set in finely serrated silver bezels.
The ring is a size 9 1/2 on a professional graduated ring sizer and it measures 2" in height and 1 5/8" in width across its face. It weighs a substantial, yet comfortable 32 grams or 1 1/8 ounces. The ring is in generally excellent original condition. One of the turquoise stones is cracked but it is completely secure in its bezel. This is a unusually beautiful and striking ring which will catch any number of admiring glances whenever you wear it.
Price $1,350
A wonderful and extremely large Zuni
Pueblo silver, turquoise and red coral ring,
circa 1940's-1950's