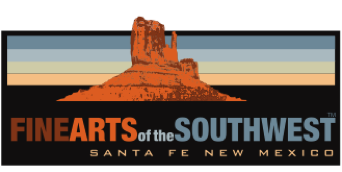 © 2010-2021 by Fine Arts of the Southwest, Inc. All rights reserved.
Unauthorized reproduction or use is strictly prohibited by law.

A wonderful and early pair of Hopi cast silver
earrings by Charles Loloma, c.1959-1960
CHARLES LOLOMA HADN'T BECOME WORLD FAMOUS yet when he made these marvelous earrings, but, as you can clearly see here, his incomparable artistry was already quite well established and world renown was waiting right around the corner. These earrings have all of the distinctive stylistic greatness and unique beauty Loloma would soon be so highly-acclaimed for. Their lovely organic undulating shapes reminiscent of the desert canyons of the Hopi mesa country and the beautiful textural and light and dark contrast between the smoother and highly-polished silver areas on either side and the darker, more roughly-textured area in the center panel is like a beautiful small modernist painting done in three dimensions.
Loloma took to metal casting quickly and naturally, becoming a master caster in very short order having first learned the process initially around 1956 under his earliest mentor, the great Scottsdale, Arizona Modernist jeweler, H. Fred Skaggs (d. 1982) and then furthering his study a couple years later with another famed Master caster, Bob Winston (1915-2003) in California. These earrings were originally tufa-cast and then possibly lost-wax cast from the tufa-cast prototypes.
Charles Loloma's first jewelry instructor H. Fred Skaggs fabricated
silver "shield-style" earrings, Scottsdale, AZ, c. 1950's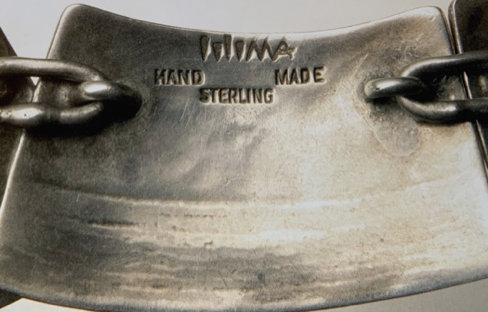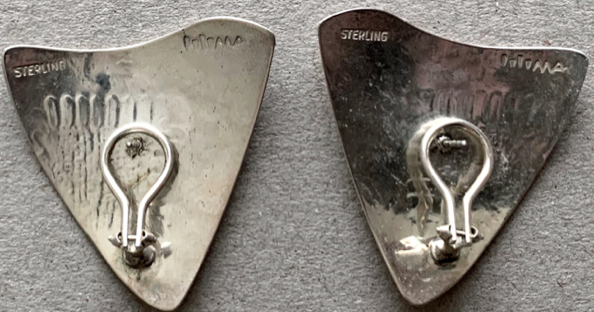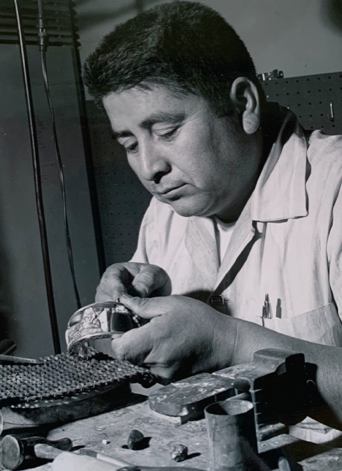 In the late 1950's and perhaps the early 1960's, Loloma signed some pieces with his signature and the word "Sterling" as in these earrings and the triangular ones at above left. To view our website listing of these Charles Loloma Sterling silver "shield" earrings please click here.
-Right photo source and  © Martha H. Struever, "Loloma, Beauty is his Name." 
Wheelwright Museum of The American Indian, Santa Fe, NM, pp. 199
Charles Loloma at work in his studio, c. 1960
Phoenix Chamber of Commerce photo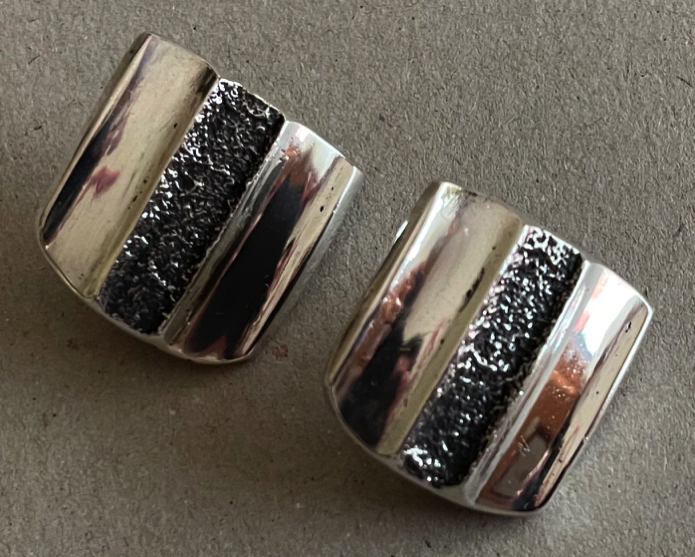 Tufa-casting is one of the most difficult of all the traditional Native American silversmithing processes requiring perfect advance planning in carving the tufa mold in the reverse pattern of the desired finished object, considering and executing the overall composition carefully in the tufa carving and then melting the metal completely and executing a perfect "pour" of the molten metal into the tufa mold to achieve a full and even cast. It is a painstaking process which often fails in some way or other but everything was done just right here.
"What I'd like to be known for is beauty."
-Charles Loloma
The earrings measure a very nicely-sized 1" in height and they are also 1" in width, but interestingly they are not exact squares. Instead, they are very slightly rounded in shape at their bottoms adding a subtly elegant extra dimension. The earrings weigh a substantial, yet very comfortable 11 grams or 3/8 ounce each. They are in excellent original condition and each earring is properly signed "Loloma" on the back in Loloma's now-famous 11-stroke hand-engraved signature and is also marked "Sterling" on the back. The earrings were originally mounted on clip closures which we had changed to posts and "Omega" clips by our professional jewelry restorer who was formerly a colleague of Charles Loloma's and who performed all of his gemstone settings. The earrings are in completely excellent condition.
These are fabulous and highly-accomplished early pieces by a talented world-level artist created in his early
prime as his abilities were in full flower and just before the white hot spotlight of International fame would light him up forever. Sort of the Native American equivalent, if you will, of buying an early Blue-Period Pablo Picasso painting. These earrings are quintessential, beautiful, classic Charles Loloma pieces; the very expression of Loloma's own name which in the Hopi language means "beauty".
SOLD