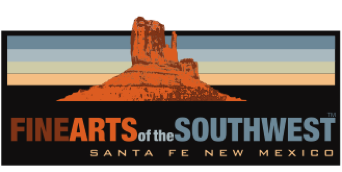 © 2010-2023 by Fine Arts of the Southwest, Inc. All rights reserved.
Unauthorized reproduction or use is strictly prohibited by law.
An extremely dramatic pair of fabricated silver,
red coral, blue lapis and turquoise dangle earrings
by Eveli Sabatie, c.1980's
ex: Eveli Sabatie personal collection
This wonderful pair of silver earrings beautifully showcases the unbridled and exuberant creativity of Eveli Sabatie's jewelry. Eveli Sabatie (French-Moroccan, b.1940) began her jewelry career in 1968 as an apprentice to the groundbreaking Hopi jewelry master, Charles Loloma (1921-1991), and she very quickly established her own unique and highly-distinctive style of jewelry, melding influences which she absorbed during her time at Hopi with Loloma with those from her earlier life in her native Algeria and Morocco. The result is a daring and unprecedented synthesis of form and color delivered with an often astonishing degree of technical virtuosity and complexity.
These earrings are intentionally asymmetrical. The "red" earring is made of silver set with two red coral stones and the other "Blue" earring is made of silver set with one turquoise and one deep blue Lapis Lazuli stone. The stones are beautifully set, the top stone in each earring is very cleanly set directly into the silver body of the earring while the bottom stone is set into an oval-shaped serrated silver bezel. Please notice the interesting detail of the fine hammering on the earring's double silver dangles, which, due to their hammering catch and reflect the light in interesting, ever-changing ways. The earrings measure a very dramatic 3 3/4" in length overall measured from the top of their beautifully hand-fashioned integral silver hanging hooks to the bottom of the two silver dangles and they are 1 3/8" in width at their widest point. They weigh a very comfortable 9 grams or 3/8 ounce each. The silver integral hanging hook is a bit thicker than conventional silver hanging hooks usually are. The earrings are in completely excellent original condition.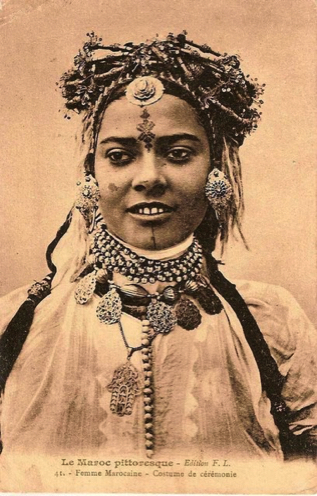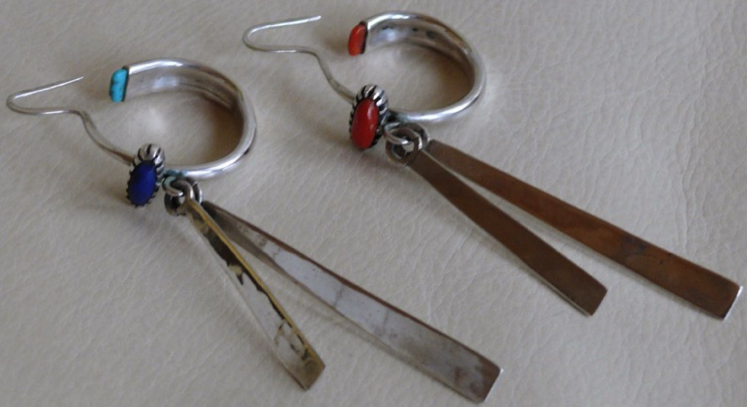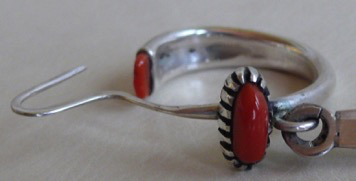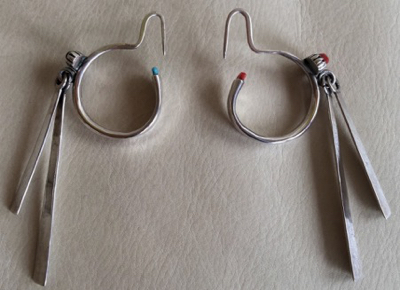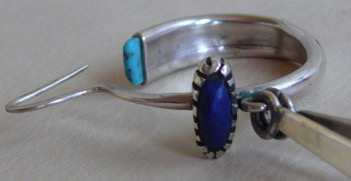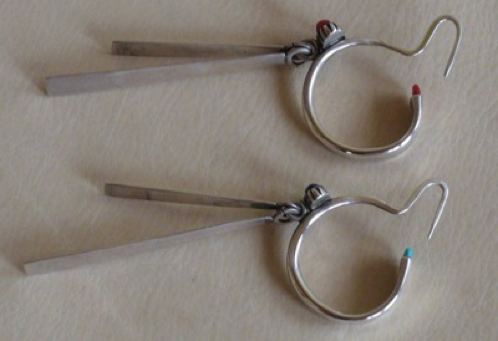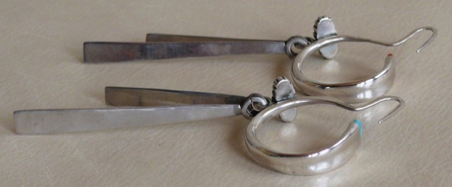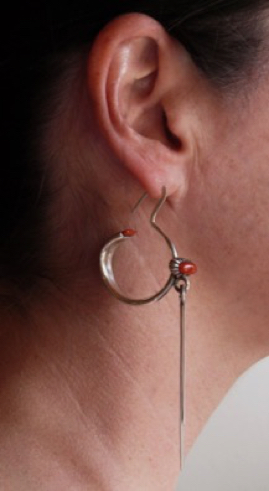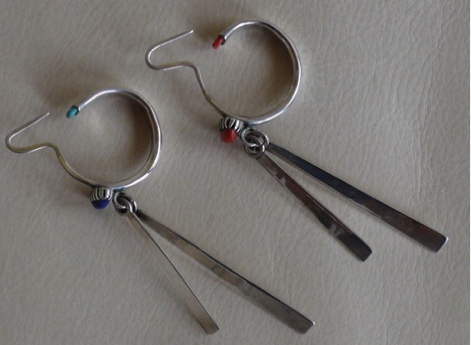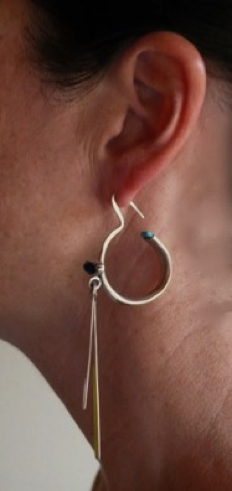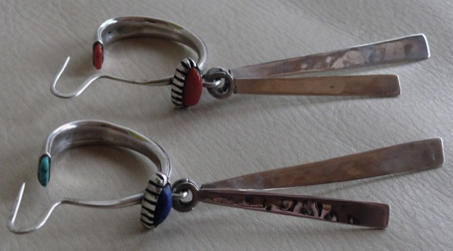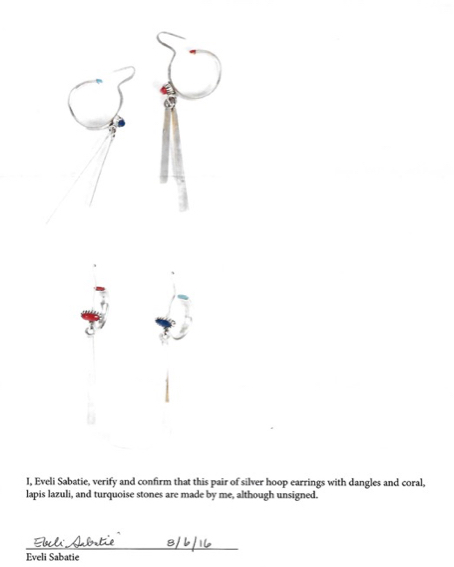 Certificate of Authenticity signed and dated by Eveli Sabatie, August 6, 2016.
These earrings have the finest possible perfect provenance; they came to us a few years ago directly from Eveli Sabatie's personal collection of her own jewelry. Eveli told us that she had kept them stored deep in the bottom of her safe for years and that she had finally decided to let them go. The earrings are not signed as there is really no place on them where they could be properly signed, but they will come with a certificate of authenticity signed by Eveli herself.
"Looking through a jeweler's lens, I see myself as an offshoot of the great movements of history. I see myself literally
carried by its trading waves, from North Africa, to Spain, to South and Central America, and the modern American Southwest. It seemed like I had walked these roads many times before, and jewelry seemed to be in my blood."
-Eveli Sabatie
Quotation excerpt source and © "Eveli Sabatie,
A Jeweler's Memoir" by Eveli Sabatie , ACC Art Books, 2022, pp.23
These earrings are a unique synthesis of traditional Southwestern and North African jewelry-making materials; silver, turquoise, coral, lapis etc. and a daringly unique design sensibility, streamlined and modern yet with a strong dash of some deeply ancient North African nomadic influence mixed in, like something you might one day far off in the future see being worn by a Berber tribeswoman in a 22nd Century jewelry market in Marrakesh. They have a fascinating spatial quality and an absolutely wonderful presence, they are really like small three-dimensional ear sculptures. A pair of small art jewelry masterpieces by an enormously talented artist.
If you are interested in Eveli Sabatie's jewelry, you might be interested in "EVELI, A Jeweler's Memoir".
To view our website listing of this unique and wonderful book, please click here.
Price $6,400
At left, Eveli in Hotevela, Arizona, March 1972. At right, Moroccan Woman in Traditional Dress, c. late 19th Century.
Left photo source and © Eveli Sabatie, "A Jeweler's Memoir", ACC Art Books Ltd., 2022. Right photo source and © Pinterest
"To wear the jewelry of Eveli
is to walk the path of a wanderer,
of a story teller,
stopping along the way to mirror
North Africa, Paris, Hopi—
to find the road home."
-James McGrath, "To Wear the Jewelry of Eveli"
Quotation source and © "Eveli Sabatie,
A Jeweler's Memoir", ACC Art Books, 2022, pp.1V