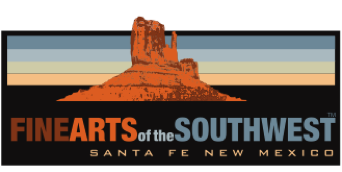 © 2010-2023 by Fine Arts of the Southwest, Inc. All rights reserved.
Unauthorized reproduction or use is strictly prohibited by law.
An extremely beautiful silver and hand-carved Morenci, Arizona turquoise and Lapis Lazuli ring
by Eveli Sabatie, Santa Fe, NM, c.1980's
This wonderful ring beautifully showcases the artistic beauty and technical refinement of Eveli Sabatie's jewelry. Evelyn (Eveli) Sabatie (French-Moroccan, b.1940) began her jewelry-making career in 1968 as an apprentice to the groundbreaking Hopi jewelry master, Charles Loloma (1921-1991) and she very quickly established her own unique and highly-distinctive style of jewelry, melding influences which she absorbed during her time at Hopi with Loloma with those from her earlier upbringing and life in her native North African countries of Algeria and Morocco.
The result is a daring and unprecedented synthesis of form and color delivered with an often astonishing degree of technical virtuosity. Accordingly, this ring has everything that we love about Eveli's work; extraordinary exuberant creativity, startling originality, a unique and powerful sculptural design concept, interesting and often unexpected use of unusual materials and unparalleled craftsmanship.
In our view, Eveli Sabatie should not be seen so much as being a "Southwestern" or "Native" artist though she certainly draws much inspiration from those worlds, she exists on a much larger artistic stage and is much more
of a "world" artist, in our view, and this lovely ring with its swoopy clean-lined Modernist style presentation is perfect proof of that proposition. This is a beautifully styled streamlined take on a classic Charles Loloma platform ring design. There is a wonderful sculptural, handmade, organic quality to this ring.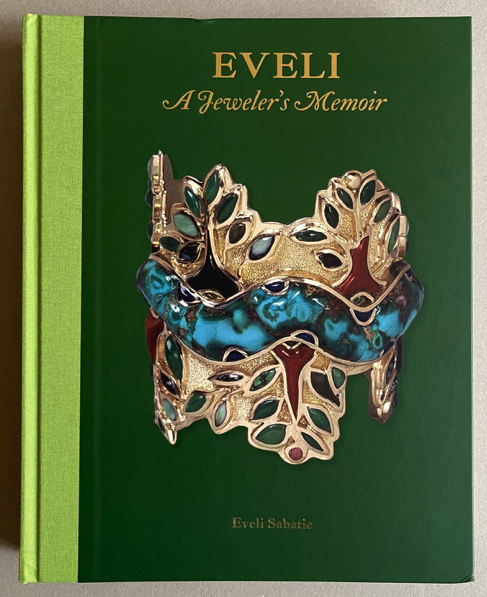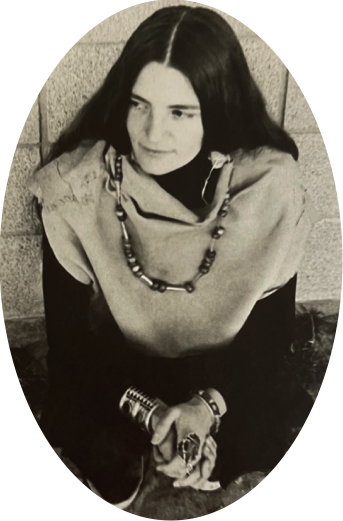 Eveli in Hotevela Village, Hopi Third Mesa, March 1972
Photo source and © Eveli Sabatie, "A Jeweler's Memoir", ACC Art Books Ltd., 2022
The ring is most beautifully fabricated in an extended oval "platform" style with the top platform section featuring a gorgeously hand-carved clear blue oval-shaped Morenci, Arizona turquoise stone with its characteristic iron pyrite inclusions set in a beautifully handmade serrated or sawtoothed silver bezel. The lower portion of the ring is basically a hollow silver box or "hollowhorm" type construction. In a wonderful accentuating touch invihsible to the outside world and secretly known only to the ring's wearer, there is a lovely deep blue oval-shaped Lapis Lazuli stone set is a cut out inside the ring's silver shank directly under the outer turquoise stone, a beautiful so-called "Hidden Gem", another hallmark of the Loloma Studio the original idea of which was very possibly originally introduced there by Eveli herself.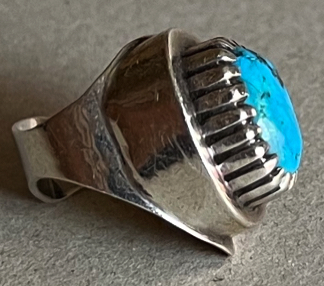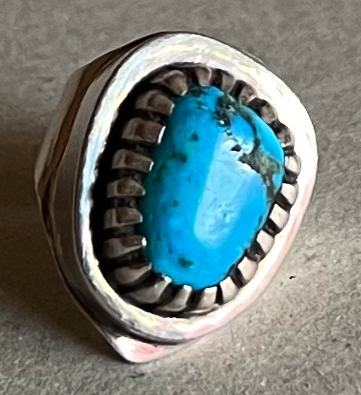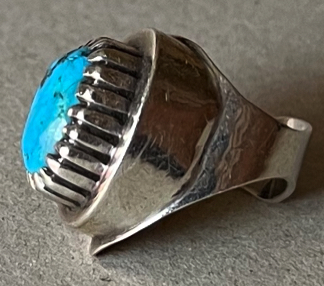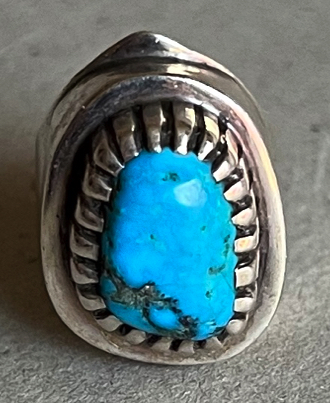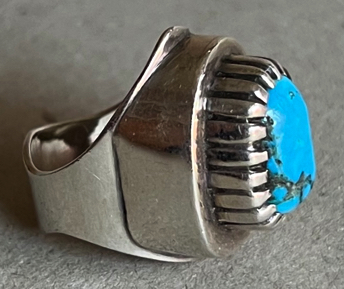 The ring measures a size 6 1/4 on a professional graduated ring sizer. The face of the ring measures 1" in length and is just slightly under 3/4" in width at its widest point. It weighs a very nice feeling and extremely comfortable 19 grams or 5/8 ounce. The ring is in excellent original condition overall with some degree of age-appropriate scratching to the silver surface which could be buffed out if ever desired and it is properly signed "Eveli" in her customary first name only signature on the interior. The ring has a lovely, soft, glowing patina from age and use.
This ring is a perfectly conceived and constructed extremely wearable small sculptural jewelry masterpiece
by an enormously imaginative and talented World artist.
A brand new unopened original hard-cover copy of Eveli Sabatie's wonderful recent Limited-Edition book,
"Eveli, A Jeweler's Memoir", on her life's work pictured here is included along with the purchase of this ring. Additional copies of this book are available on our website. Please click here for details.
Price $5,300