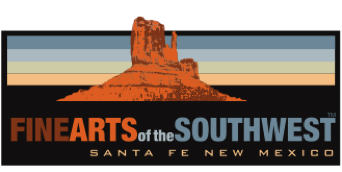 © 2010-2022 by Fine Arts of the Southwest, Inc. All rights reserved.
Unauthorized reproduction or use is strictly prohibited by law.

A rare historic hand-colored lithograph entitled
"Nampeyo Tewa Indian designs", plate 33 from The "American Indian Designs" portfolio by Inez B. Westlake, c.1925
This is a most interesting and unusual historic piece, a plate from a distinguished portfolio of Native American designs.
We do not know a great deal about this portfolio or its author, Inez B. Westlake, but what we do know is that it is extraordinarily beautiful and extremely well done and that it is considered to be artistically and historically important enough to be held in the permanent collection of The Metropolitan Museum of Art in New York City.
There are 72 plates in this two-volume portfolio of which 23 are beautifully and skillfully hand-colored with gouache paints and to our eye this is one of the most attractive of all the plates we have seen as well as one of the most interesting historically. It depicts a series of six characteristic pottery designs by the world-renowned Hopi pottery matriarch, Nampeyo of Hano (1858-1942). You can see versions of these beautiful designs on the Nampeyo jar and bowl
in the photos shown below.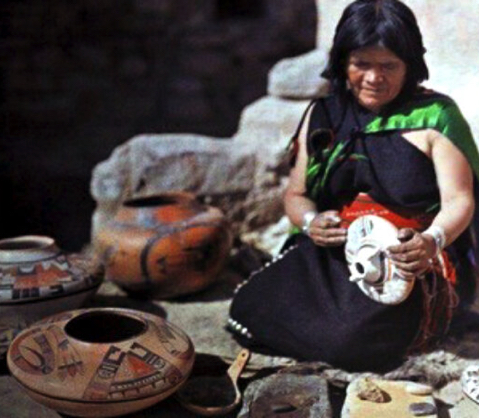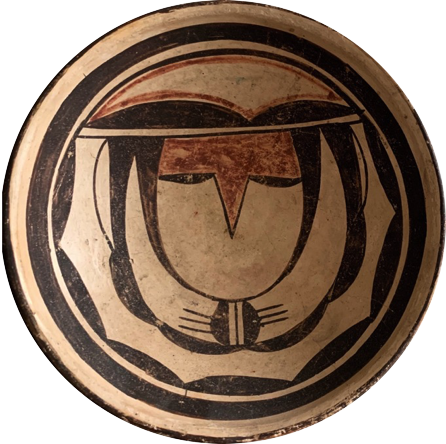 "Inez Westlake's two-volume set, American Indian Designs, contains seventy-two lithographic plates illustrating over four hundred designs found on basketry, ceramics, beadwork, rugs, and dolls with an explanatory index. Twenty-three of the plates are hand colored."
-Quotation source and © The Metropolitan Museum of Art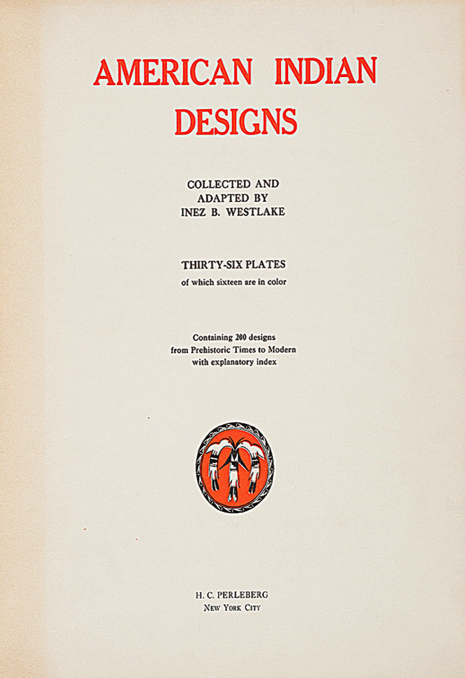 Above left, Nampeyo at work making pottery, c. 1903. Note the design on the large pottery jar in front of her. Above right, this same design as portrayed in Plate 33 of the "American Indian Designs" portfolio. Below, a comparison of another design motif of Plate 33 with a Nampeyo pottery bowl. The two designs, while not identical, are quite similar. To view our website listing of the Nampeyo bowl, please click here.
Above left photo source and © Suduva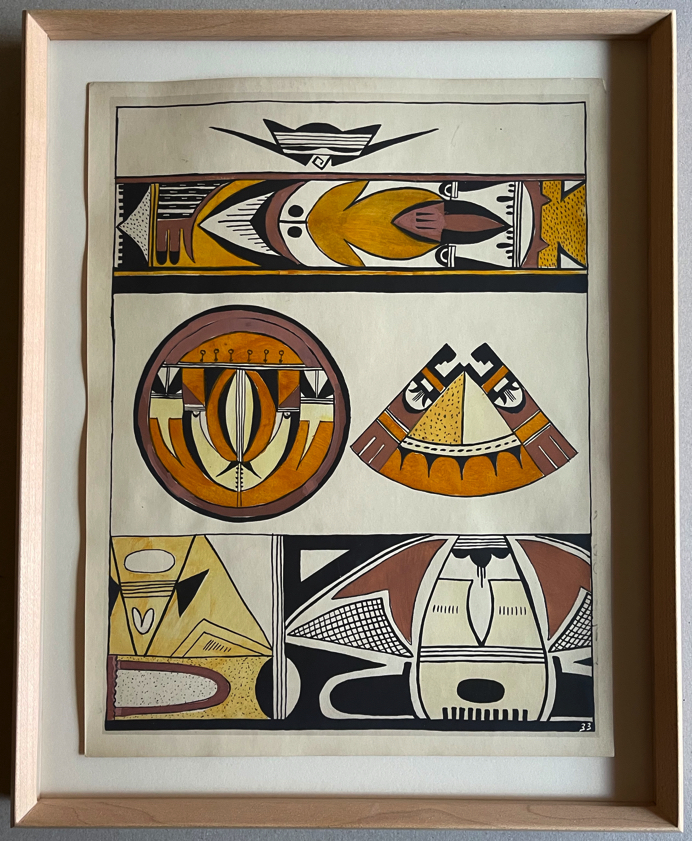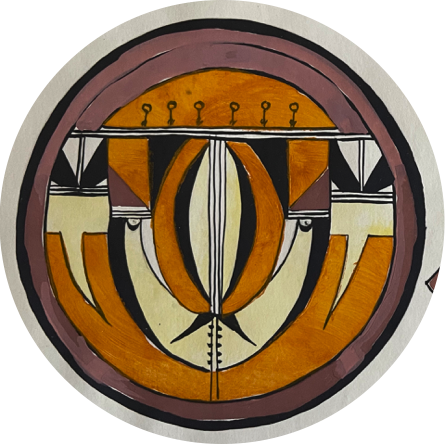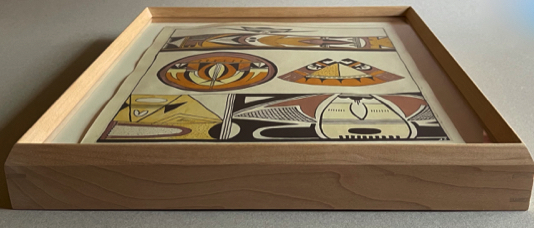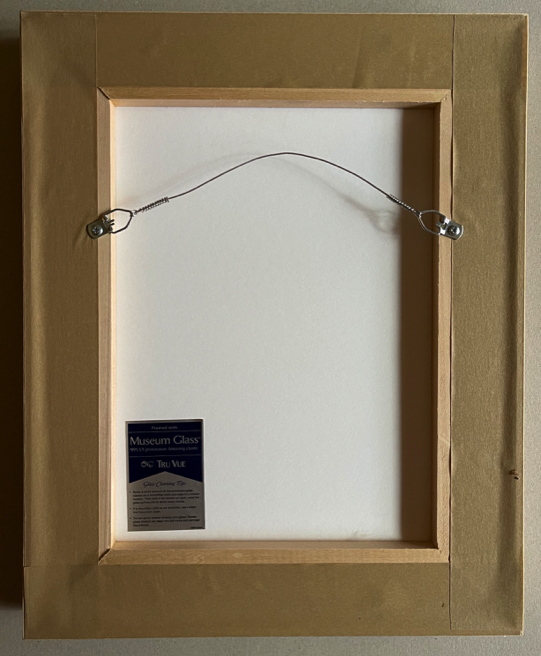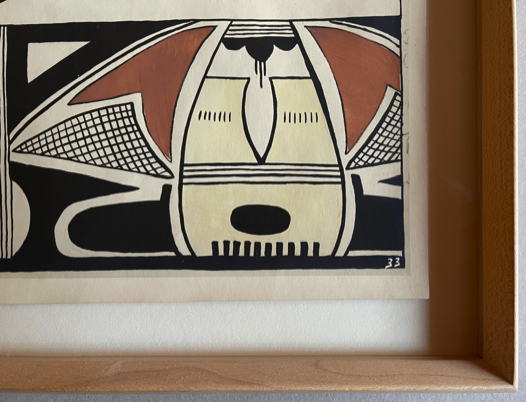 As we said, we know almost nothing about the portfolio's author, Inez B. Westlake, except that she was obviously extremely knowledgable about her subject matter, American Indian Designs and had a keen and accurate eye. We did find an Ancestry.com record of an Inez B. Westlake who was born around 1884 and, who as of 1940, lived in Albuquerque, New Mexico. This would certainly make sense from an age and proximity to Indian Country point of view, but that is the extent of what we know about her. The portfolio was published by H.C. Perleberg, a specialty art publisher in New York City.
We do not know the size of the edition, but with 23 hand-colored plates in each volume set, it can't be too large.
The lithograph is most beautifully and archivally framed. The framing was done by our longtime framers, Goldealf Framemakers of Santa Fe who are Santa Fe's finest art framers in our opinions. The lithograph is hinged onto an antique white archival matte board and framed in a hand-carved beveled light maple wood frame under UV-resistant TruVue "Museum" conservation glass. The lithograph itself measures 13 1/2" in height and 10 1/2" in width and the framed dimensions are 16 1/4" in height and 13 1/4" in width. Both lithograph and frame are in excellent original condition.
This lithograph is a beautiful and historically significant piece, a very fine object of
art in its own right, beautifully depicting the artistic designs of another very fine artist.
Price $1,250
"When I first began to paint, I used to go to the ancient village and pick up
pieces of pottery and copy the designs. That is how I learned to paint. But now,
I just close my eyes and see designs and I paint them."
-Nampeyo