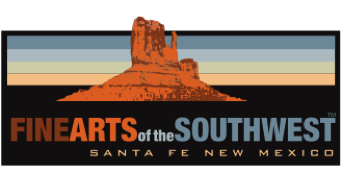 © 2010-2021 by Fine Arts of the Southwest, Inc. All rights reserved.
Unauthorized reproduction or use is strictly prohibited by law.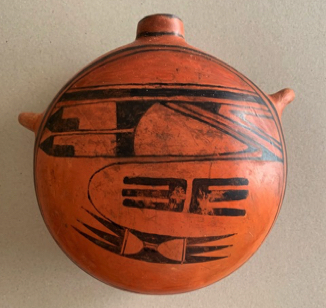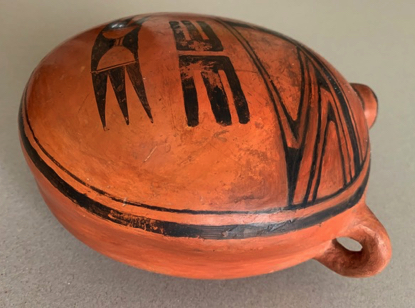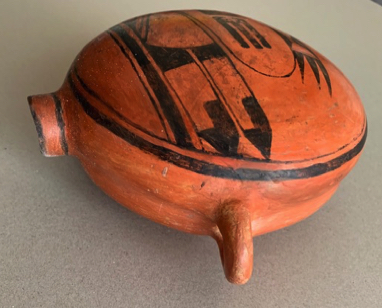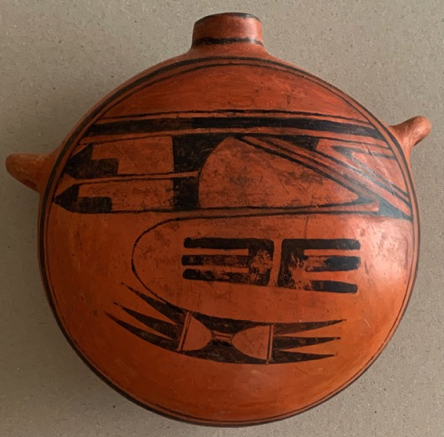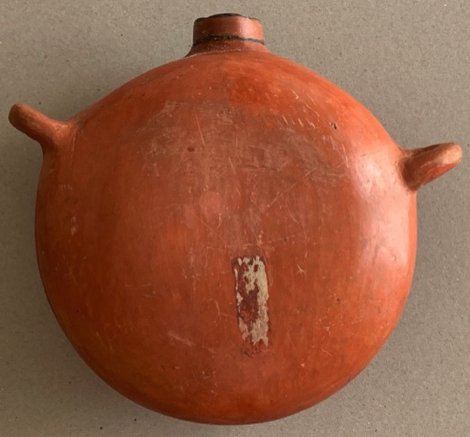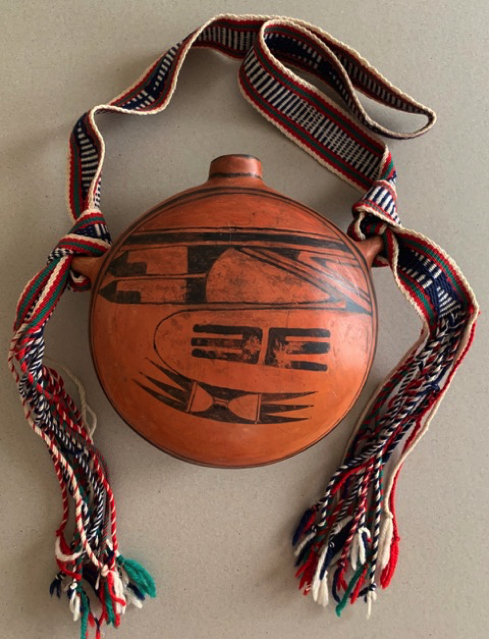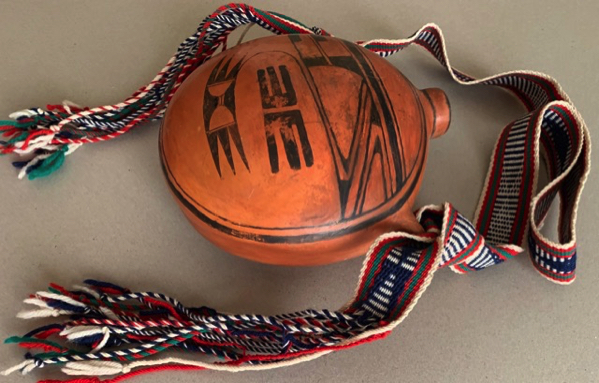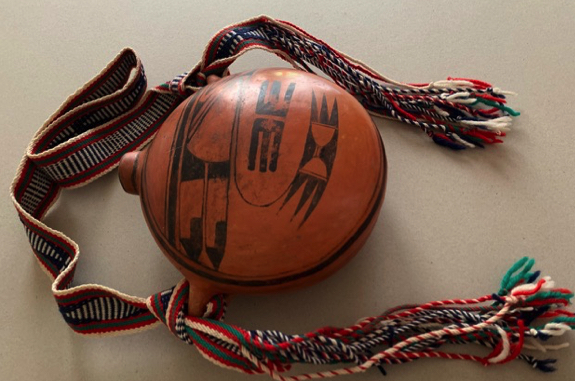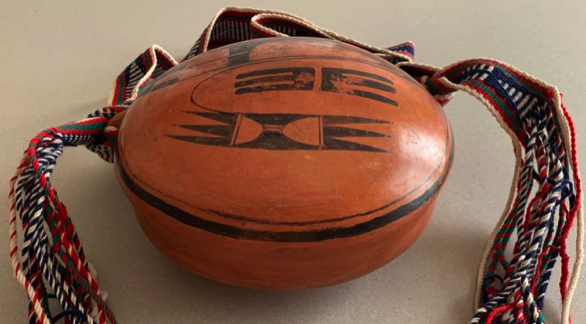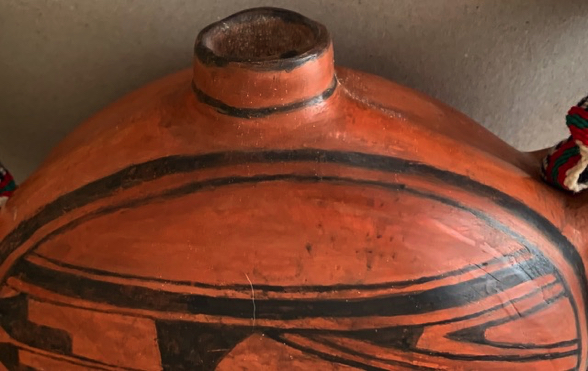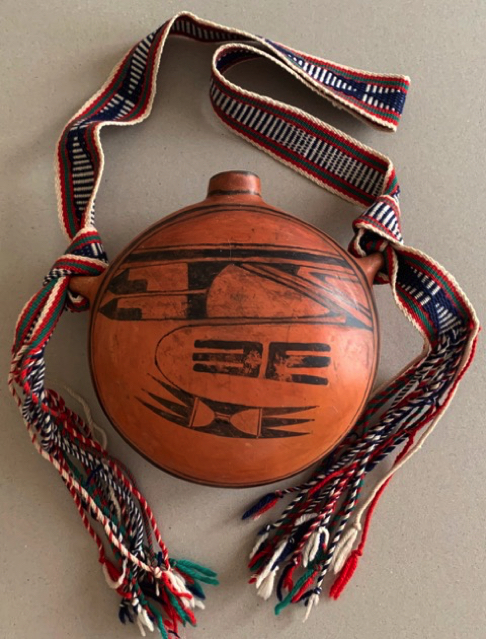 A superb historic Hopi black-on-red personal-sized pottery canteen by Nampeyo of Hano, c. 1900
WATER IS THE STUFF OF LIFE ITSELF in the arid high desert country of the Hopi mesas in far northern Arizona and vessels for effectively storing and transporting it have always been an absolute necessity for the Hopi people. However, when the great pottery matriarch Nampeyo of Hano (1858-1942) began making such vessels they became a modern art form as well. To be sure, Nampeyo likely made many traditional undecorated plainware utilitarian Hopi canteens but around the 1890's one begins to see a number of beautifully-designed and finely-painted canteens of hers like this marvelous black-on-red piece.
This canteen is a medium-sized canteen meant for individual personal use; for farmers working in the fields, for travelers passing between various Hopi villages and for everyone else who needed to have water available while on the move. This particular canteen is formed in a somewhat flatter shaped profile as opposed to the bulbous rounder shape of many other Hopi canteens. These flatter canteens tuck closer into the body and are easier to transport and handle than the more bulbous ones are. Also, the slightly indented groove all the way around the outside of the canteen's body helps to hold in place a woven carrying sash, rope or leather strap.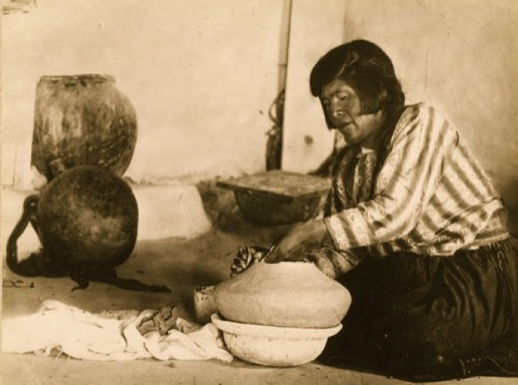 A more typical Hopi undecorated plainware pottery personal-sized canteen, c. 1880-1900. To view our website listing of this canteen, please click here.
Nampeyo making pottery, c. 1900. Note the large plainware pottery canteen at left in the photo.
The painted design is a wonderfully compelling combination of stylized feather tip motifs and repeating geometric elements executed in black paint on the red-slipped body of the canteen all contained within a double set of unbroken framing lines, a characteristic Nampeyo signature. The addition of another simple encircling black framing line around the canteen's spout is an interesting and unusual touch. The canteen's beautifully-done, very finely-stone polished surface and resulting smooth satiny feel is also well worth noting as another indication of the hand of the master.
"From the inspired hands of a master potter, Nampeyo, the humble elevates to the sublime. That is demonstrably the case with this superb canteen. Here is a vessel adorned with a visually arresting asymmetrical composition of stylized feathers and geometrics that are perfectly balanced against large blocks of negative motifs. Initially the black painted stencil of the composition appears massive, yet, illustrating the design brilliance of Nampeyo, she decompresses this by the addition of a kite-like string tethering, a free floating kite."
-Edwin L. Wade, Ph.D.
The canteen measures a nicely-sized 8 1/2" in width, 7 3/4" in height and 3 3/4" in depth and it is in very good condition considering its 120-or-so years of age and use. There is a certain amount of abrasion wear to the painted design and there is a small amount of restoration to a crescent-shaped crack around the topmost edge of the canteen. None of this interferes with the canteen's visual and historic integrity, in our opinions. The canteen presently hangs from a beautiful hand-woven red, green, white and blue Hopi dance sash of a 1940's-50's vintage. Of course, the canteen's original hanging sash or leather thong likely wore out long ago and thus was replaced. This sash is in excellent original condition and is a beautiful and completely traditional accompaniment to the canteen.
This fine canteen is a beautiful ethnographic object and a strikingly original Modernist artwork at the same time. Elevating a utilitarian necessity of Native life to a marvelous and enduring artistic expression, every bit as
attractive as it is functional.
Price $4,500