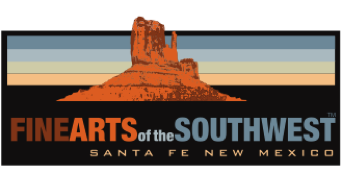 © 2010-2021 by Fine Arts of the Southwest, Inc. All rights reserved.
Unauthorized reproduction or use is strictly prohibited by law.
A large historic Hopi "Polikmana" or "Butterfly Maiden" kachina doll, c.1940's-50's, very possibly
by James Kewanytewa (Jimmy K.)
The Polikmana or "Butterfly Maiden" kachina is one of the most striking and dramatic of all Hopi kachina depictions
and this very large-scale doll is one magnificent big butterfly indeed, with a particularly powerful presence.
"Polikmana or Butterfly Maiden is a kachina or spirit being, in Hopi mythology. Every spring she dances
from flower to flower, pollinating the fields and flowers and bringing life-giving rain to the Arizona desert.
She is represented by a woman dancer at the yearly Butterfly Dance, a traditional initiation rite for Hopi girls.
The rite takes place in late summer, before the harvest, to give thanks to Polik-mana for her spring dance. Hopi girls participating in the Butterfly Dance wear ornate headdresses called kopatsoki."
-Quotation source and © Wikipedia
Given their extreme importance in Hopi mythology and ritual it is not surprising that Polikmana kachina imagery appears across many forms of Hopi art from kachina dolls to pottery to basketry plaques to painting. To see a large historic Hopi pottery canteen by Nampeyo with an image of Polikmana available on our website, please click here.
The doll's scale, stance and the proportions and positioning of her head, arms, legs and body and the dynamic, powerful painting style and sheer physical precense of the piece all strongly resemble the distinctive work of the famed Hopi kachina carver, James Kewanytewa (1889-1966) who was more commonly known as "Jimmy K" and this doll might quite possibly be an unsigned piece of his work. Kewanytewa first began signing some of his dolls (and then only very reluctantly as signing Hopi kachina dolls was considered a controversial practice at the time) at the urging of some Southwestern museum curators in the late 1940's and from then on until his death in 1966, he still made a great many unsigned pieces both for use at Hopi and for sale elsewhere.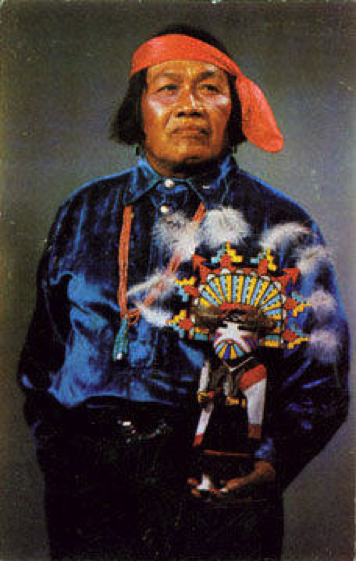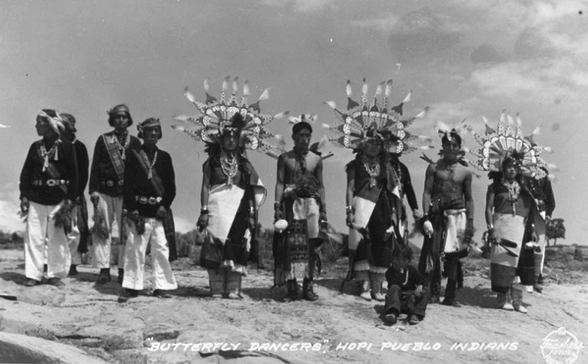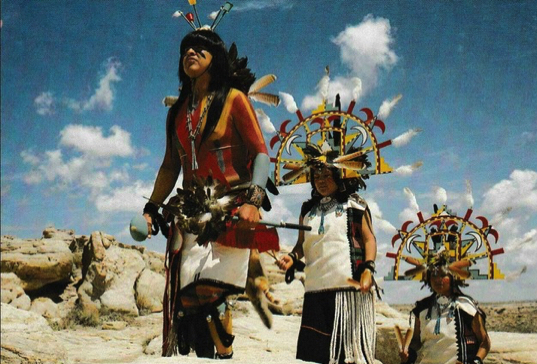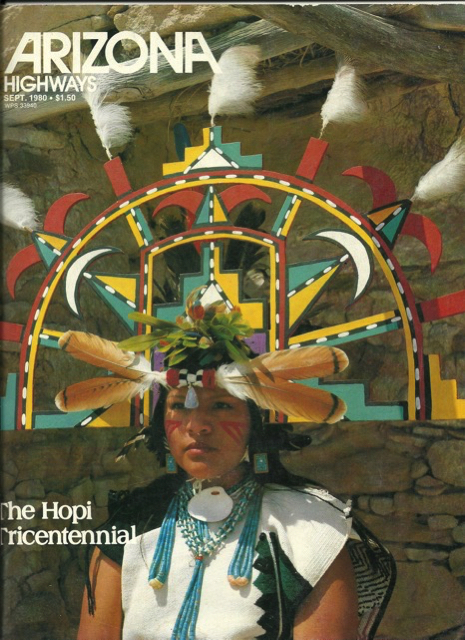 Jimmy K. with a similar Polikmana kachina doll of his making, c. 1950
Photo source and © Northern Arizona University
Polikmana kachina dancers at the Butterfly Dance.
Historic photo postcard entitled "Butterfly Dancers, Hopi Pueblo Indians"
Photo source and © Frashers Fotos
Hopi Butterfly Maiden Kachina Dancer pictured on Arizona Highways Magazine, 1980
Historic Hopi pottery canteen with an image of Polikmana kachina by Nampeyo of Hano, c. 1890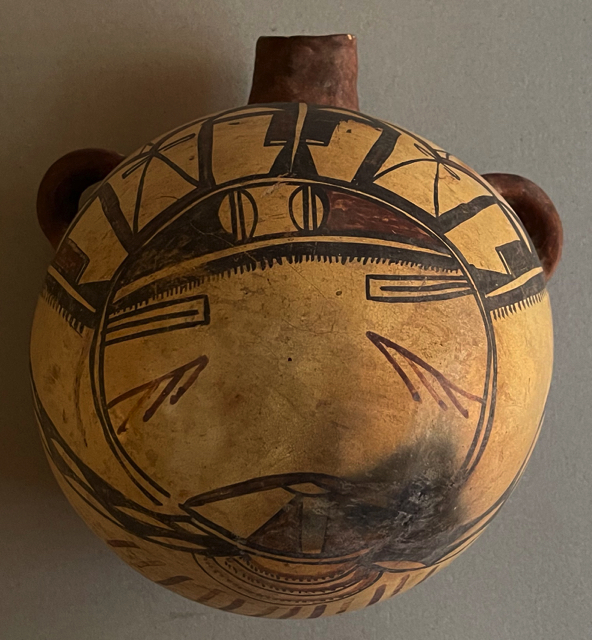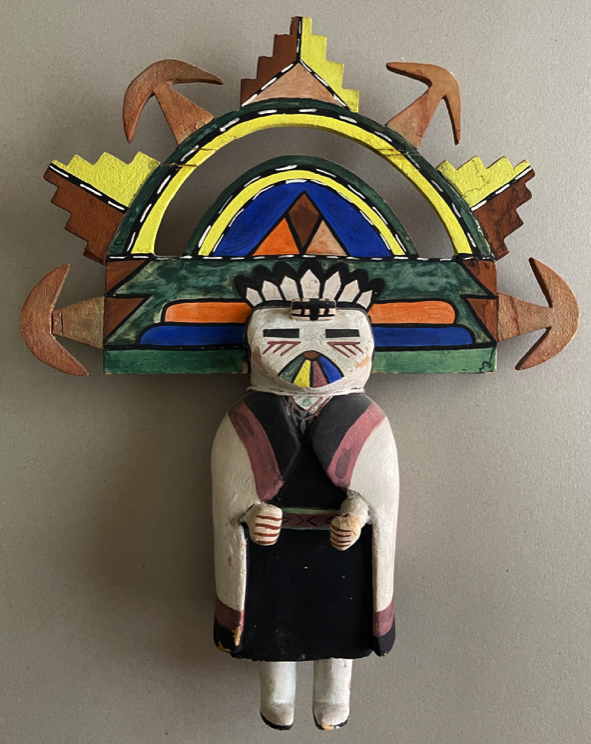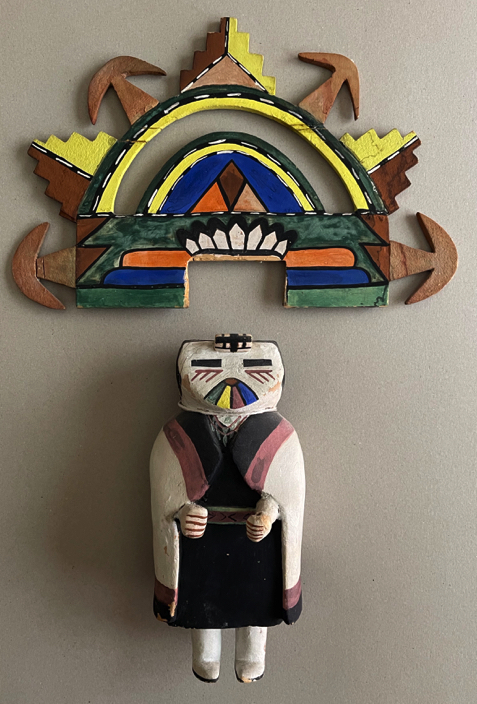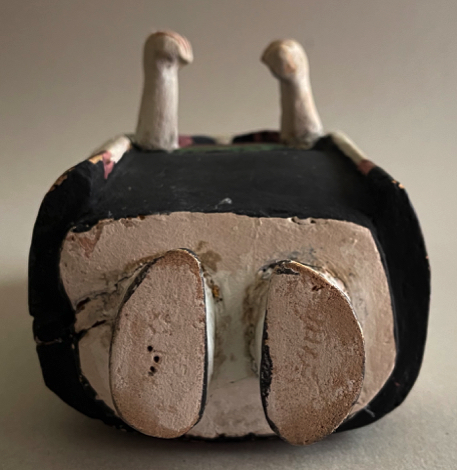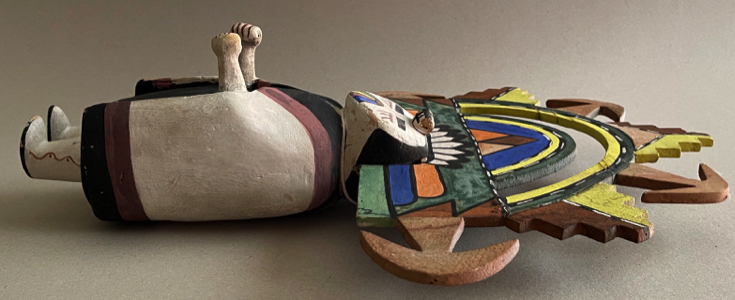 The doll was intentionally made into two separate pieces, a body carved of the traditional material of cottonwood root and a large removable tableta or headdress which appears to have been fashioned from a panel of repurposed old commercial crate wood. All together the doll stands a full 17 1/2" in height and is 15" in width at the widest point.
The doll is in very good vintage condition overall, especially for its size and approximately 70 or so years of age, with repairs to several old breaks in the tableta. There are cracks to the wood on the left side of the doll's face and along the back of the figure. There are two small areas of paint loss abrasion on the face and some minor abrasions at the bottom of the figure's wearing blanket and some mild staining and paint run on the tableta likely from water damage.
These conditions are all consistent with the possibility that this doll was originally made for use at Hopi and was hung in a Hopi house or houses for some period of time and handled and played with by children there. Most of these fairly slight damages could be easily restored by a professional restorer at a relatively moderate cost, if desired, but we do not think this is necessary at all as the damages contribute in our view rather than detract from the authenticity and history of the doll. A 70-80 year old large and elaborate painted wood kachina doll, particularly one that might have lived for decades in somewhat rustic harsh conditions at Hopi should definitely not look like it was made yesterday.
This doll is an absolutely wonderful expression of this beautiful and significant Hopi spirit being; an outstandingly well-made, extremely visual and highly authentic piece which would be a serious credit to any private or Museum collection and which would give its lucky owner a great deal of rewarding pleasure over the years.
Price $5,400