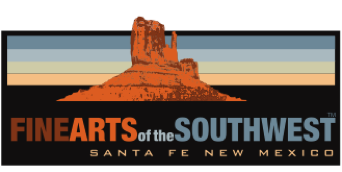 © 2010-2022 by Fine Arts of the Southwest, Inc. All rights reserved.
Unauthorized reproduction or use is strictly prohibited by law.

A rare early Taos Society of Artists painting of a New Mexico Pueblo scene by Julius Rolshoven, c. 1916-1920
ex: Fred Harvey Company Collection
JULIUS ROLSHOVEN (1858-1930) was one of the earliest members of the famed Taos Society of Artists. In fact he was the seventh member of the Society after the original six Founding members. He joined the Society in 1916, but he didn't stay long, he was basically gone from New Mexico after 1920.
For this reason, Julius Rolshoven's New Mexico paintings are among the rarest of all the members of this famed Taos Society. Rolshoven only lived in Santa Fe for four years between 1916 and 1920, He then moved back to Europe full time and returned to New Mexico only a couple more times briefly before his death in 1930. In our more than 35 years of buying and selling Taos and other Western paintings we have only seen a handful of his New Mexico works in private collections and museums, four or five oils and maybe five or six pastels, fewer than a dozen pieces in all.
This New Mexico Pueblo scene, c.1916-20 shows Rolshoven's exceptional eye for color and composition. The painting is done in a somewhat impressionistic loose style and the influences on Rolshoven from his early training under Frank Duveneck in Europe and at the Academeie Julien in Paris where the influence of the various French Impressionists was very strong at the time and that influence is quite clear to see here in this painting. Depicted in this scene is a lone Pueblo woman sitting quietly alone, likely outside her family home, in an empty plaza under a moody and brooding sky possibly ready for rain. The mood is pensive, quiet and contemplative, emphasizing the close and intimate relationship between Pueblo people and the natural world.
The Taos Society of Artists, c. 1917, minus Julius Rolshoven.
From left to right, E.L Blumenschein, O.E. Berninghaus, E.I. Couse,
Bert Phillips, J.H. Sharp and in front row W.H. Dunton.
-Photo source and © Palace of the Governor's Archives, Santa Fe, NM
Julius Rolshoven painting on the Santa Fe Plaza, c. 1920.
-Photo source and © Palace of the Governor's Archives, Santa Fe, NM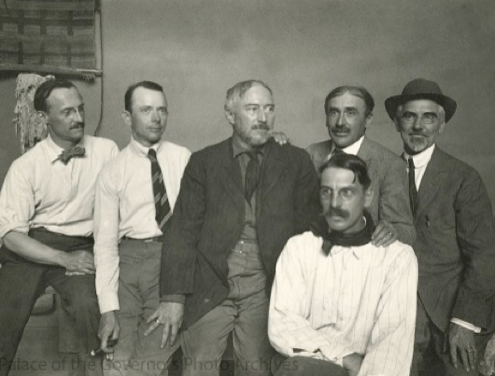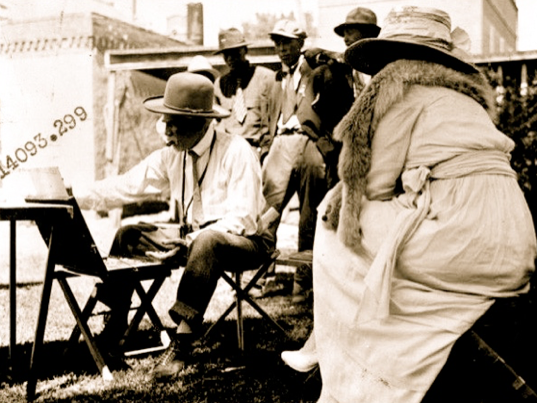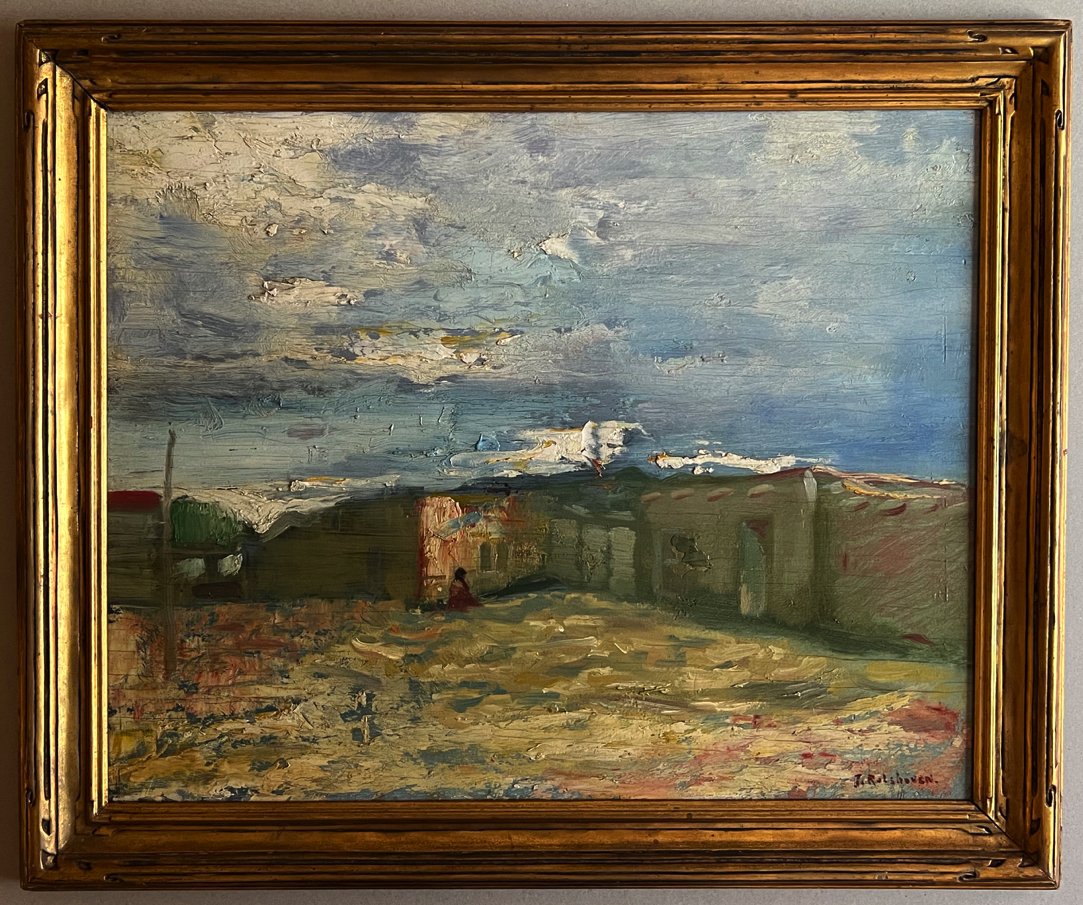 The painting is done in oil on a thick wood panel and it measures 16" by 20". It is properly signed J. Rolshoven" in red
at the lower right. The condition is generally good, but there are some issues; there are several horizontal cracks to the wood panel and the painting could benefit from a good cleaning and a fresh varnish but we will leave these decisions up to the next owner. There are also a couple small dots of inpainting at the middle right of the image.
The painting presents quite well "as-is". The painting's provenance is also significant and well worth noting. As evidenced by the red-bordered rectangularly shaped somewhat fragmentary paper label on the back, this painting at one time passed through the ownership of the famed Fred Harvey Company which operated many of the most important trading concerns in the Southwest and elsewhere for Fine Art and Native American Art. There is some old period cursive writing on the label in sepia-colored India ink, but alas it is not legible. This painting could have originally been exhibited and sold at any number of the Fred Harvey Company's famous trading posts in Santa Fe or elsewhere in New Mexico from the La Fonda Hotel in Santa Fe to the Hotel Alvarado in Albuquerque or the Hotel Castaneda in Las Vegas.
The painting is beautifully and most appropriately framed in an original period hand-carved gold metal leaf frame possibly made by the renowned Newcomb-Macklin Company of New York and Chicago. The frame is not original to the painting but is an original period piece of art in its own right and it is perfectly appropriate to the painting in terms of its design, age and artistic sensibility.
Early Taos Founder paintings are rare, often hard to come by and generally quite expensive when you do. You don't really get much of consequence under $30,000. Early Taos Society paintings by Julius Rolshoven are even rarer still. In fact, other than this one and one other one, a lovely 1927 pastel, currently on our website you might very well never have a chance at one again. To view this other Rolshoven pastel, please click here.
Price $9,250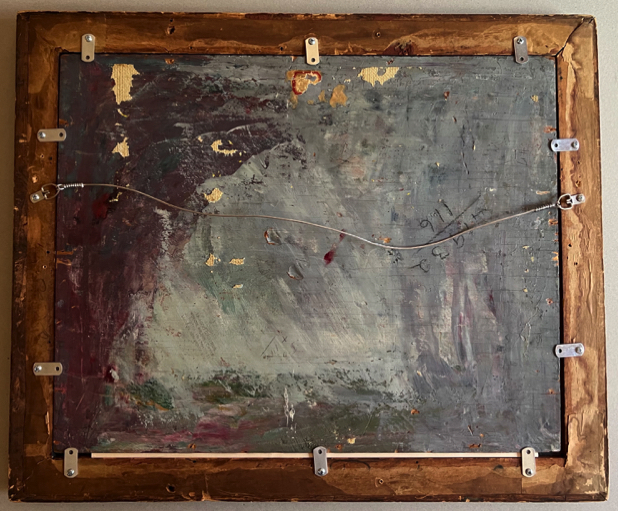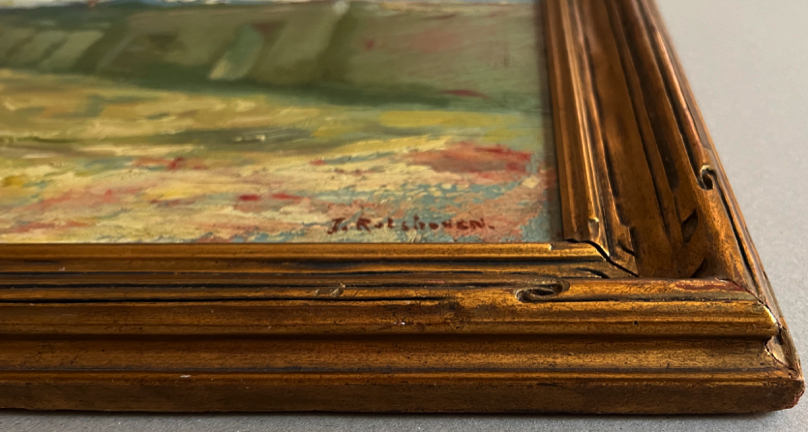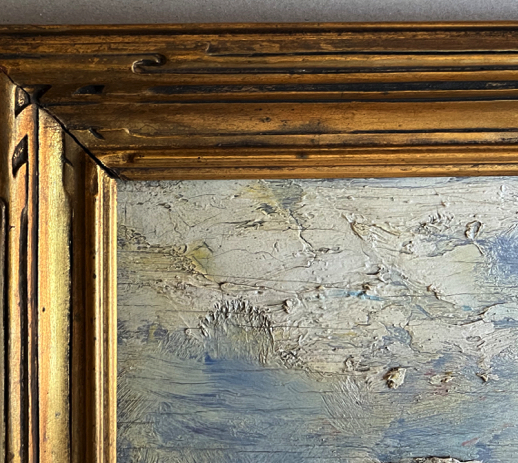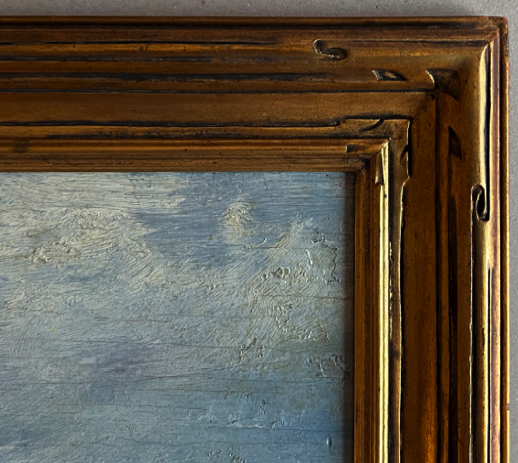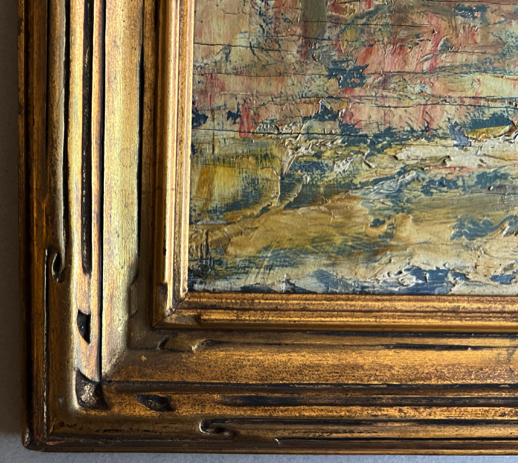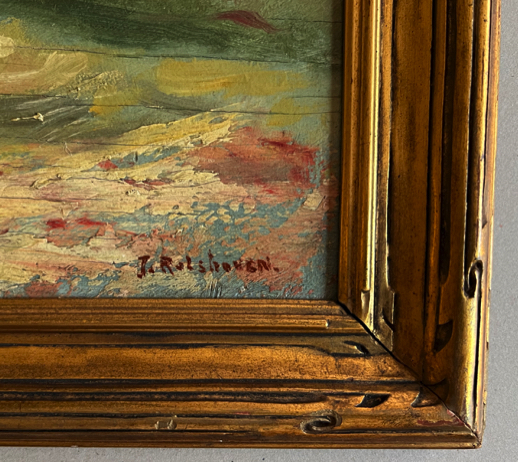 At left, the verso of the painting. It looks as if Rolshoven may have begun painting something on this side and changed his mind or perhaps used the surface as a paint palette of sorts. At right, the remnant of an historic Fred Harvey Company sales label.