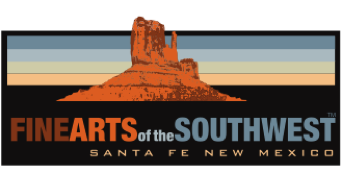 © 2010-2022 by Fine Arts of the Southwest, Inc. All rights reserved.
Unauthorized reproduction or use is strictly prohibited by law.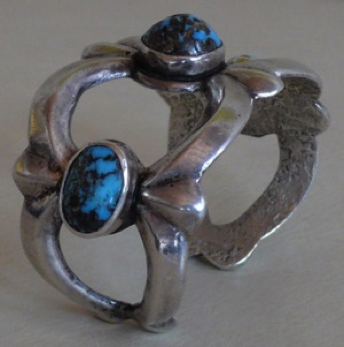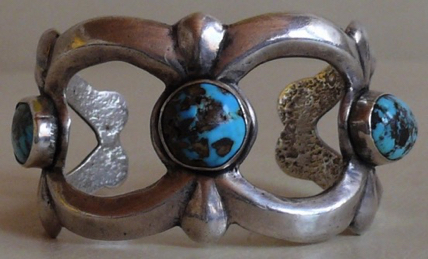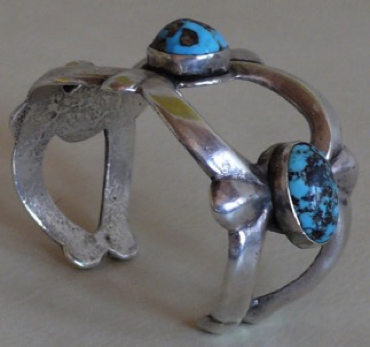 A very fine historic Navajo tufa-cast ingot-silver
and Persian spiderweb turquoise cuff bracelet, c.1920-30
This bracelet is a real classic beauty, with terrific silver work and three dynamite, high-domed blue spiderweb Persian turquoise stones. Traditional Navajo silver tufa-casting is a real bear of a technique, it's a painstaking and difficult process and only very skilled silversmiths can do it well. This one could. The cast is beautifully designed, finely- proportioned and well-balanced, exhibiting the ideal relationship of strength and delicacy. Then, to top it all off are the gorgeous stones; three fine old high-domed pieces of blue Persian spiderweb.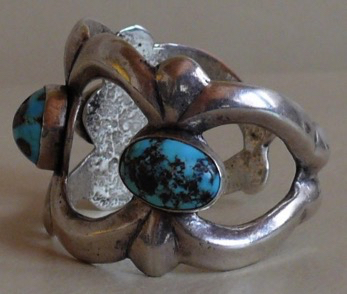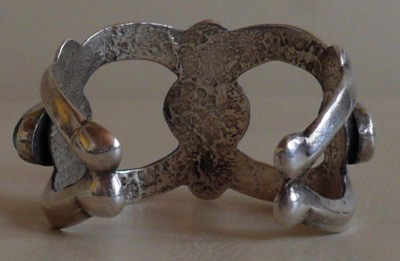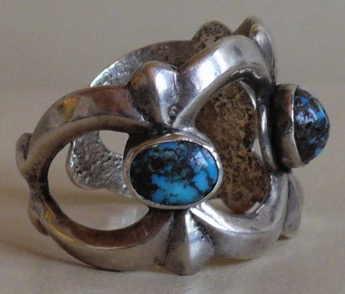 In the early years of the 20th Century when Navajo jewelry with set stones started becoming more popular, enterprising American Indian trader Juan Lorenzo (J.L.) Hubbell (1853-1930) in Arizona, faced with a severe shortage of American turquoise since so few mines here were producing at that time, turned to Europe and began importing fine Persian turquoise and also Czechoslovakian glass beads made to imitate turquoise which are now quite collectible and are known euphemistically as "Hubbell Beads." Persian turquoise became very popular in Navajo jewelry from around 1910 to 1930 until other American mines began producing more turquoise and subsequently the use of Persian in the Southwest tapered off. These three stones are simply splendid examples with a deep, penetrating blue color and rich brownish matrix. The characteristically high-domed shaped stones are very skillfully set in high-walled old-style "fold-over" type silver bezels.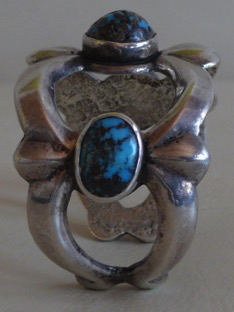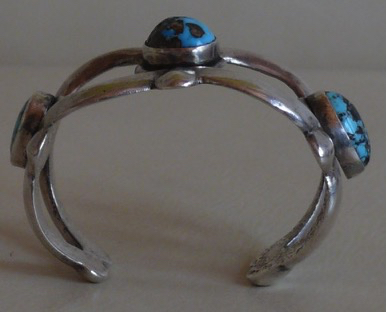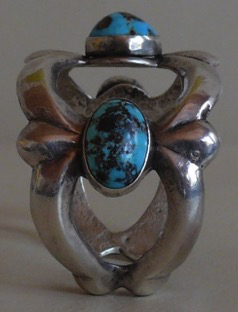 The bracelet measures 1 1/2" in width at its widest point and it tapers down to 5/8" in width at the end terminals.
The bracelet is sized on the smaller side. The inner circumference end-to-end is 5 1/8" and the gap between the terminals is 1 1/8" for a total interior circumference of 6 1/4". The bracelet weighs a fairly substantial 74 grams or 2 5/8 ounces, but it wears very comfortably on the wrist. The bracelet is in excellent original condition with some minor age-appropriate wear and a fine glowing patina from age and use.
This is an excellent example of a classic, old-style, historic Navajo bracelet made with a very well-executed use
of an extremely difficult Navajo silversmithing technique and set with terrific historic turquoise stones. It's a
real winner all the way around.
Price $1,850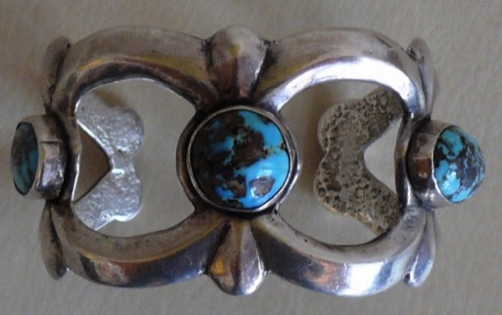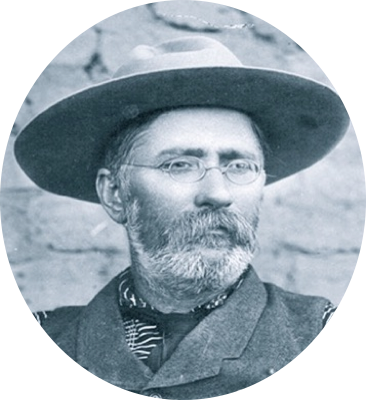 At left, J.L. Hubbell purchasing a Navajo rug from a Navajo weaver in front of the Hubbell Trading Post, c. 1905-1910.
At center, bracelet pictured with a Navajo silver ring with Persian turquoise and loose Persian cabochon stones. To view our
website listing of this ring, please click here. At right, Juan Lorenzo (J.L.) Hubbell, c. 1905-1910.
Left and right photo source and © National Park Service