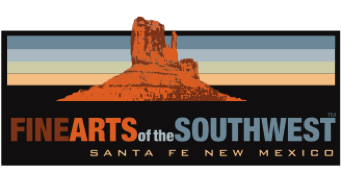 © 2010-2022 by Fine Arts of the Southwest, Inc. All rights reserved.
Unauthorized reproduction or use is strictly prohibited by law.

An exceptionally beautiful Modernist-style vintage Navajo tufa-cast silver and turquoise cuff bracelet, c. 1940's-50's
Tufa-casting is an extraordinarily difficult and demanding silversmithing technique. In the hands of a master craftsman, the results can be just glorious, as in the case of this lovely historic bracelet. The shape is complex and intricate, strong yet delicate, graceful and elegant which is the hallmark of fine tufa casting. The surface of the silver also beautifully shows the fine texture of the volcanic tufa stone mold that it was cast in. The design sensibility of the silverwork is a strikingly Modernist presentation of a traditional Navajo four-part or "Four-Directions" design which
one commonly sees on historic Navajo silver "Ketohs" or Bowguards and also on buckles such as the piece pictured here.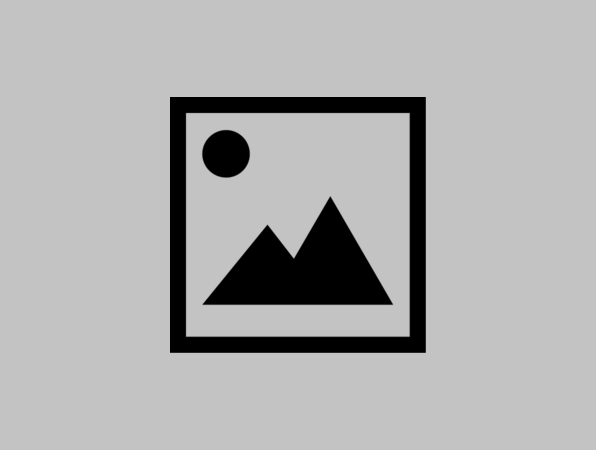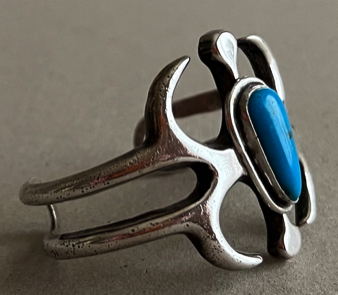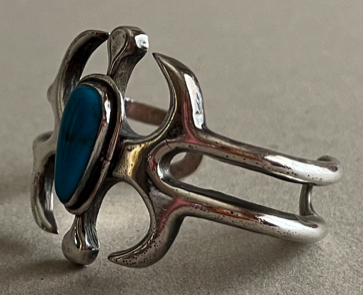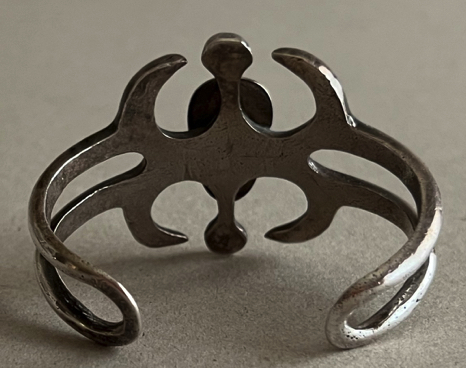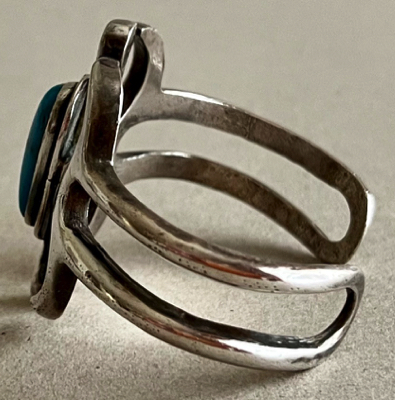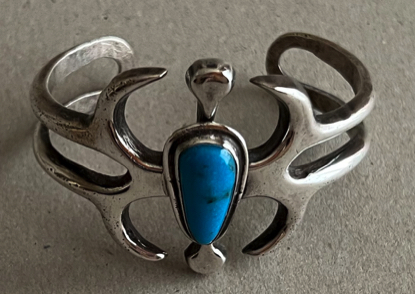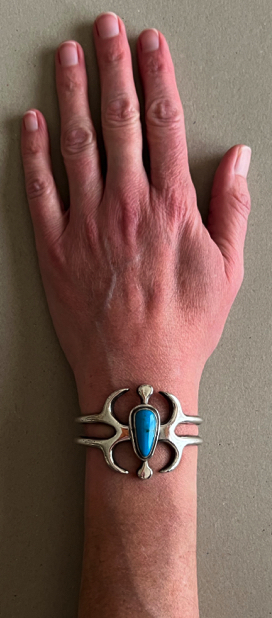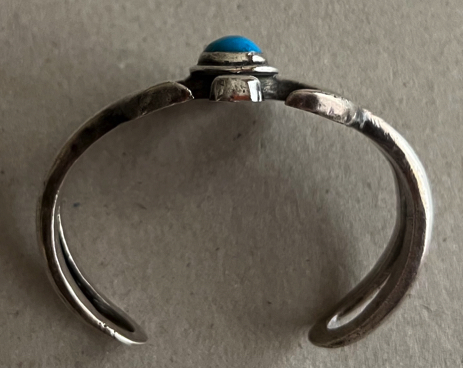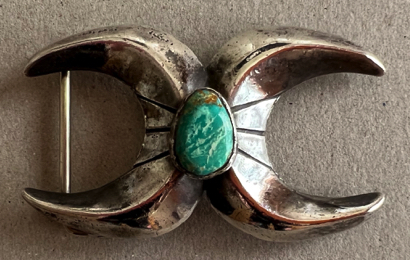 The sleek and streamlined silverwork is perfectly accentuated with a single teardrop-shaped, vivid and clear blue turquoise stone, very possibly from the famed Blue Gem turquoise mine in Nevada. The fine turquoise stone is nicely and cleanly set in an old-style "Fold-over" type plain silver bezel mounted atop a silver bezel platform.
The bracelet measures 1 3/4" in width at its widest center point. The inner circumference end-to-end is 5" and the gap between the terminals is 1" for a total interior circumference of 6" making it a piece for the smaller wrist. The bracelet weighs a substantial for its size yet very comfortable 52 grams or 1 7/8 ounces. It is in excellent original condition.
Distinctiveness. Elegance. Style. Artistry. Tradition. Modernity. All captured in one place in this one unique piece.
Price $1,375
SOLD
A historic Navajo tufa-cast silver buckle c. 1930's-40's with a similar "Four Directions" design. To view our website listing of this buckle, please click here.