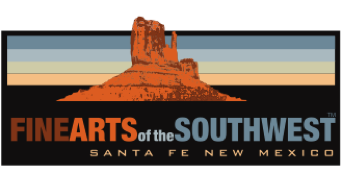 © 2010-2021 by Fine Arts of the Southwest, Inc. All rights reserved.
Unauthorized reproduction or use is strictly prohibited by law.

A beautiful New Mexican carved wooden
bulto or santo of the Archangel San Rafael
by George T. Lopez, Cordova, NM, c.1950's
New Mexico Santero George T. Lopez (1900-1993), was a legend in his own time; a major artistic and cultural force and a designated national American artistic treasure, the honored and deserving recipient in 1980 of the National Endowment for the Arts National Heritage fellowship. Son of the renowned Cordova, New Mexico wood carver, Jose Dolores Lopez (1868-1937), young George grew up with great carving and great religious devotion, the key elements of becoming a great Santero. However, George first had an entire life as a journeyman railroad worker working around the intermountain West.
During the long lonely nights in the railroad camps, George would carve small wooden figures from memories of his father's work and from seeing the various saints in his local village church in the tiny remote northern New Mexico village  of Cordova (established 1750) as a child. Lopez returned to New Mexico in the mid-1940's to work for a number of years at Los Alamos National Laboratories before settling back into his home village of Cordova around 1948-50 to take up his wood carving full time to which he devoted himself completely until his death in 1993.
"It's part of my life, and part of my name ... 
I'm a sixth-generation santero."
-George T. Lopez
At left, Jose Dolores Lopez, c. 1930. At center, San Antonio de Padua in Cordova, New Mexico, George Lopez' s village church.
At right, an original historic photo of George T. Lopez, c. 1950, possibly by T. Harmon Parkhurst, Santa Fe. At lower right in the photo is an unfinished carving of a very large San Pedro figure. To view our website listing of a very similar large San Pedro figure by George T. Lopez, please click here. To view our website listing of this historic photograph, please click here.
Left photo source and © National Gallery of Art, Washington, D.C. Center photo source and . © Joe Vogan Photography.
The figure is made entirely of hand-carved local New Mexico Aspen wood and measures 12" in height, 7" in width at the widest point and is 3 1/2" in depth. Lopez's great skill and his intense religious devotion are clearly evident in the figure's beautiful and powerful proportions and presence and in the overall fineness and detail of the wood carving. The figure and his beautifully carved attributes of a cross and two large fishes are all in excellent original condition and the figure is properly signed by the artist on the base in his customary blue ballpoint pen cursive signature as follows:
"George T. Lopez
Cordova NM
San Rafael"
The Archangel Saint Rafael is a wonderful figure to have around anytime, but especially in these perilous and uncertain days when we all can use a powerful guardian angel.
Price $2,250
"And the second Holy Angel, who is set over all the diseases
and all the wounds of the children of men, is Raphael."
- The Book of Enoch, 40:9
Quotation source: Wikipedia
Various early historic New Mexico Santero depictions of the Archangel San Rafael. George Lopez would have seen bultos and retablos such as these in
his own home, in his neighbor's homes, in his Cordova village church and in other local area churches starting as a very young child. Also, like his Father before him, Lopez was a member of The Penitente Brotherhood and would also have seen such images in his local Penitente morada or meeting place.
From left to right, Bulto of San Rafael by the A.J. Santero, Retablo of San Rafael by the A.J. Santero, Retablo of San Rafael Archangel by The Master of the Arroyo Hondo Church Alter Screen and
Bulto of San Rafael Archangel by Jose Aragon. All images photo source and © "A Land So Remote, Religious Art of New Mexico, 1780-1907, Volume 1" by Larry Frank, Red Crane Books, Santa Fe, 2001
"The Religious Art that embodied the spirit and aspirations of the New Mexican Catholics included painted and sculpted images of celestial beings—divine, angelic and human—that adorned churches, chapels and homes. This art formed a vital part of Hispanic religious tradition that harkened back ideologically to The Middle Ages."
-Quotation source and © " A Land So Remote, Religious Art of New Mexico, 1780-1907, 
Volume 1" by Larry Frank, Red Crane Books, Santa Fe, 2001, pp.3