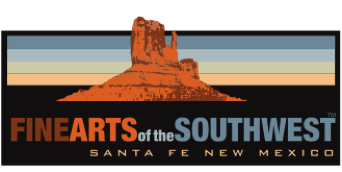 © 2010-2023 by Fine Arts of the Southwest, Inc. All rights reserved.
Unauthorized reproduction or use is strictly prohibited by law.
A wonderful, original gouache-on-paper
painting of a Hopi "Nuvak" or Snow Kachina figure
by Oswald "White Bear" Fredericks, 1959
One of the most fascinating and famous figures in modern-day Hopi history is artist, cultural historian and educator, Oswald "White Bear" Fredericks, whose Hopi name was "Kucha Honowah", (1906-1996). Fredericks is most widely known today as the co-author along with Frank Waters of the seminal "Book of the Hopi". Published in 1968, The Book of the Hopi was the first serious first-hand public discussion of the historic and spiritual intricacies of the Hopi world—its origins, myths, practices, ceremonies and beliefs—and its publication created a worldwide sensation.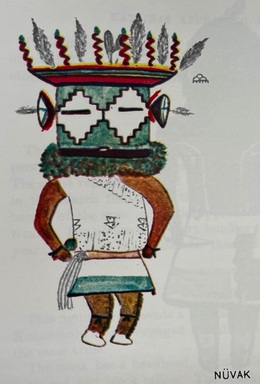 At left, Oswald "White Bear" Fredericks at work on another Hopi Kachina painting in his studio at Old Oraibi Village, c. 1960. At top center, a handpainted image of Nuvak Kachina by an unknown Native artist, c. 1903. At bottom center, an illustrated description of the characteristics of Nuvak-china.
Top center photo source and © "Hopi Katcinas drawn by Native Artists" by Jesse Walter Fewkes, Smithsonian Institution Bureau of American Ethnology,1903, Pl. XX11.
Bottom center photo source and © "Hopi Kachina Dolls" by Harold S. Colton, University of New Mexico Press, Albuquerque,1959, pp. 43.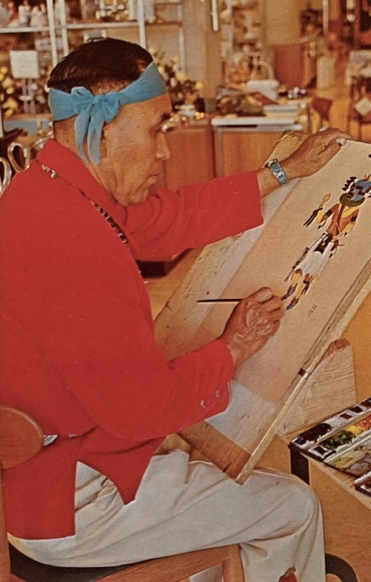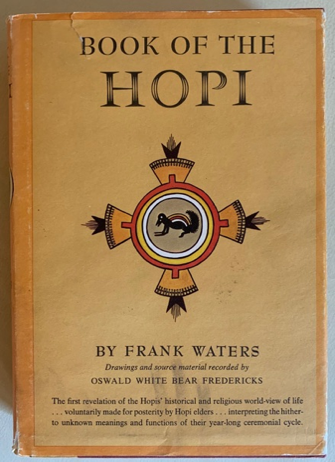 The Book of the Hopi by Frank Waters and Oswald Fredericks, 1963. A project which was originally conceived in the late 1950's by White Bear Fredericks as a way to document the history of the Hopi people, this is a profound and extremely meaningful book detailing the Hopi creation myths and migration stories and interpreting and explaining the complex Hopi religious world view and ritual calendar. Based in considerable part on a series of some thirty extensive interviews White Bear conducted with prominent Hopi elders and written in conjunction with the great Pueblo scholar, mystic and writer Frank Waters of Taos, New Mexico it is an extremely significant book for anyone interested in Southwestern, Hopi and American history.

The painting is most beautifully painted in gouache on a light brown paper sheet. The line work and overall detailing
of the figure are exceptionally fine and highly expressive and the color palette is most pleasing. The painting measures 16" in height and 13" in width (sight) and the framed dimensions are 18 1/2" in height and 15 1/2" in width.
The painting has been most beautifully and recently re-framed in a custom-made hand-carved light maple wood frame
by Goldleaf Framemakers of Santa Fe, Santa Fe's finest art framers. It is archivally matted to the highest industry standards and framed under UV-light protective "TruVue" Museum conservation glass.
The painting is in generally excellent original condition, particularly for its 64 years of age. There is a slight amount of matte burn in evidence around the area of an earlier framing which blocked off a good part of the original paper sheet. There is also a very tiny splotch of unknown origin and an errant ink line at the very bottom of the brown paper sheet. The painting is beautifully and properly signed with White Bear Fredericks' customary signature of the curling path of a falling snowflake next to a Bear Paw signifying "White" and "Bear". It is also dated '59 at the lower right.
This painting is a rare and beautiful piece by a most accomplished and fascinating Hopi artist and unique cultural icon and as such it would be a great addition to any collection anywhere, public or private.
SOLD
Oswald Fredericks was uniquely suited to help write such a book. He was the nephew of the renowned longtime Village Chief or "Kikmongwi" of the ancient Hopi village of old Oraibi on the Hopi Third Mesa, Wilson Fredericks, better known by his Hopi name, "Tawaquaptewa" or "Sun in the sky" (1873-1960). Oswald was the son of Tawaquaptewa's older brother, noted Hopi kachina carver Charles Fredericks. As part of such a prominent family of religious and cultural leaders, Oswald was uniquely inculcated in and deeply knowledgable of the Hopi spiritual world, life ways
and culture. Also, as a highly-accomplished artist himself, in both painting and kachina carving, he was particularly familiar with the details and iterations of the various Hopi deities, kachina spirits and secular figures.
Oswald was equally proficient in both painting and kachina carving. His paintings are quite a bit rarer due to the
fact that he spent a great deal of his time carving kachinas. Over the course of his career he carved an extraordinary large and seminal collection of 70 kachina dolls for his close personal friend, the late Arizona senator, Barry Goldwater, a collection which today is held in the permanent collection of The Heard Museum in Phoenix.
Given his deep interest in Hopi kachinas it is not surprising that many of his wonderful pantings such as this one use this subject matter as well. This painting is of the "Nuvak-china" or Snow Kachina, an important personage who brings the winter snows and moisture to the Hopi mesas from his home high in the nearby San Francisco Peaks. Nuvak-china was likely a kachina of particular significance to Oswald Fredericks since it encompasses his falling snow name in part.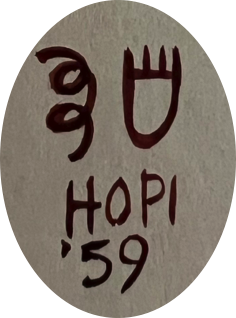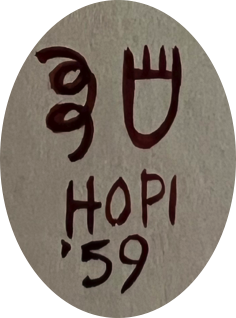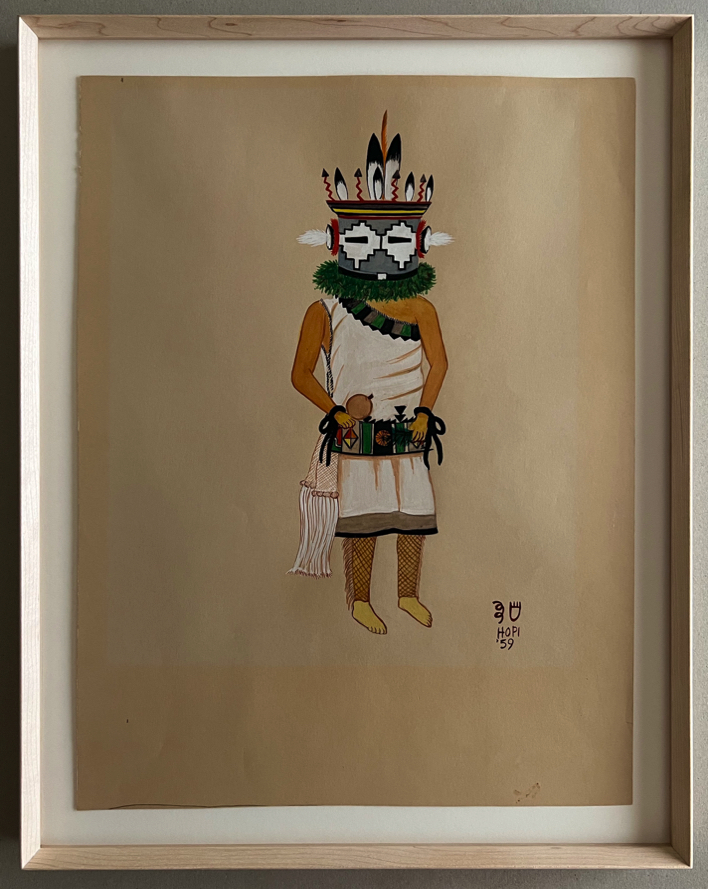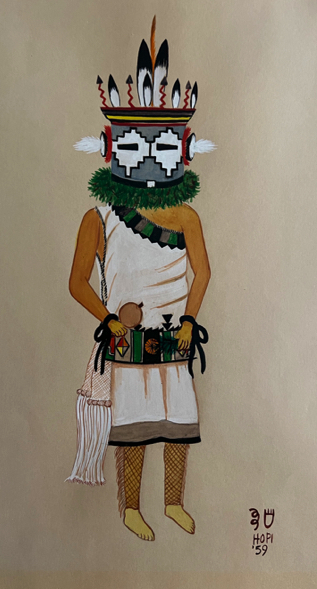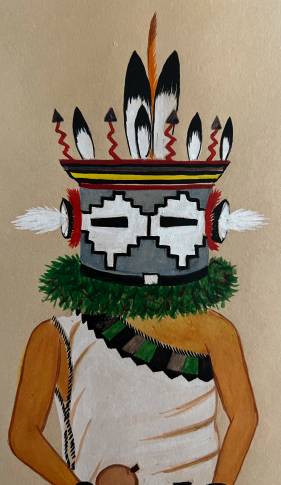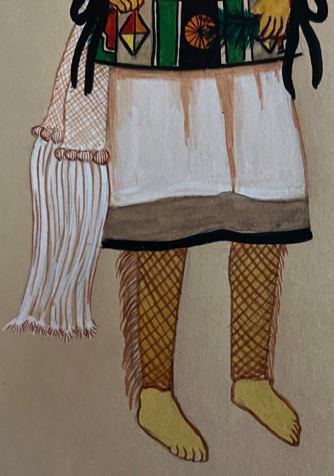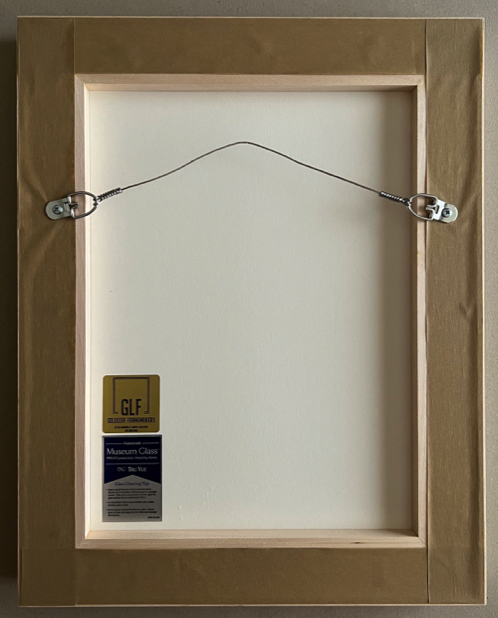 To view this very fine historic Hopi kachina doll by White Bear Fredericks currently listed on our website, please click here.