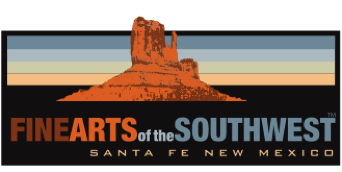 © 2010-2022 by Fine Arts of the Southwest, Inc. All rights reserved.
Unauthorized reproduction or use is strictly prohibited by law.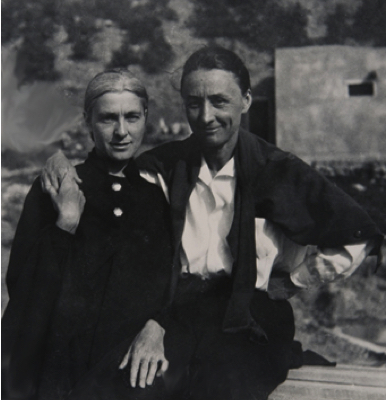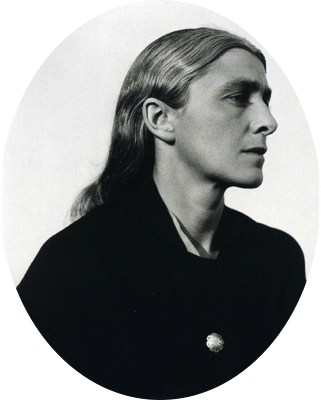 A rare and historic New Mexico Colcha embroidery panel
of a still-life religious tableau with a cross and Rose of Sharon or wild strawberry branch attributed to Taos artist, Rebecca Salsbury Strand James, c.1940's-50's
ex: Collection of Marcus Johnson, Native American former Governor of Nambe Pueblo, NM
This is an extraordinary, historic piece by an extraordinary, historic artist with a fascinating and mysterious provenance. Rebecca Salsbury Strand James (1891-1968) is a legendary and somewhat enigmatic figure in the history
of 20th Century New Mexican and American art. Although she is not today as widely famous as she deserves to be from her extraordinary art and life, she was already a very well-known avant-garde Modern art world person long before she ever ended up living in New Mexico. In the late 1910's through 1920's she was one of the famous New York foursome that consisted of two extremely prominent art world power couples, the pioneering Modern Gallery 291 art dealer Alfred Steiglitz and his muse, model and upcoming artist wife, Georgia O'Keeffe, and the great American Modernist photographer, Paul Strand and his muse, model and upcoming artist wife, Rebecca Salsbury Strand.
Rebecca Salsbury James and The Buffalo Bill Wild West Show
In a truly fascinating historical sidebar, it could be said that Rebecca James' wild and unconventional streak in the norms of conventional society, so to speak, might have been a natural by-product of her very early upbringing. James' early life reads like an improbable pulp-fiction novel. When she was born in London in 1891 her parents, Nathan and Rachel Salsbury, were the owners and managers of The Buffalo Bill Wild West Show, a traveling road show grand spectacle-type of Western revue and vaudeville circus, and for the next 12 years until her father's death in 1902 Rebecca and her parents traveled around Great Britain and Europe with the troupe supervising and riding herd on this exciting and raucous Western carnival milieu.
They met Kings and Queens, Presidents and Prime Ministers all the while living on an everyday basis in close proximity with all manner of larger than life rugged Old West characters such as William F. "Buffalo Bill" Cody himself, the great Oglala Sioux Indian warrior chief, Sitting Bull, sharpshooter Annie Oakley, a host of various other cowboys and Indians and the famous frontierswoman and notable companion of Wild Bill Hickok, Martha Jane Cannary, a.k.a."Calamity Jane". This spirited, often rough and rowdy wild band were the young Becky's exclusive and constant friends and companions growing up until she moved to New York City in 1902 at the age of twenty-one. Imagine having grown up with Annie Oakley or Calamity Jane as your babysitter!
Interestingly, the colors and stitching of the yarn in the cross are exactly the same as those in James' "Agnus Dei" colcha seen above. The Colcha embroidery is done onto a plain black cloth panel and the image seems to float in the air in an ethereal manner, as many of james's still lives seem to do. It is quite clear from a close examination of the piece and its construction that it was made by a thoroughly professional artist well versed in the proper use of professional art materials. This is a piece of serious Modernist fine art, not rustic folk art. We have consulted with several of our most distinguished and experienced New Mexico art colleagues about the attribution of this piece to Rebecca Salsbury James and they all agree unanimously and definitively that this piece is by her. James' work, whether painting, pastel or colcha is very often unsigned.
The colcha panel itself measures 11" in height and 8" in width and the framed dimensions are 15 1/2" in height and
12" in width. The colcha is very finely and beautifully framed in a 22k white gold gilded hand-carved wood frame by Goldleaf Framemakers of Santa Fe, Santa Fe's finest art framers. This particular frame style is a recreation of a 1920's-30's period Newcomb-Macklin Company frame molding. The Newcomb-Macklin Company of New York and Chicago were the pre-eminent American frame company of the early 20th Century and most of the early Taos artists when they could afford to, used Newcomb-Macklin frames so it is particularly appropriate to this piece. The colcha is framed to the highest archival standards under state of the art "TrueVue" Museum conservation art glass. The colcha is in excellent-plus original condition and the frame is in brand new original condition since it was just recently completed.
Finally, as for the fascinating question as to how this particular Colcha embroidery, the product of a famous Taos Modern Anglo-American artist came into the personal collection of a prominent Native American man, Marcus Johnson, who also happened to be the Governor of New Mexico's Nambe Pueblo, that is an especially unique mystery. We were briefly acquainted with Marcus Johnson ourselves in the late 1990's and we had visited him then on one or two occasions at his home at Nambe, but we do not remember seeing this colcha which was most likely hanging in another room or elsewhere. A Santa Fe art colleague of ours who was also well-acquainted with Marcus Johnson eventually purchased the colcha from him around 2015 and we subsequently acquired it from our colleague.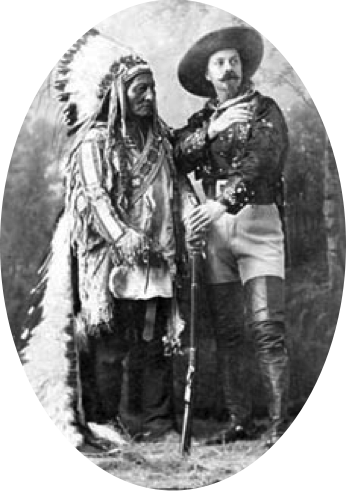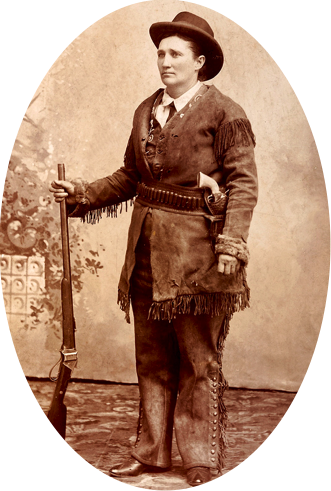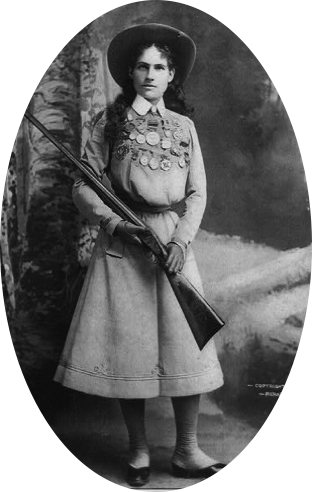 At left, Annie Oakley,c. 1902. At center, Chief Sitting Bull with William F. " Buffalo Bill" Cody, c. 1885. At right, Calamity Jane, c. 1880.
Top poster photo source and © Smithsonian Institution, 1895. Immediate left photo source and © Library of Congress. Center photo source and © Buffalo Bill Wild West Show. Right photo source and © Wikipedia.
These two ladies became fast friends, broke many modern day conventions in their time in New York. They famously and beautifully posed naked for their husband's artwork; they smoked cigarettes and in O'Keeffe's case actually painted in the nude sometimes, a past time that Salsbury Strand later emulated and they otherwise flouted conventional wisdom in their overall independence and their distinctly separate identities from their husbands. This independence eventually led the pair to explore together and eventually to settle on their own in the relatively untamed wilds of Northern New Mexico in the 1930's.
While O'keeffe almost exclusively expressed her art through easel painting, Salsbury Strand James took a decidedly different tack, she devoted herself artistically to two very different and equally demanding mediums, the somewhat obscure medium of reverse oil painting on glass and the traditional New Mexican style Colcha Embroidery which she learned from her Taos neighbor, Jesusita Acosta Peralta who was one of traditional New Mexico colcha's foremost practitioners. James brought a Modernist and disciplined fine art academic approach to the work transforming what had previously been an old New Mexico household craft into serious fine art as The Harwood Museum astutely observed:
"James focussed on two techniques - reverse oil-on-glass paintings and colcha embroidery. Most often, the subject of these works were floral still life. James learned the traditional Northern New Mexico colcha stitch, which was typically used for domestic products. She helped to revitalize the technique, using it to create fine art pieces, often with subtly religious motifs".
-Harwood Museum of Art, Taos, NM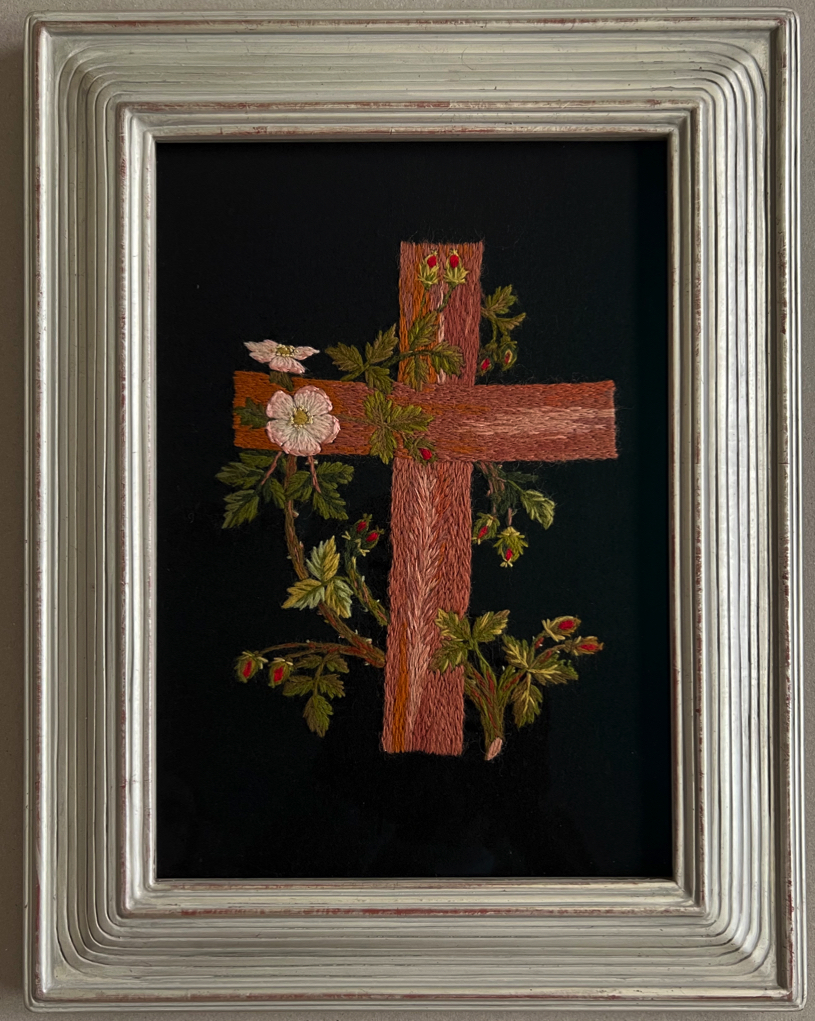 View of Nambe Pueblo, New Mexico, c. 1900.
Photo source and © Nambe Oween-Gay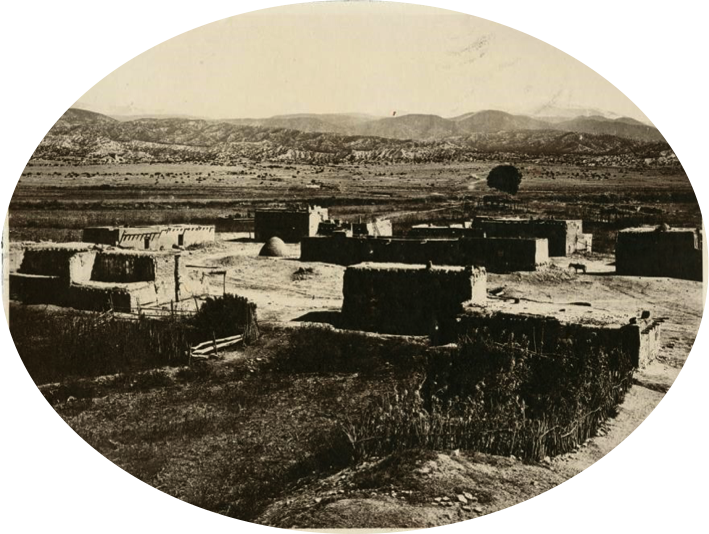 A hint of an explanation here might be the fact that Rebecca Salsbury James and Georgia O'Keeffe were known to have visited often at the home of their contemporary artist friend Cady Wells who lived very close to Nambe Pueblo and they could have easily met the Nambe Governor's family during a feast day or other celebration at the Pueblo. James had a longstanding and lifelong strong affinity for Native Americans dating from her early childhood (see below) and she could certainly have gifted this piece to the Pueblo Governor's family. James was well known near the end of her life in 1968 to have basically given all her personal artworks and other possessions away to various friends, acquaintances and institutions and this piece could have easily been one of these. Alas, we will likely never know, but this fascinating historic twist only adds to the mystery and history of this unique and beautiful piece which literally and figuratively brings together many strands of 20th century American history and Modern art history as well as 20th Century and earlier New Mexico history.
To view an original Rebecca Salsbury James floral still-life pastel available on our website, please click here.
Price available upon request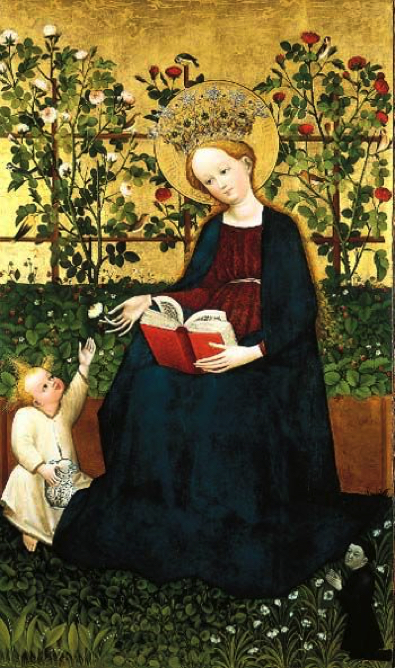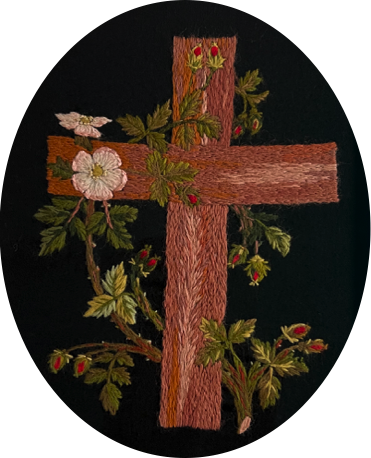 "Madonna of the Strawberries", Unknown German Master, c. 1420,
Tempera on wood, Kunstmuseum, Solothurn.
Rebecca Salsbury James' Colcha Embroidery work was extremely well received and widely acclaimed by the art establishment and special exhibitions devoted to it appeared regularly, at Santa Fe's Palace of the Governors and The Harwood Foundation Museum in Taos in 1952 and again at The Museum of International Folk Art in Santa Fe in 1963.
James herself believed that colcha was a marvelously expressive artistic medium as she notably remarked:
"This versatile stitch, for me, has provided a creative means to make a statement with stitches.
The living world about one—the skies, the land, people, grasses, trees—can be imbued with immediate life."
-Quotation source and © "Embroideries by Rebecca James,
Santa Fe, New Mexico". Museum of International Folk Art, 1963, pp. 5
James also regularly took part in the annual exhibitions at the New Mexico Fine Arts Museum in Santa Fe and the Harwood Foundation in Taos from the 1930's through the 1960's where she exhibited her colchas, reverse-glass paintings as well as an occasional pastel piece. This colcha piece itself is a characteristic Rebecca Salsbury James composition; a beautiful contemplative and expressive Modernist still life presentation of a wooden cross entwined with flowering branches with an overarching symbolic religious theme. Our original impression was that this flower was the biblical Rose of Sharon, an ancient symbol and representation of Jesus Christ, but our horticultural expert consultant informed us that it could also be a branch of a wild strawberry plant which is also a symbol for Christ.
The three-part leaves of the strawberry plant also stand for the Holy Trinity, their fruits were considered in medieval times to be drops of Christ's blood and the five petals of their pure white flowers as shown here were considered to be reminders of the five wounds of Christ's Passion. There are what appear to be rosebuds or tiny strawberries growing along the length of the branch and there are thorns indicated. And technically, the strawberry is also a member of the rose family so it could be either or a stylized representation of both, but clearly there is a great deal of intended symbolism and meaning here.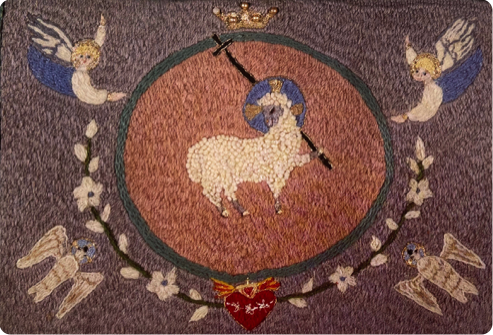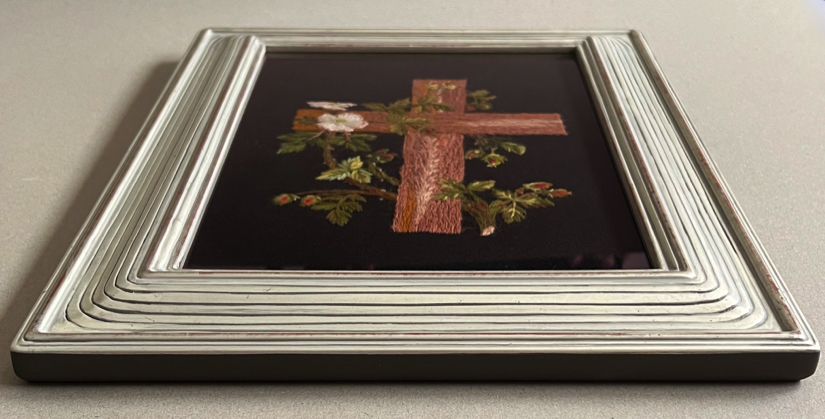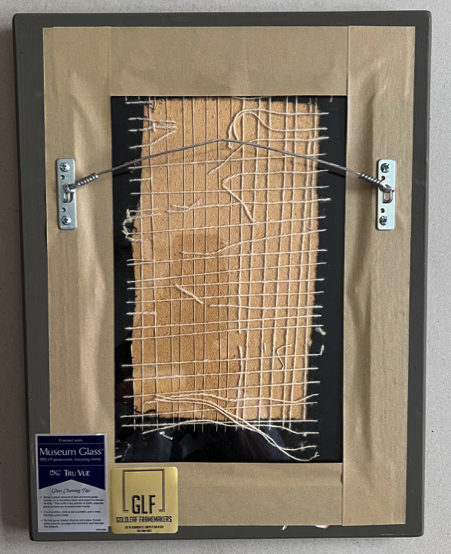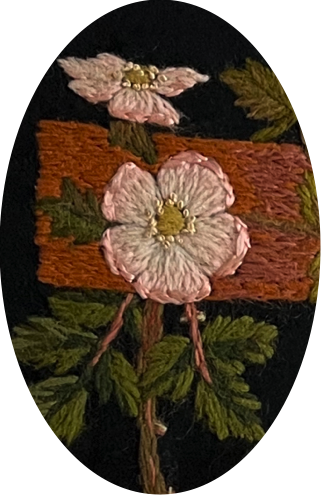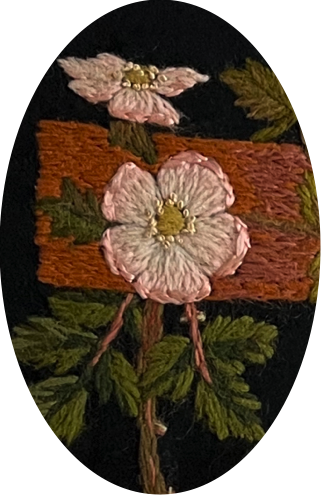 At left, Rebecca Salsbury James with Georgia O'Keeffe at Cady Wells home in Pojoaque, New Mexico. At center, Rebecca Salsbury Strand in New York. At right, "Foursome", a recent book about Rebecca Salsbury, Paul Strand, Georgia O'Keeffe and Alfred Stieglitz.
Left photo source and © Cady Wells Scrapbook. Center photo source and © Paul Strand.
At left, detail of Rebecca Salsbury James untitled pastel still-life. At center, Rebecca Salsbury James colcha panel "Agnus Dei". At right, detail of Rebecca Salsbury James "White Rose-Pink Vase", reverse painted oil on glass.
Center photo source and © New Mexico Museum of Art, photo by Blair Clark. Right photo source and © AskArt/Sothebys, New York.