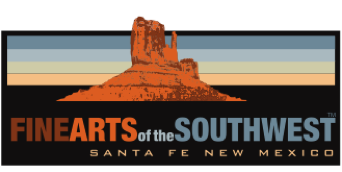 © 2010-2022 by Fine Arts of the Southwest, Inc. All rights reserved.
Unauthorized reproduction or use is strictly prohibited by law.

A very beautiful, globular plainware pottery
jar by Rick Dillingham, Santa Fe, NM, 1974
JAMES RICHARD "RICK" DILLINGHAM (1952-1994) was one of the most accomplished and interesting pottery artists in Southwestern history. Born in the Chicago suburb of Lake Forest, Rick moved to New Mexico to study art and anthropology at The University of New Mexico in Albuquerque where he soon became engrossed in the history, tradition and technique of Pueblo pottery-making. Working at the University's famed Maxwell Museum of Anthropology, he studied everything from ancient Mimbres Culture picture bowls to the modern-day pottery of the families of the great Pueblo pottery Matriarchs, Nampeyo of Hano, Maria Martinez, Margaret Tafoya and others and in the course of his work there as a pottery restorer,
he repaired and re-assembled countless pottery vessels, experience he would later employ to great artistic effect.
Rick also wrote prolifically and significantly on the subject of Pueblo pottery in several important volumes beginning
with the seminal Maxwell Museum exhibition catalog "Seven Families of Pueblo Pottery", University of New Mexico Press, Albuquerque, 1974. Rick also spent years as a well-respected dealer in historic Pueblo pottery in Santa Fe where he delighted in passing on his intimate knowledge to his colleagues, clients, friends and fellow potters among whom he was
a deeply respected artist, friend and tireless promoter. He formed many lasting friendships with various Pueblo potters, among them Maria, Julian and Popovi Da Martinez, Margaret Tafoya, Elizabeth Q. White, Dextra Quotskuyva Nampeyo, Lucy Lewis, Dora and Tse Pe and Virginia Ebelacker.
"The term "Plainware" doesn't really do this jar justice
as it is anything but plain, with many subtle and lovely variations of surface, texture, form and color."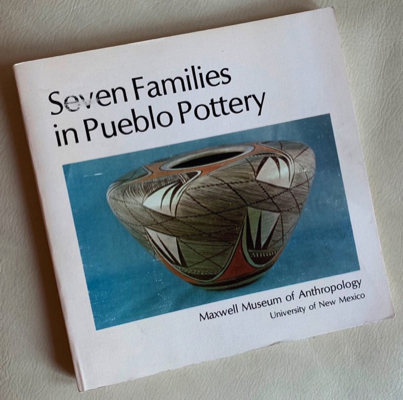 "Seven Families of Pueblo Pottery" by Rick Dillingham, University of New Mexico Press, Albuquerque, 1974
In his numerous writings and over the course of personal conversations with him, it was clear to see that Rick Dillingham was fascinated with and completely enamored by the entire process of pottery-making literally from the ground up—from the gathering and handling of the clay to the management of the firing process and the often very elaborate later processes he developed for working and reworking the pieces which he created. Dillingham literally and figuratively broke the mold with his startlingly original ceramic work, combining age-old Native American methods and ancient Japanese Raku pottery techniques with his own imagination to create a unique and daring modern body of distinctive, deeply personal work. There is an artistic energy, freshness and dynamism immediately evident in them, a certain air of familiarity, but also the distinct sense that that you have never seen anything quite like this before, that new ground is being broken here. As he himself often explained it, as a non-Pueblo person, he was largely freed from the creative constraints and conventions that generations of tradition and custom impose upon almost all Pueblo people. Pueblo societies are inherently conservative in nature and change when it happens, occurs only incrementally and slowly over time. In dramatic contrast, Rick broke the dishes, literally and figuratively speaking, artistically from the very beginning.
In the case of this early 1974 globularly-shaped jar, Dillingham employed a number of the innovative and creative methods he developed for his work involving the use of smoothly slipped and highly polished areas and more rough-surfaced unpolished areas and the resulting contrast and visual tension between these different surfaces and their shiny and matte appearance is quite remarkable. Here, he employed a fascinating four-part cross-shaped design of contrasting slipped and polished and unslipped and unpolished surface panels radiating outwards and downwards from the vessel's neck. The slipped and polished panels are interestingly and beautifully accentuated along their outer edges by rows of pinpoint incised dots. Dillingham also managed the firing process on this jar in an especially dramatic manner, allowing and facilitating the burning fuel to regularly come into direct and frequent contact with the vessel walls to produce an abstract pattern of "fire-clouding" to a beautiful artistic effect. In doing this, he took a page from the fine historic pottery traditions of the nearby San Juan Indian Pueblo some thirty miles north of Santa Fe where their lovely traditional red-on-tan plainware pottery vessels are characterized by extensive fire clouding to great aesthetic effect
as seen in the example shown below. To view our website listing of this San Juan Pueblo jar, please click here.
"No one is a master of ceramic arts, it's just a matter of how much you can cooperate with the elements at the time. That's a humbling sort of thing that I like to keep in mind because it gives me the freedom to experiment. I try to keep the work fresh and fairly intuitive. I keep all the processes as simple as possible to reach the results that I do. And keeping the forms simple as well–spheres, triangles, cones, rectangles –lets me get away with visual murder on the surface.
As a painter looks at a canvas, I look at a form and think how can I make it work? I calculate my process, but not my work. The juxtaposition of basic stripes, zig zags, triangles and circles on the surface looks tricky, but is not consciously set out to be a new image. When I put these things together it's as much a surprise to me as to the viewer. Ceramic art used to be hung up on the technique rather than the "art" of the piece. I think I've done a lot to negate that concept."
-Rick Dillingham
The jar measures a nice-sized 8" in diameter and it is 6" in height. It is in excellent original condition. The intentionally irregular asymmetrical shape of the jar's neck and rim suggests erosion and wear over time but this was deliberate "distressing" done right from the start to convey this impression. This is a technique we have seen Dillingham do on many other of his vessels and it nicely reinforces the organic "earthy" nature of this piece. The jar is properly signed "Dillingham" in the artist's customary incised cursive signature on the bottom and is also dated "Nov '74" which makes it one of his very early pieces.
This is an exceptional and evocative work by an extremely talented and special artist near the beginning of his all-too-brief career. Tragically, Rick Dillingham died way too young at only 41 years of age. He was only 22 when
he created this outstanding piece and it naturally leads one to wonder how many other extraordinary and
beautiful things he might have created had he lived longer.
Please note pottery stand is not included.
Price $4,600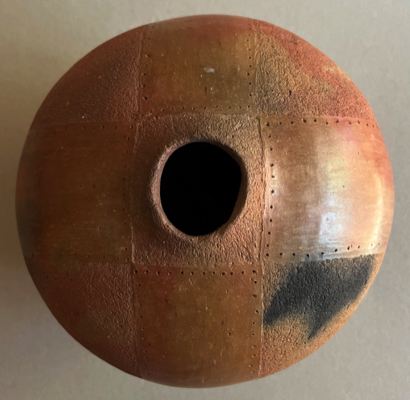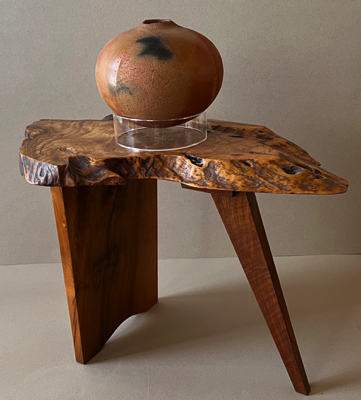 Although no one really knows for certain whether the historic San Juan potters did this fire-clouding on purpose, it is safe to say that Dillingham almost certainly did and to great success in this case. Depending on which side and from which angle you look at it, the many different sections of this jar are each like their own little Abstract Modernist paintings depending on the particular color and arrangement of the fire clouds there. It looks like a series of miniature Modernist presentation vignettes of the distinct hues and contours of the landscapes of the Southwest with the rich mixture and subtle interplay of the various reds, pinks, oranges, browns, beiges, greys and blacks and the interestingly and intentionally variegated surface textures.
The vessel shows at once all the beauty and expressiveness of the clay and glaze and all the intense power, heat and alchemy of the fire which transforms them. As such, it is an absolutely gorgeous and unusually compelling piece. This unique combination of traditional techniques and knowledge and a fresh, modern viewpoint and creative sensibility combine powerfully in Dillingham's ceramics and are the reason they are held today and coveted in the collections of numerous important museums from the Smithsonian's American Art Museum, the Los Angles Museum of Art and the Victoria and Albert Museum in London as well as in many private collections.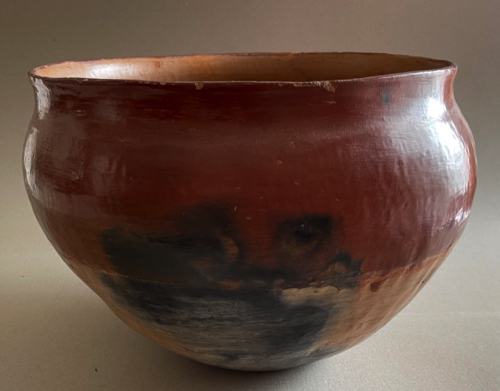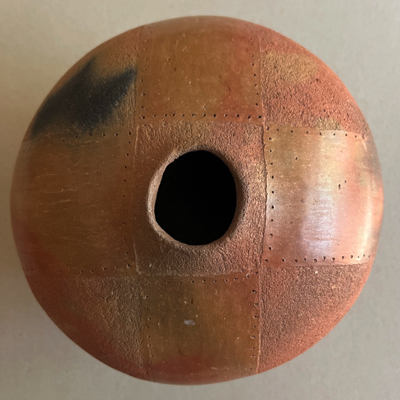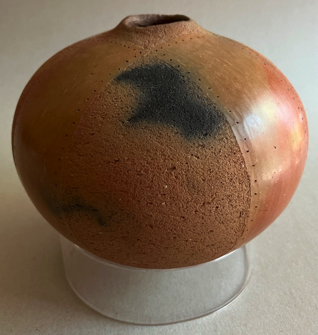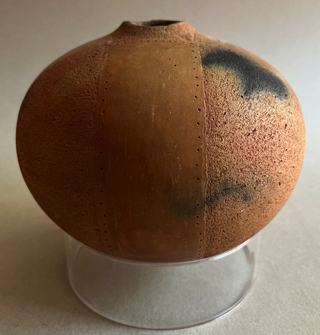 Early San Juan Pueblo, NM red-on-tan pottery jar, c. 1850-1860, ex: Fred Harvey Company